Fishermead residents get high Sheriff support for Royal Visit
FISHERMEAD RESIDENTS GET HIGH SHERIFF SUPPORT FOR ROYAL VISIT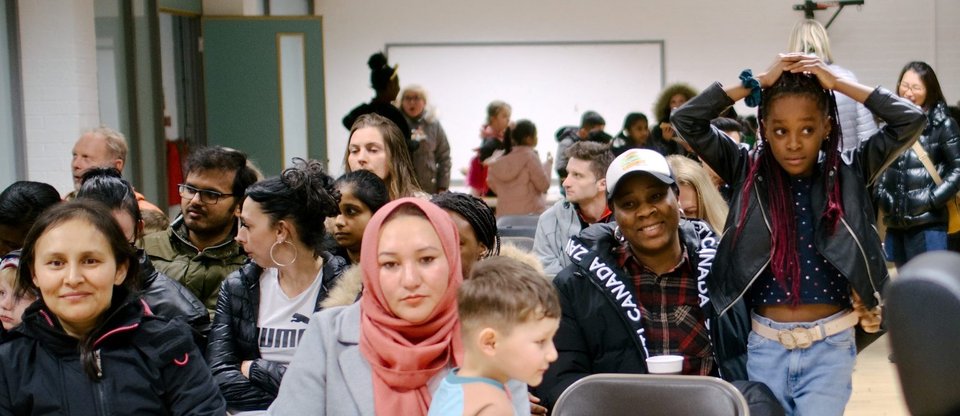 In 1973, the first house was built in Fishermead. Today there are 1,400 households and a proudly diverse community. One thing residents are not proud of is Fishermead's reputation, which they think is unfairly negative.
More than 100 Fishermead residents filled Trinity Community Centre (18 November 2022) for a celebration assembly and meeting with powerholders including the Mayor of Milton Keynes and High Sheriff of Buckinghamshire.
The assembly was organised by a group of Fishermead residents and workers who are building a Citizens alliance of Fishermead institutions as part of a Community Organising project funded by MK Community Foundation (Hear Assembly audio recording). Their goal was to strengthen relationships with powerholders and get pledges of support from them for the idea of a royal visit to celebrate Fishermead's 50th birthday next year.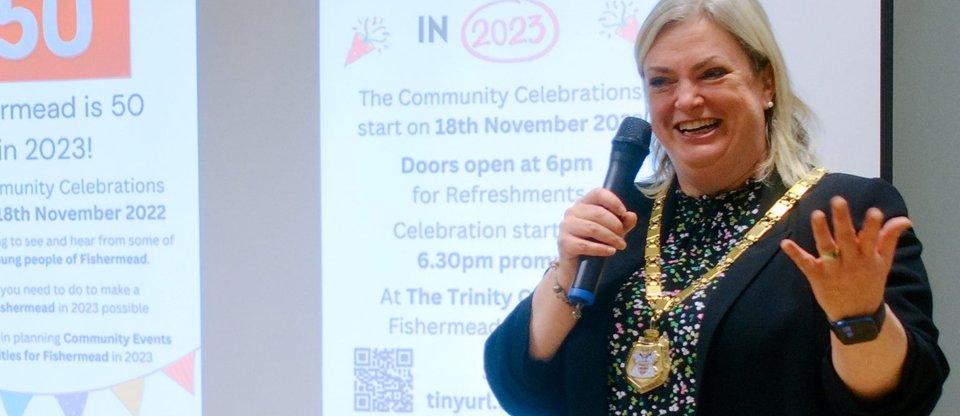 Awards were presented to Fishermead heroes, including The Co-op store staff and security guard Abdul; the Landscaping team of Campbell Park Parish Council (collected by Council Chair, Terry Baines); and PCSO Craig Hawksworth. Following video testimonies from the children of Willows First School, in which they described all the things they liked about Fishermead, there was a breakdancing display led by Kevin Kallon (bottom right below), who grew up on Fishermead and now runs breakdancing classes at Trinity Centre on Monday evenings.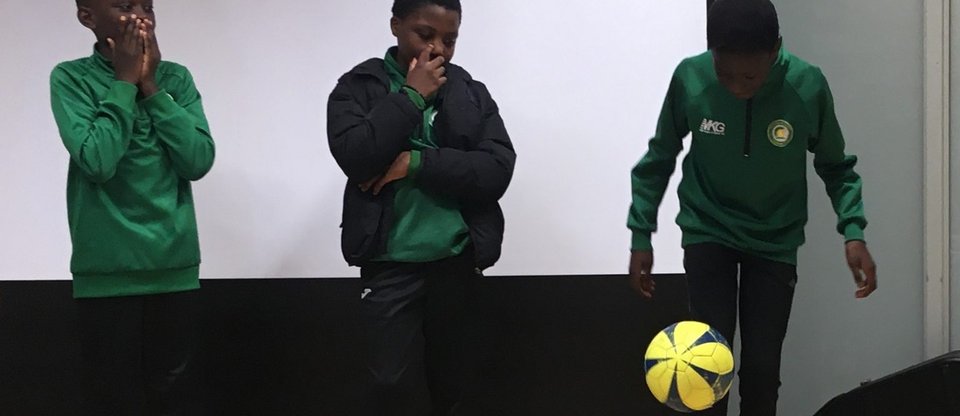 Assembly Co-chair David Hart then announced the total number was 580 signatures (representing nearly half of all Fishermead households). The High Sheriff later described this as "an incredible community building initiative". Twelve Community leaders, including Willows First Headteacher Jo Orbell and Parish Council Chair Terry Baines, took turns to say what it would mean to their institution if a royal visit could be arranged.
Badir Zamaan Mustapha, representing the owner of Sabeeh Market shops on Gurnards Avenue, lifted the roof when he said: "What we must do together is slay the Fishermead reputation dragon and rescue the princess of real Fishermead!"
Then High Sheriff Debbie Brock responded with details of what next steps would be required.  She emphasised the importance of acting quickly to get a chance of a royal visit next summer (see transcript of High Sheriff's speech) and pledged to contact the Lord Lieutenant stating her support for the idea. "It's been really inspirational," she said.
The organising team is appealing to Fishermead residents to add their signatures to the Royal Visit Petition online (if they haven't already signed the paper petition) and get involved in preparations for Fishermead's 50th birthday celebrations in 2023.
A short group evaluation immediately after the Assembly gave a score of 8/9 out of 10, noting the absence of the Headteacher of Jubilee Wood Primary School and insufficient audio amplification. One participant said: "The children were amazing, I would never have dared to do what they did tonight when I was their age, and the people who came with them." Total turnout was 125 people.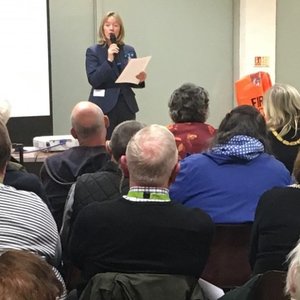 It was spectacularly well attended with great contributions and real vitality. The collection of signatures was a great community building exercise in its own right and it would be great to keep them as a real public record of the support for the visit and celebrations High Sherrif Debbie Brock
Posted by Keith Hebden on 12 Dec, 2022