East London (TELCO)
TELCO Citizens
Who are we?
We are TELCO Citizens (The East London Citizens Organisation), the founding Chapter of Citizens UK. 50,000 people form our alliance from schools, universities, churches, mosques, migrant groups and other community organisations.
Together, we organise to tackle injustice in our local communities.
Our alliances are in Barking and Dagenham, Hackney, Newham, Redbridge, Tower Hamlets and Waltham Forest.
Since our founding in 1996, we have:
What are we fighting for?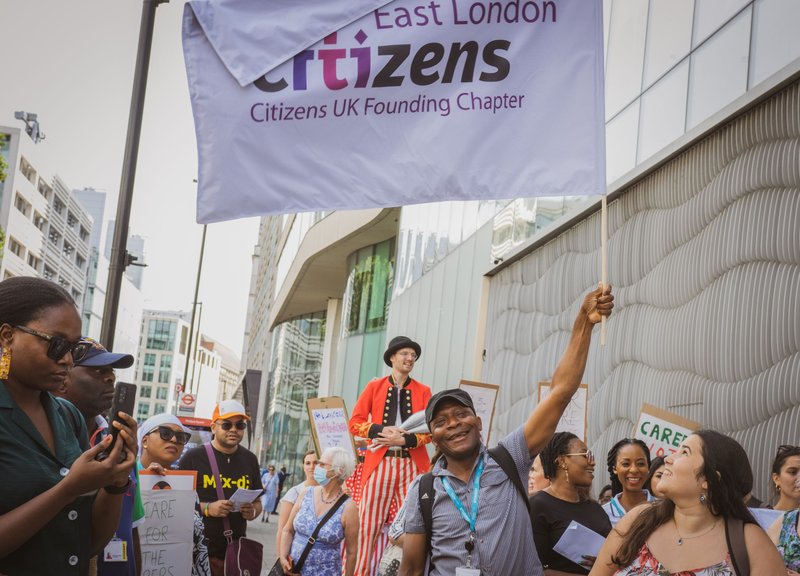 The priority issues voted on by members in our community include:
Fair Energy for our communities.
Health.
---
Church at Barking Riverside
Catholic Association for Racial Justice (CARJ)
Child Poverty Action Group (CPAG)- Hackney
ELATT Connected Learning
English for Action - TELCO
Hackney and Stoke Newington Methodist Circuit
Loughborough University London
New Unity
New City College - Hackney
Randal Cremer Primary School
St James Church - Clapton
St John's the Baptist Church-Hoxton
St John's the Baptist Primary School
St Thomas Moore RC Church, Manor House
The Urswick School
Find out more about our alliance in Hackney.
Applecart Arts
Caritas Anchor House
Community Links - Canning Town
Lister Community School
Money A+E
Newham Muslim Forum
Newham Methodist Circuit
Newham Sixth Form College
Our Lady of Walsingham Parish
Sarah Bonnell Girls School
School 21
Shpresa Programme
St Angela's Girls School
St Antony's Catholic Primary (Forest Gate)
MIND TOWER HAMLETS and Newham
St Antony's R C Church
St Bonaventure's Catholic School
St Martins CoE
St Stephen's & St Nicholas' Parish
The People's Empowerment Alliance for Custom House
Trustees of St Francis RC Church
University of East London
Ursuline Convent
Al Noor Primary School
City Gates Church
Mayes Park Primary School
Palmer Catholic Academy
Saint Margaret of Antioch, Ilford
Saint Peter and Paul Catholic Church
Sikh Support
St Bede's Catholic Church
St Cedds Catholic Church
St John the Baptist Catholic Church
St Mary's Church of England (St Mary's the Virgin)
St Teresa's Catholic Church
St Thomas of Canterbury Church, Woodford Green
Trinity Catholic High School
The Salvation Army, Ilford
Caterham High School, Ilford
Darul Ummah & Dawatul Islam
East London CLT
East London Mosque
Mulberry Academy Shoreditch
New Testament Church of God Mile End
Queen Mary University, Politics and International Relations Department
Queen Mary University Public Engagement
Salvation Army Stepney
St George's in the East
St Mary's Church, Cable Street & E1 Community Church
St Matthews', Bethnal Green
St Paul's Church, Shadwell
Women100
Whitechapel Welcomes
The Centre for Theology & Community
Waltham Forest
Connaught School for Girls
Faizan E Islam
Greenleaf Baptist Church
Leyton Sixth Form College
Leyton St Catherine & St Paul (Cornerstone Church)
Parish of Chingford
Parish of Walthamstow - St Mary's
St Barnabas Church, Walthamstow
St Mary's Catholic Primary School, Chingford
Waltham Forest Islamic Association
Holy Trinity & St Augustine of Hippo
Walthamstow School for Girls
Want to join our Chapter?
We're always looking for new members! Get in touch with one of your local Community Organisers using the form below.
Find out more about the benefits of becoming a Citizens UK member.
Keep in touch
News, stories and updates