Homelessness
We're here to overcome injustice, and that means tackling the root causes of issues. Homelessness cannot be solved without changing hostile policies, but we know that everyday people have the ability to shape the world around them by working together.
Policies are often made by powerholders without input from people affected by the issues. Hostile policies deny homeless people a safety net that could prevent them from becoming homeless in the first place. That's why Citizens UK are campaigning for a just and humane system in which everyone has access to housing and welfare support to keep people safe and protect them from cold, hunger and destitution. Everyone deserves to have a roof over their heads and a place they can call home.
During the Covid-19 pandemic 90% of all homeless people were housed. For the first time, people with No Recourse to Public Funds (NRPF) received housing support.
Between a quarter and a third of the UK's rough sleepers are estimated to be from a migrant background.
The Still Out There report estimated that, of the homeless population in London, 25% are LGBTIQ+.
In London approximately 50-60% of rough sleepers housed in emergency accommodation during the pandemic have no access to welfare support system due to NRPF conditions attached to their immigration status.
The Government pledged to halve rough sleeping by 2022 and end it by 2027. They made a recent announcement that they would provide 6,000 homes for the homeless by 2021 (3,300 new homes expected in 2020).
Amanda Dubarry Caritas Anchor House (Newham Citizens)
Captain John Clifton, Salvation Army (Ilford Citizens)
Shermara Fletcher, Open Table (Tower Hamlets Citizens)
Dr Isobel Rosenstein, Kol Chai Reform Jewish Community (Harrow Citizens)
Rebecca Stockman, YMCA (Merton Citizens)
Father Dominic Robinson, Farm Street Church
Salma Ravat, One Roof Leicester (Leicester Citizens)
The Reverend Dr Simon Woodman, Bloomsbury Central Baptist Church (Westminster Citizens)
Father Gerard Mitchel, St Anselm's Church (Ealing Citizens)
Elijah Kinne, St James's Piccadilly (Westminster Citizens)
Fran Hicks, Somerset Quakers (Somerset Citizens)
Graham Bowpitt, Emmanuel House (Nottingham Citizens)
The Reverend Ian Rutherford, Methodist Central Hall, (Manchester Citizens)
Testimonies
After many years I have my own place, I don't share it with anyone. I have a bathroom and small kitchen and a bedroom. In the kitchen I have put everything in its place, I can leave out my toothbrush and soap, [knowing] no one [is] going to steal it. My fridge has food from donations I get and I can cook for myself. This is temporary, I don't know how long for I have this, and I'm worried about going back out onto the streets. Lukas, One Roof Leicester
People sleeping rough with NRPF are the most vulnerable. They have no means of supporting themselves financially, so are seen as easy prey and are at risk of human traffickers, being exploited for forced labour and modern slavery. Quite literally, people are risking their lives and have no safety net. We see this in the work we do at Caritas Anchor House, and support Citizens UK's campaign to end NRPF for good and stop homelessness Megan Stewart, Assessment Hub Manager at Caritas Anchor House
With the incidence of Covid-19 infections rising again across the country, this is not the time to risk more people ending up living on the street or in precarious accommodation. This is clearly a public health issue. The general health of the street homeless is poor and this will make them more susceptible to serious complications if they get infected with Covid. Dr Isobel Rosenstein, Harrow Citizens
A brief history of the campaign
Housing and homelessness was voted as the second most pressing issue for the London Mayoral Campaign in 2019.
In October 2019, homelessness GP outreach services saw GPs delivering health checks in hostels and on the streets of Redbridge, London.
Following this, local leadership teams engaged with their local authorities, inviting them to a Homelessness Summit in March 2020. Over 100 people attended.
By May, the east London homelessness campaign had grown into a national campaign to suspend NRPF for homeless people during the Covid-19 pandemic.
In June 2020, at the height of the pandemic, the campaign engaged Housing Minister Robert Jenrick MP, asking for extended support for people with NRPF. This was done through social media – with videos and testimonies.
The SHC (Salvation, Hill Group and Citizens) Partnership was launched in November 2020. They will be building 200 homes for single homeless people across the country on temporary use sites. £6 million will be invested in this project. Find out how you can work with us to develop modular homes in your area by contacting your local Chapter.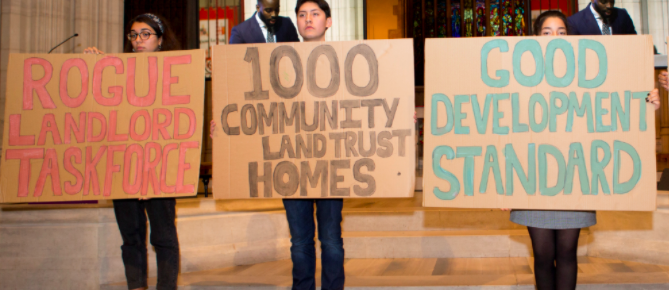 Housing and homelessness are a national concern for communities across the UK and a driver of poverty and inequality. We are actively working to tackle poor housing and increase affordable housing in communities up and down the country.