Groundbreaking permanently affordable homes designed by local community open in Lewisham after a 10-year campaign
Groundbreaking permanently affordable homes designed by local community open in Lewisham after a 10-year campaign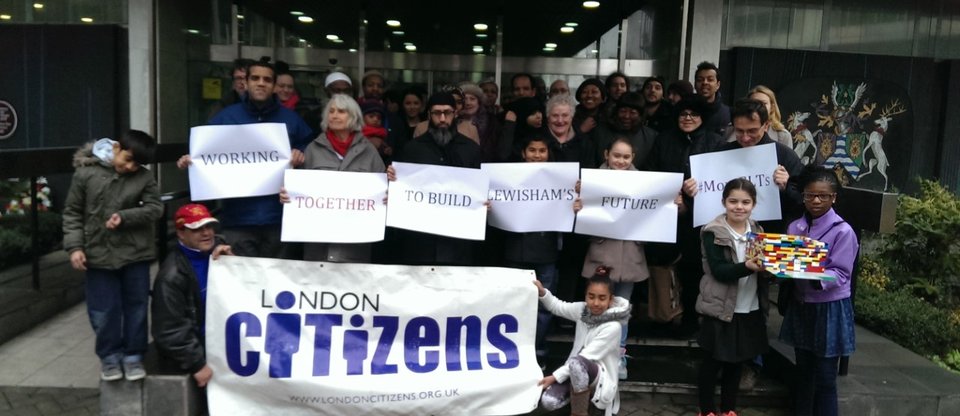 After ten years of campaigning by local people through Lewisham Citizens, 11 genuinely and permanently affordable homes are now complete at Citizens House. It is the first community land trust in London that has been directly created by the community using London CLT's unique affordability model, in partnership with Lewisham Citizens, Lewisham Council and the Greater London Authority.
Citizens House is the story of hard work, amazing leaders, people power and important partnerships
So, how did it begin?
In 2013, with the lead up to local elections, Lewisham Citizens ran a local listening campaign to help understand some of the issues facing the community. It became clear that affordable housing was a largely pressing issue, with community members expressing concerns that their inability to get on the property ladder was impacting all areas of their lives- for many this meant they were no longer able to stay in the communities they called home.
After witnessing members of their parish struggle to find affording housing, local leader Nano McCaughan, member of St William of York RC parish, recalled the work of the East London Community Land Trust who, alongside East London Citizens, had won a site with 32 genuinely and permanently affordable homes. The price of homes on a community land trust are pegged to people's wages, not the out-of-control price of land. It makes the homes truly affordable for people on lower and middle incomes. It was then that the idea was decided to bring this learning and model to South London.
The first steps towards change...
The first step was to spread awareness. This involved hosting a series of learning sessions and sharing the model with people who had been identified as having power in the area. These people included Lewisham officers, councillors and Mayor Steve Bullock.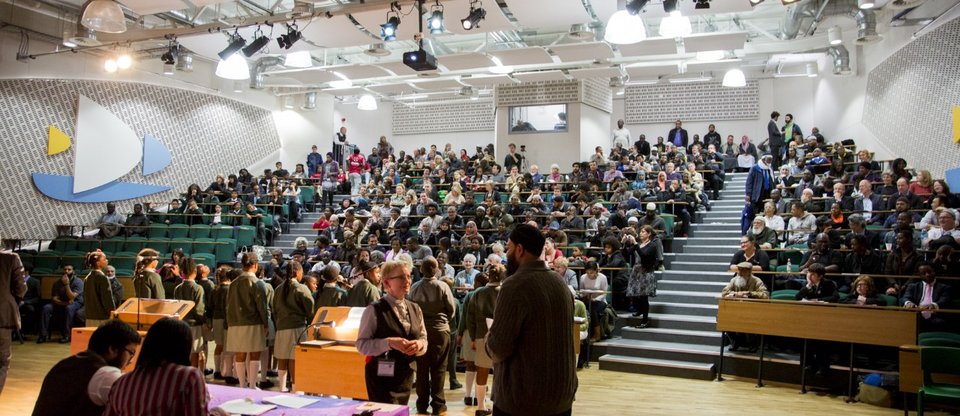 In 2014, a Lewisham Citizens Assembly was hosted Deptford Green Secondary School. Over 400 people attended, including Mayor Steve Bullock and Lib Dem hopeful Duwanyne Brookes. It was here that these 400 hopeful community members contributed to, and got to witness, Mayor Bullock agreeing to work together to deliver a community land trust in Lewisham.
In Community Organising, it is often said that you need enough power to get the decision-maker in the room, then enough power to get a commitment, but we often forget the last - and often hardest - part of the work, which is having enough power to hold the decision-makers accountable on the commitment won.
A long journey ahead...
Whilst Lewisham Citizens had managed to get the Mayor onboard, it would be another nine years before Citizens House would finally be built.
With Mayor Bullock re-elected, Lewisham Citizens knew they had to confirm a site for the Community Land Trust, or the campaign would never become a reality. However, after a few tense meetings between the Mayor, Citizens leaders and the Council, who were expressing challenges in finding a site, it became clear that for progress to be made, they needed to find a suitable site themselves.
Lewisham Citizens began working alongside Calum Green at the London Community Land Trust, and an online search for vacant public land was launched. A series of community walks were also set up, hosted by different members of local institutions such as St William of York Church, St Andrews URC Church and Lewisham Islamic Centre, with a live map created of all the potential sites that were found. This teamwork resulted in finding 43 potential sites.
These findings were then presented to housing cabinet member Cllr Damien Egan and Mayor Steve Bullock, but their response was a firm 'no' to all suggested sites. Whilst this was met with heavy disappointment, an alternative site was proposed – an old garage site in Sydenham.
Peter Brierley, Lewisham Citizens Organiser at the time, recognised that whilst the outcome wasn't the one intended, knew that sometimes it is the bigger ideas that must start with smaller steps and compromise should never be a dirty word. It was therefore decided that this site was to be agreed upon under the basis it is part of a multi-site strategy.
Community share drives - a pound for power!
With a site agreed, what was now needed was a transfer of the land and an agreement that London Community Land Trust could begin the pre-development. Therefore, inspired by the East London Community Land Trust site, a community share drive was devised. A pound for power!
Share drives were led at many of Lewisham Citizens' member institutions, with power growing due to the news spreading of the win.
In December 2015, an amazing total of 500 share sales was reached, with this news being shared with the Mayor. A month later, Lewisham Citizens received a letter from the Mayor indicating his willingness to release the land to London CLT for free. This unlocked funding for London Community Land Trust to start the hard work of figuring out what the site might look like. Everything was coming together!
A unified community...
Having won the political campaign and access to the land, the next step was to win over the residents.
The garage site where the homes were being proposed was next to a local primary school and a housing estate, and so it was at this stage that Janet Emmanuel, the Assistant Head at Sydenham school, and a member of Lewisham Citizens, took the baton and began to drive local engagement. Residents would recognise Janet as someone who supported their children at school, and it was this trust, alongside the people-led, engaging approach of explaining the campaign over cups of tea, picnics and BBQs on the site that stirred many positive responses.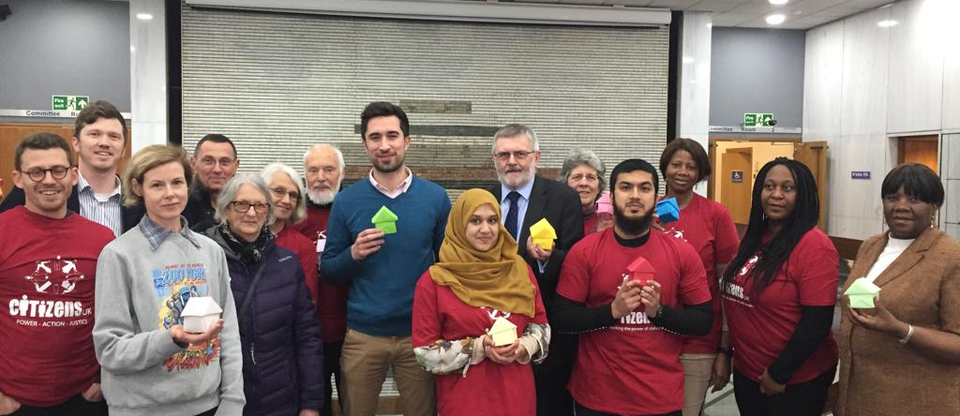 When it came to the cabinet decision to give over the land and agree to the development, the council were overwhelmed by the number of supporters. It was clear the community stood united on the issue, and so the site was confirmed, with no opposition.
A truly amazing win, that whilst was 10 years in the making, will stand for generations to come!
Citizens House would not be here without a genuine collaboration between Lewisham Citizens, Lewisham Council and London Community Land Trust. It's amazing what we can achieve when we unite and work together. I became involved in the campaign from the beginning because I have three children who I knew would struggle to buy a home and live in the borough we all love. Citizens House and Unity Way provides young people like my children the chance to live, work and contribute to Lewisham Janet Emmanuel, Assistant Headteacher at Sydenham School, Chair of the project's Community Steering Group
Since we moved into Citizens House in January, everyday we have felt a sense of satisfaction and general happiness that we have become homeowners. This is something we had as recently as 18 months ago resigned ourselves to never being achievable, despite both having full time, fairly well paid jobs. The flat itself is brilliant- bright, spacious, well kitted out and built with care, you can tell it hasn't been hastily thrown up by a developer only concerned about their profit margin. I believe that the Community Land Trust model could help thousands of people similar to us in London and beyond, I really hope London CLT get future funding and support to continue this forward thinking, more benevolent approach to the broken housing market James Neligan, a new resident at Citizens House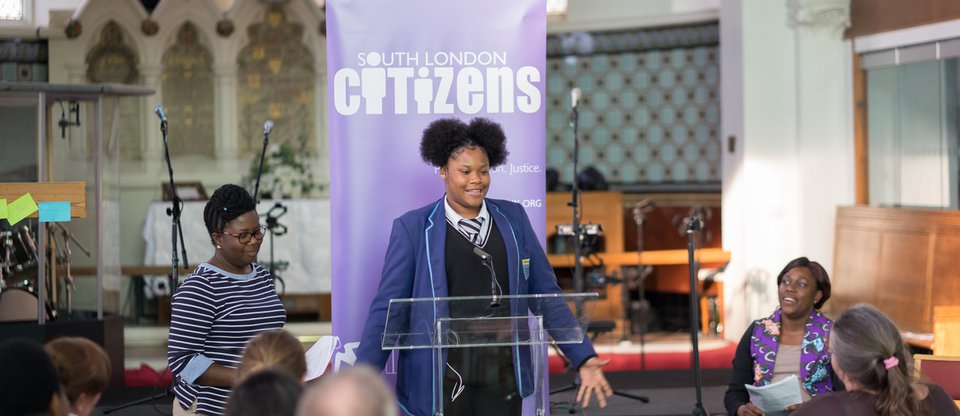 Want to get involved?
Learn more about Lewisham Citizens and how you can get involved with their important work!
Posted by Sophie Thomhave-Lee on 30 Mar, 2023