Communities For Ukraine
COMMUNITIES FOR UKRAINE
Communities for Ukraine is a new refugee sponsorship programme, which will welcome over a thousand Ukrainians to the UK through civil society organisations, including faith groups, schools and universities.
The Communities for Ukraine programme is a collaboration between two charities, Citizens UK and Ukrainian Sponsorship Pathway UK (USPUK), that have been awarded 'Recognised Provider' status by the UK Government to match refugees with host sponsors under the Homes for Ukraine scheme. The programme provides an 'end-to-end' supported process for Ukrainians, and gives dignity and agency to refugees from the time they consider coming to the UK, through to their arrival and resettlement in a new home. This is made possible by the crucial role of strategic partner organisations who each commit to find hosts for 50 refugees in their network.
This approach to refugee sponsorship emphasises the leverage of trusted civil society organisations with deep roots in local communities to provide a safe, supported and sustainable process for Ukrainian refugees to resettle in the UK.
We couldn't believe it when the war started. We knew our area would be one of the first to be affected. We realised that there are so many Ukrainian people in Poland that there was not going to be any opportunity to work and we were not going to be able to progress. We decided to apply to go to another country. I'm so full of emotions. But most of all, I'm extremely happy to be here. [Our host] seems very kind and the children are pleased to be in Britain. Husband and wife Vladyslav and Iryna, two of the first Ukrainian refugees resettled through the Communities for Ukraine scheme.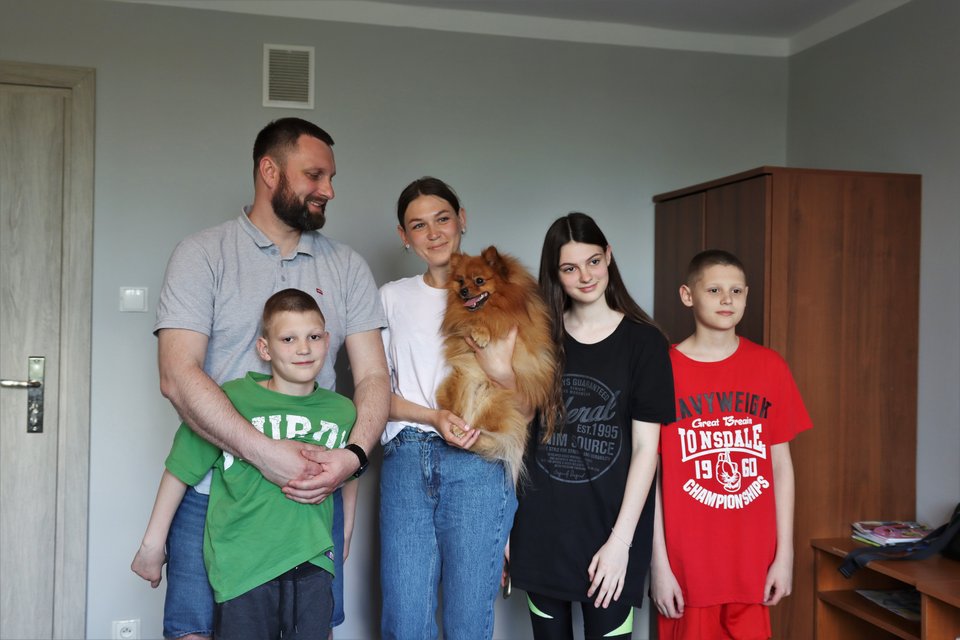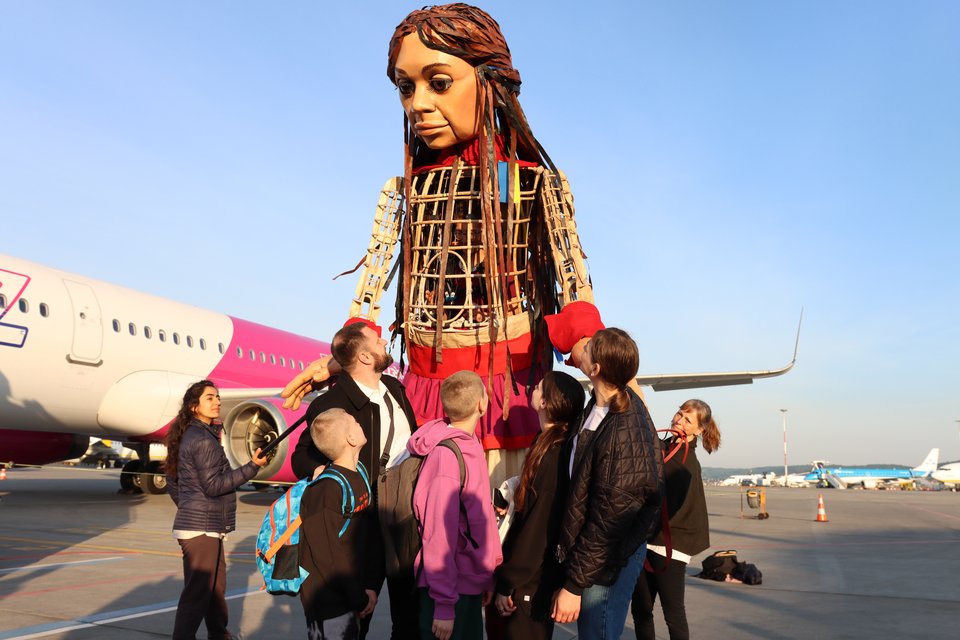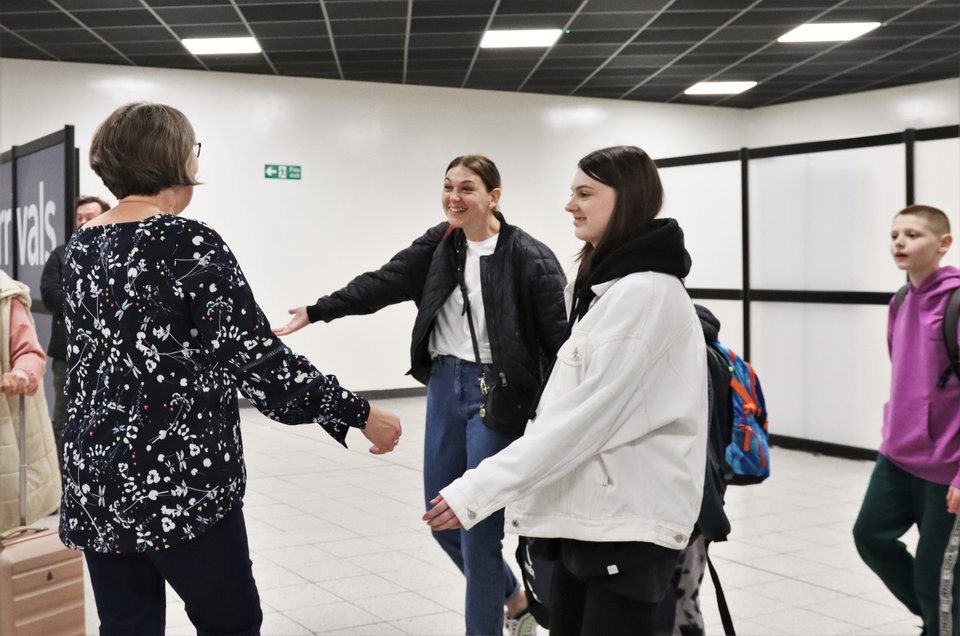 HOW DOES THE PROGRAMME WORK?
The Communities for Ukraine programme adds a scaffold around the UK Government's Homes for Ukraine scheme to make it safer, sustainable, supported and able to scale at speed.
If you are not part of an institution but would still like to become a sponsor and able to offer accommodation to Ukrainian refugees, please register your offer by emailing ukrainecuk@citizensuk.org .
So far, Citizens UK have made hundreds of matches, with more being made every day. As a result, many Ukrainian men, women and children will find a place of sanctuary in the UK for as long as they need it.
This is largely made possible by strategic partner institutions. Each partner has committed to find host sponsors within their networks to accommodate at least 50 Ukrainian refugees, allocate staff time to check the suitability of host sponsors, promote high quality matches, ensure a robust approach to safeguarding, and support hosts and refugees with the challenges they may face when they arrive.
Citizens UK is providing strategic partners with training and policies and processes for local host sponsors, ensuring the learning and experience from resettling dozens of Syrian refugees over the past 5 years through their Sponsor Refugees project is passed on to those who have offered to host Ukrainians.
The scale of the crisis is enormous, but together we can make a difference. We'll be doing our bit by seeking to resettle as many Ukrainian refugees as possible through our networks. Matthew Bolton, Executive Director, Citizens UK.
Pre-Application phase: USPUK supports Ukrainians to understand the opportunity to resettle in the UK;
Application phase: USPUK refers Ukrainians to apply through Citizens UK's 'Gateway to the UK' portal;
Provisional matching phase: Citizens UK and its strategic partner organisations find a likely host sponsor for the Ukrainian applicant;
Match confirmation and visa phase: Host sponsor and applicant confirm the match, and apply for visa supported by the strategic partner, USPUK and Citizens UK;
Travel phase: Citizens UK and USPUK help the refugee to book free tickets via Wizz Air from anywhere in Europe.
The process can take between two and six weeks, or longer in busier moments. It is one of the safest routes to the UK for refugee families due to the number of checks along the way.
outreach and language support to Ukrainians in need, in Poland and wherever they are displaced;
a process to recruit, vet and train host sponsors at scale and to a high standard through a trusted civil society organisation;
a matching service with translation support to link refugees and hosts;
support in applying for visas;
free flights with Wizz Air (courtesy of funding from The Shapiro Foundation).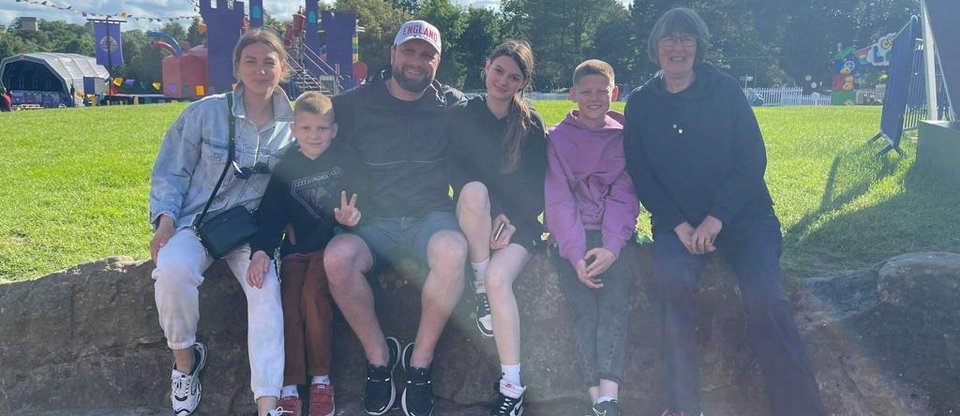 INFORMATION FOR UKRAINIANS
Ukrainians wishing to come to the UK should contact our referral partner, USPUK.
USPUK is a registered charity based in London, set up by a team of lawyers, entrepreneurs, journalists, technology, recruitment, and finance experts who want to help Ukrainians displaced by the war, employs Ukrainian staff in Poland to support refugees to explore resettling to the UK, through in-person activity at refugee centres in Warsaw and Krakow, and through an online service available to Ukrainians anywhere in Eastern Europe.
USPUK refers Ukrainians to Citizens UK's 'Gateway to the UK' online portal through which they can request to be resettled in the UK. Once a match is found, USPUK supports the Ukrainian refugee to apply for a visa and make travel arrangements.
Strategic Partners in the UK
Baptists Together
Barnet Citizens
Diocese of Chelmsford
Diocese of Coventry
Diocese of Durham
Diocese of Exeter & Plymouth
Diocese of Guildford
Diocese of Hereford
Diocese of Leicester
Diocese of Llandaff
Diocese of London
Diocese of Oxford
Diocese of Portsmouth
Diocese of Rochester
Diocese of Southwell & Nottingham
Diocese of St Alban's
Father Hudson's Care
Hong Kong Link Up
King's College London
KPMG
LiFE Multi-Academy Trust
Open University
Peterborough Cathedral
Roman Catholic Diocese of Hexham & Newcastle
The Methodist Church
The Salvation Army
UK Welcomes Ukraine
University of Birmingham
University of Cambridge
University of Newcastle
USPUK
Commitment to resettle 50 refugees under the Homes for Ukraine Scheme through local sponsors in your area;
Provide a single-point-of-contact Co-ordinator from your staff who can co-ordinate local sponsors, receive training, and cascade training to local sponsors, and ensure high standards of safeguarding and welcome are maintained;
Support the local Sponsors you are working with to overcome barriers to success;
Work collaboratively with Citizens UK and our partners to ensure success of the Scheme and the best experience for refugees and local sponsors - in the first six months and beyond;
Ensure the high standards we set are present at every level of the Scheme, especially the Local Sponsors you are co-ordinating.
We were very pleased to become a Strategic Partner with Citizens UK's Communities for Ukraine programme, which has given organisations like ours the confidence to mobilise our networks to open up their homes, safe in the knowledge that every refugee that arrives will be supported to high standards. Andy Quinn, Chief Executive of Father Hudson's Care, a strategic partner of Citizens UK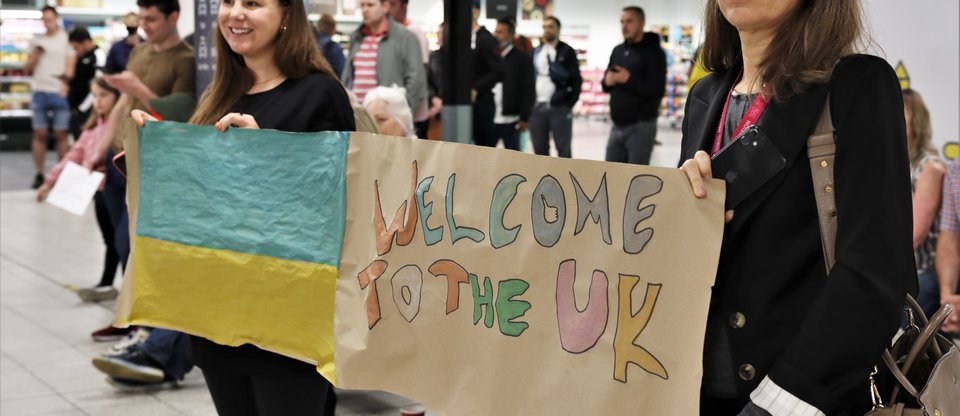 BECOME A STRATEGIC PARTNER
Citizens UK is actively looking for new Strategic Partners to help resettle refugees here through the 'Communities for Ukraine' programme.  If your organisation could commit to finding host sponsors from your network capable of resettling a minimum of 50 refugees over the next 6 months, have some staff capacity to deploy to support your participation, and are willing to uphold the high standards of the Communities for Ukraine programme.
Please note, Citizens UK cannot support the participation of individual host sponsors, unless you are supported by a Strategic Partner (see above) or part of a dues-paying member institution of Citizens UK. If you are part of a Citizens UK member organisation we can support you to become a host sponsor so long as the leader of your organisation can provide a reference.
We are not helpless. Your donations allow us to find safe homes for more families like Vladyslav and Iryna's.