Jobs and opportunities
Who we are
Citizens UK is the UK's biggest, most diverse, and most effective people-powered alliance. We're working together to make change on the issues that matter, from campaigning for zebra crossings on dangerous roads, to reforming the immigration system, to the Living Wage campaign. ​
We are always looking for energised and dedicated people to join our growing team, and vacancies come up regularly.
Information for applicants
We are committed to being an inclusive employer. In line with our inclusion value, we would love to see applications from LGBTQIA+ people, people from racialised communities, disabled people and people of faith to better represent the communities we work in.
Many of our employees enjoy flexible and hybrid working, and we are open to adapting/flexing our roles to embrace a diverse workforce. If you are interested in a particular vacancy and wish to discuss flexible working, please contact recruitment@citizensuk.org.
Even if you don't quite meet all the required criteria still consider applying, as we invest in our employees and support them to develop the skills and knowledge required to deliver their role.
Current opportunities
Application process
At Citizens UK, we use Applied, an applicant-tracking recruitment system. Applied aims to overcome unconscious bias in recruiting. Often the Hiring Team will not see your CV as part of the shortlisting process and instead ask questions to test skills needed for the role. The responses are anonymised and reviewed by the panel. The Applied platform also asks some demographic questions before you start your application. Citizens UK cannot see individual demographic responses, only summary statistics to monitor our candidate pool for balance. Applied aims to give an equal chance to be hired irrespective of background. Candidates can opt out of answering the demographic questions.
We welcome applicants from different backgrounds and will do our best to meet reasonable adjustments and access needs for disabilities during and after the recruitment process.
Applicants must have the right to work in the UK as Citizens UK is unable to sponsor visa applications. Our community organisers work in the community and their employment is subject to satisfactory standard/enhanced DBS checks.
For questions and reasonable adjustments regarding your application, or our recruitment process, please email recruitment@citizensuk.org.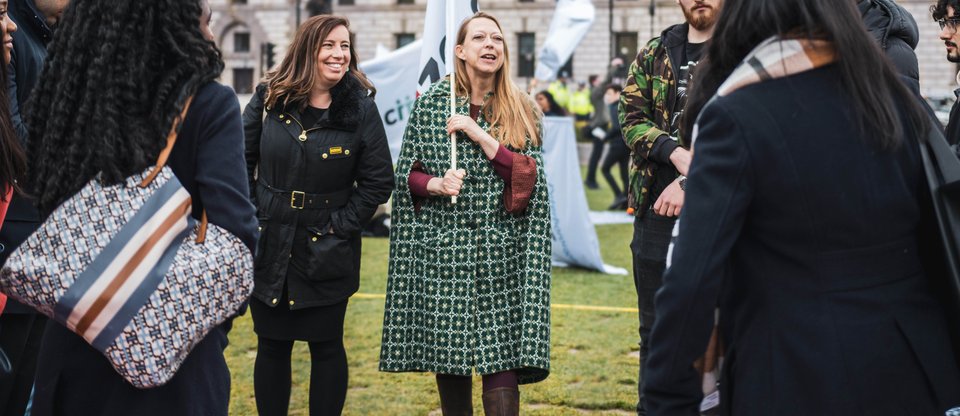 Benefits of working here
Find out more about the benefits of working at Citizens UK.
Wonder what community organisers do day-to-day?