Join us as a faith and religious community
Why do faith and religious communities join?
Many churches, mosques, synagogues, temples and other religious organisations choose to become members of Citizens UK to build a better, fairer society.
Their membership is an expression of their faith and their commitment to work with other faith and secular communities for social justice and the common good. In Citizens UK people can put their faith into action with integrity, drawing on the inspiration of their faith's teaching and traditions.
---
We help faith and religious communities to develop leaders
We help faith and religious communities to strengthen their institutions
Leeds Muslim Youth Group and the Alul Bayt Cultural Centre used membership of Leeds Citizens to identify and train a new generation of young leaders to become trustees.
St Mary's Parish Church in Battersea, London, is integrating Community Organising tools into its day-to-day life to become a more relational church.
Brighton Progressive Synagogue ran an internal listening campaign which galvanised the congregation into successfully campaigning to re-open toilets near the Jewish cemetery.
We help faith and religious communities to win change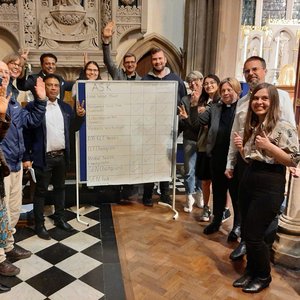 As a member of the youth council, we had the opportunity to work closely with Citizens UK on various campaigns that aimed to make a positive impact in our community. The training provided by Ealing Citizens was instrumental in developing the young people's leadership, communication, and organisational skills. Through the training, we learned how to effectively communicate and work as a team to address the issues that affect our community, such as mental well-being, housing issues, and low wages. The training also allowed us to develop a better understanding of the importance of youth engagement with local government ( MP ) and also the society . The experience of working with Ealing Citizens has been extremely fulfilling, and it has made our young people feel empowered to make a difference in the lives of those around us . The partnership between the St. Anselm's youth ministry and Ealing Citizens has created a welcoming and inclusive environment for all young people in the youth ministry. I would like to thank the Ealing Citizens team for providing such valuable training and for the opportunity to work together towards creating a better community. Oligson, St Anselm's Church Southall
---
Case study: Citizens Colchester and women-only swimming
In 2017, when Colchester Citizens initiated its first listening campaign and started to ask what change people wanted to see in their community, Hasina Ali and members from the town's Bangladeshi Women's Group knew straightaway: they wanted women-only swimming sessions in the local leisure centre.
Britain's oldest town is also the UK's fastest growing, and that includes a significant Muslim population. The town's demographic was changing, but the town's services hadn't caught up – and nowhere was this clearer than in the absence of women-only swimming sessions at the local swimming pool. At a Colchester Citizens training Hasina and her colleagues stood up to share the cultural reasons why they needed women-only swimming.
Reverend Caroline Martin, an Anglican curate, and Sue Wood, from the local Methodist circuit, listened to their stories – and heard that women-only swimming sessions were commonplace in other parts of the UK. As they listened more widely, they discovered many other local people who would value women-only swimming – survivors of domestic violence, new mums, and those self-conscious about their body image. Despite not needing the women-only sessions themselves, Sue and Caroline joined Hasina to make women-only swimming Colchester Citizens' first campaign.
One year, one dramatic public action, and many negotiations later, 90 women and children turned up for the first women-only swim session – many using the facility for the first time. Hasina, Sue and Caroline had experienced the fruits of their first Community Organising win – turning their listening into action for change that made Colchester a more just place for its citizens. They'd learned new leadership skills, and through the improved relationships between Christians, Muslims, and those of other faiths and none, they had contributed to the common good of their town.
---
Case study: Brighton and Hove Citizens and cemetery toilets
Brighton and Hove Progressive Synagogue were one of the founding members of the Brighton and Hove Citizens alliance. In 2007, members of the Brighton and Hove community faced a challenge - the toilets in Hove Cemetery were closed by the council as a way to save money. It meant that many people, especially the elderly and disabled people, were not able to visit their loved ones or mourn a family member. It particularly impacted the Jewish community, because the burial ceremony occurred in the cemetery rather than the synagogue.
Community leaders from the Brighton Progressive Synagogue felt they had two choices. The first was to continue what they were doing and to do it alone. They had raised £5000 towards the cost of installing a fully accessible toilet; however, they realised they needed more money to build it and then to maintain it. The other choice was to join the Brighton and Hove Citizens alliance to have support to make this happen. They chose to work with others to make a change.
One of the key actions the alliance took was to invite councillors to attend an action at the cemetery, with people from the local community affected by the issue attending. The alliance sent invitations wrapped up in toilet paper, as a creative way to get the councillors interested. Once councillors were at the cemetery, they were provided with food and drink and invited to listen to alliance members discuss the impact of the shut toilet on their lives. And in real time, councillors experienced the injustice of a closed toilet by having a long lunch without any public facilities nearby.
And the change was significant. The alliance believed the council had a responsibility to provide this public service and wanted to get the council to act not only on this toilet closure, but on their responsiveness to public facilities in the area more broadly. In response, the council re-opened the cemetery toilet, fully refurbished it, made it more accessible and added baby changing facilities. The council also ensured other toilets were made accessible in the local area.
You can listen to the full story below where our hosts chat to Frida Gustafsson, the former Community Organiser for Brighton and Hove Citizens, and Sandra Walker and Michael Austin from Brighton Progressive Synagogue. They unpack how, after 7 previous years of no luck, this brand-new alliance helped persuade Councillors to fund and make the change needed.