Three-day Community Leadership Training (Online)
Three-day Community Leadership Training
(Online)
Three-day Community Leadership Training (Online)
For those who have completed a local taster training we offer our 3-day Community Leadership Training (online). 
We have two curriculums on offer within this course-type:
An Introduction to Community Organising
The Five Steps to Social Change
These are three-day courses which take place online via zoom. Both of these courses are followed by 25 hours of additional workshops - learning which must be completed by the trainee independently. We have a range of opportunities to engage trainees in further learning to help them fill their additional hours. See the Learning Thursdays FAQs here.
Both courses also include a 50-hour practical placement in your community, which will be guided by your Community Organiser.
These courses are accredited by Birmingham Newman University as a Certificate in Community Leadership.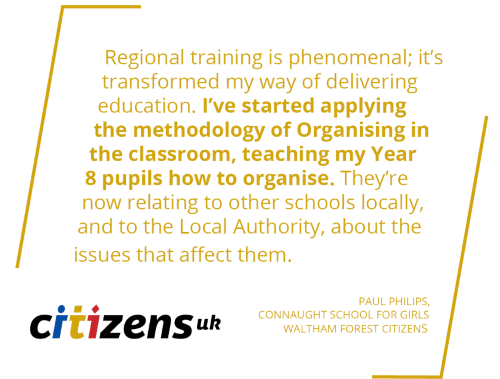 How to register
Citizens UK Community Leadership Training (online) is a popular course with limited places.
If you would like to participate, please speak to your local Citizens UK Community Organiser first.
Every applicant will require agreement from a Citizens UK Community Organiser to support them in developing a plan ahead of the training, in supervising their community placement after the training, and in attending the Regional Learning Network following the completion of the community placement.
See upcoming courses and find out about the application process below.
Community Leadership Training: An Introduction to Community Organising
This three-day, online training is built around an introduction to our three strategic aims: social justice, leadership development and institutional development. This curriculum focuses on giving leaders the knowledge and skills to participate effectively in a Citizens UK alliance, and is ideal for members of Leadership Teams, Sponsoring Committees, and those who are relatively new to Organising and to Citizens UK.
Examples of topics covered may include: What is Broad-based Community Organising?; The Universals (Power and Self Interest); Key Concepts (The Iron Rule; People before Programme; Action and Turnout); Tools for Relational Leadership; Institutional Development; How to be an effective leader in your local Citizens chapter (What is Citizens UK?; Organised People and Organised Money; Relating to Others: Understanding Privilege and Oppression; How issues are developed within Citizens UK).
We particularly encourage the following people to sign-up:
Members of a Citizens UK Chapter/Alliance Leadership Team
Members of the Citizens UK Leadership Team
Leaders who have done 3-day training and are wanting to build their understanding of the theory of community organising or the practicalities of being part of a Citizens UK alliance
People on Sponsoring Committees for new Chapters
Leaders from new member institutions
Veteran leaders looking for a refresher.
Apply: 5 - 7 March 2024
Community Leadership Training: The Five Steps to Social Change
Working with Birmingham Newman University, who accredit our training, we have designed a course which follows the 'Research – Action – Evaluation' structure that is a key part of our Community Organising curriculum. The purpose of this course is to equip you with the method and skills to lead action for change in your local Citizens alliance.
We use the five steps to social change framework and a suite of complementary skills to help community leaders translate their anger at injustice into effective action for change.
The training focuses on helping you to achieve social justice - so it helps for trainees to be involved in campaigns with their local Citizens alliance.
The training helps you develop your community leadership skills, so you need to want to build your capacity in this area. We will also touch on how to use community organising techniques to strengthen your own organisation - so it helps if you are involved, formally or informally, in contributing to the leadership of a civil society organisation.
We particularly recommend this course for those who want to:
Deepen their understanding of community organising and what it means to be part of a Citizens alliance;
Develop core community organising leadership skills such as 1-2-1 relational meetings, storytelling, power analysis, campaign strategy, action-planning and negotiation skills;
Equip themselves to lead change in their community.
Apply: 10 - 12 October 2023
Apply: 24 - 26 September 2024