Join us as a Higher Education institution
Join us as a Higher Education institution
Join us as a Higher Education institution
Why do universities join?
Many universities and university departments choose to be members of Citizens UK. It is an opportunity to demonstrate they are civic institutions committed to social justice and to invest in their people and communities. Community Organising methodology enables academics, professional services staff and students to develop the capacity and skills to build relationships both internally and externally. These relationships and techniques enable staff and students to create effective partnerships and achieve tangible impact.
Case study: Parent Power
Parent Power is an award-winning parental engagement project run by King's College London's Widening Participation Department. The project uses Community Organising to put power in the hands of local parents. Parents from local boroughs around King's College London are recruited and trained to become experts in university access and campaigners on educational equality within their communities.
Since the project began in July 2017, it has engaged over 200 underrepresented parents, recruiting 35 as local Parent Power leaders. The parents have led a series of successful campaigns, most notably securing fully funded bespoke open days at universities across the UK and winning bursary places at private summer schools for the second year running.
We help universities develop their leaders
At King's College London, Organisers ran a "service-leaders programme" training 30 academics, professional service staff and students to build relationships and create change. Trainees have used the skills to strengthen internal teams, to build relationships with the local Latin American community (Empoderando Familias), set up student societies and run campaigns on welcoming refugees, switching energy companies, and the digital divide. 
We help universities strengthen their institutions
At King's College London:
Community Organising techniques have enabled university staff to deepen relationships between students. Campus Conversations trains 30 student ambassadors each year to have relational one-to-one conversations with other students and so improve the sense of community belonging at the university.
Conversations about race uses the House Meetings tool to have tough and honest discussions that explore the experience of race at the institution and develop ways to improve the experience of students and staff of colour.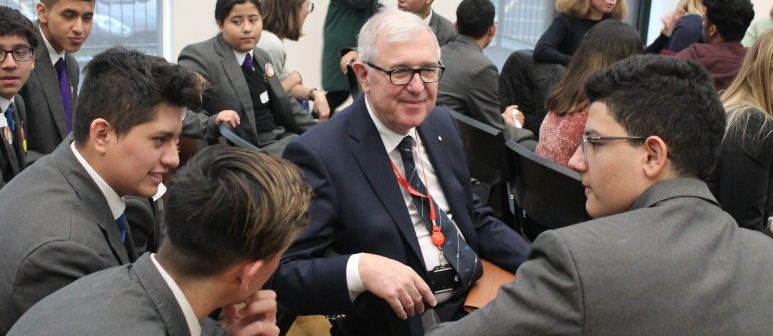 We help universities have impact and win change
The real Living Wage in Cardiff
Cardiff University Business School has worked with Citizens Cymru Wales to win pay rises for thousands of low-paid workers in Wales. Our Community Organisers have run training seminars with students to help them connect to local issues facing low paid workers in and around the university campus, helping them learn principles of Organising and connect them to their university study.
Youth Mental Health in Birmingham
Newman University, Birmingham has worked with Citizens UK to end the gap in access to specialist mental health treatment for 16 to 17 year olds (impacting approximately 4,000 young people in Birmingham). They remain a long standing member of our Citizens UK Birmingham chapter and every year students attend Community Organising training as part of their development in university life.