Join us as a charity
WHY DO CHARITIES JOIN?
Many charities choose to become members of Citizens UK. Not only is it an opportunity to demonstrate a wider commitment to social justice, community organising helps you build relationships with others in your community to create effective partnerships and meaningful change where you work. With Citizens UK's wide-reaching member charities, there are further opportunities to build strong relationships with other members alongside Citizens UK, which can allow for further support for your charities' chosen cause.
Case study: Shpresa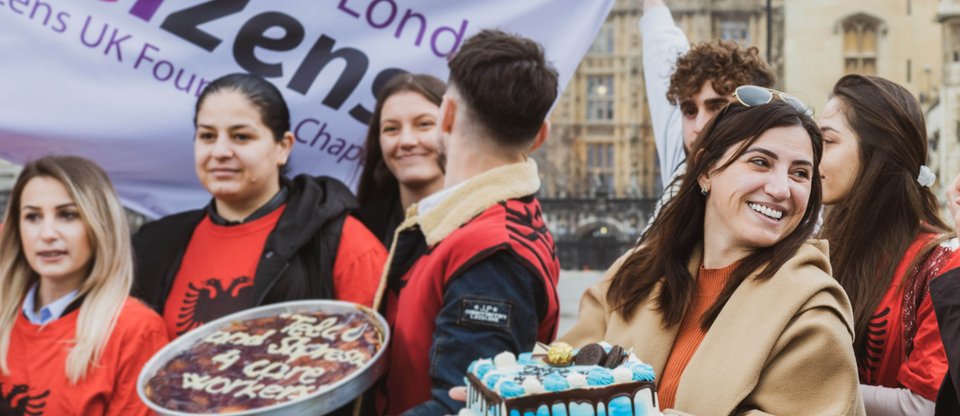 The Shpresa Programme (Shpresa) supports Albanian-speaking refugees and migrants in the UK to play a positive and active role in British society.
In 2004, Shpresa's membership journey began with Citizens UK after a positive experience members of their board had at a Citizens Assembly. Seeing the power of broad-based organising in practice – where a diverse group of organisations organise together - and the opportunity to vote on agendas led CEO Luljeta Nuzi to see how community organising could help Shpresa's vision.
It has been eye opening and a great learning opportunity for our team and members. Shpresa is built on two sets of models. It's a combination of the School for Social Entrepreneurs philosophy, and the empowerment, campaigning and organising aspect of Citizens UK. The learning from these two institutions have carved me as a leader, and I think Shpresa has found the right model to bring about the positive change we want to see. Luljeta Nuzi, Shpresa CEO
WE HELP CHARITIES DEVELOP THEIR LEADERS
Since joining, Shpresa has massively grown in scale, developing thousands of leaders, and continuing to achieve their goal of uplifting the voices of those who at times have felt excluded from British society. Citizens UK community organisers continue to support this goal by becoming mentors to members of the Albanian community, not only encouraging them to raise their voice, but also by supporting their campaigning journeys.
Together with our members, we go on to change people's lives and attitudes, or the environment around them, so they have the ability to bring that change. With Citizens we have seen migrant issues become forefront, and sometimes other campaigns are on the agenda. I think the Albanian community has built its presence and voice via partnership work and by being an active member of Citizens UK. Our campaigns so far have shown that when done well, organising leads to the change we want to see. We have always used that as a tool to train people and to have a culture shift, believing in a power-based approach through listening Luljeta Nuzi, Shpresa CEO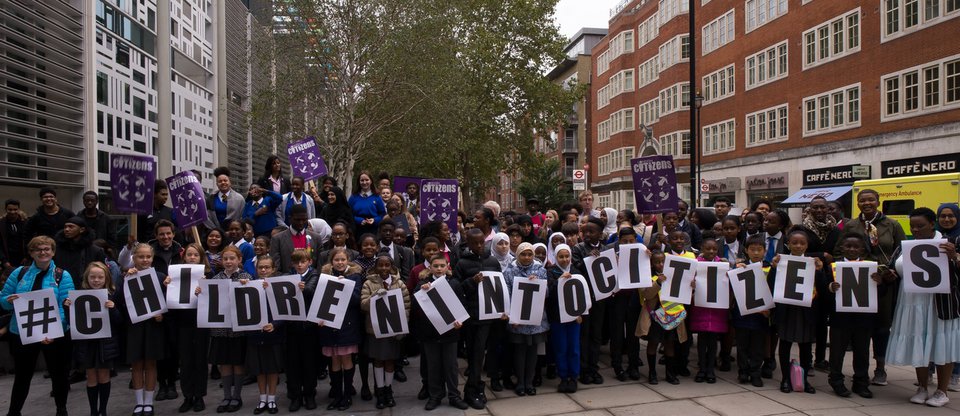 Case study: English for Action
English for Action (EFA London) are a long-term member of Citizens UK, becoming members 10 years ago. EFA London are committed to supporting migrants to learn English and taking action for social justice.
As part of their #LoveESOL Campaign, they set up ESOL courses with community partners to ensure classes are accessible to people who may otherwise miss out. EFA also has the larger goal of making London a more equal city, whereby everyone can thrive irrespective of where they are from.
WE SUPPORT CHARITIES TOWARDS BUILDING RELATIONSHIPS
Whilst ESOL was not making it onto the agendas of election assemblies, negotiations with councils or the Greater London Authority (GLA), EFA London was able to learn through other London Citizens members that the lack of ESOL classes is a shared, larger issue. This allowed for the ability to collectivise and demonstrate support towards ESOL campaigning, which further highlights how relationships built with other member organisations can lead to bigger opportunities and further support.
We recognised that through our membership of London Citizens and alongside ally organisations we were much more powerful and potentially had a seat at the table with local authorities and GLA politicians Dermot Byers, Co-Founder of English for Action
In 2017, these steps in building relationships transformed into physical support as a mass teach-out action was organised outside London City Hall, who are responsible for developing ESOL policy. It was a successful event, with over 90 ESOL students attending and EFA London being invited to a meeting with those London City Hall workers responsible for ESOL policy to discuss how they could work together on this issue.
WE HELP CHARITIES IN THEIR QUEST TO WIN CHANGE
During this time, Citizens UK provided further support towards developing the right asks which resulted in EFA London winning important commitments from council leaders across London. Examples of these carried out commitments include City Hall appointing an ESOL Coordinator role and raising the threshold for fully funded classes to anyone earning less than the London Living Wage, making free classes accessible to a further 20,000 people.
Over this time, we have built hundreds of relationships, supported with actions and campaigns not directly in our self-interest and received support in exchange on the campaigns most important to us...gradually, ESOL has become a bigger and bigger priority for Citizen's alliances across London and the country Dermot Byers, Co-Founder of English for Action