Our values
Our organisational values give our work meaning and purpose. These values underpin the way we interact with each other and drives our overall mission. Our six values are:
Solidarity
Kindness
Courage
Integrity
Inclusion
Relational
Hear from some of our colleagues on how they live out these values in their work.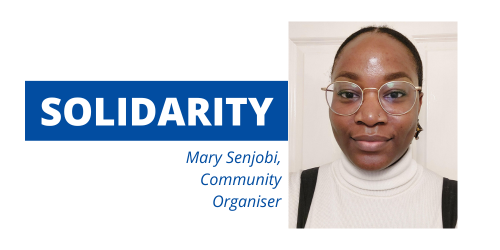 Solidarity
"It's important that the leaders I organise with are aware that I stand with them and work within our means to ensure they win justice on issues that they care about.
I work with a few schools in Redbridge, and I am continually amazed and energised by the young people's passion to win change. Despite being in a different life stage to the young people of both primary and secondary age – it is important for me to stand in solidarity with them by taking their work seriously and listening to them to ensure they can act on what they're passionate about changing. I stand in solidarity with them by ensuring the campaigns we develop reflect their experience and stories instead of being a 'good justice issue' that will not impact their everyday reality."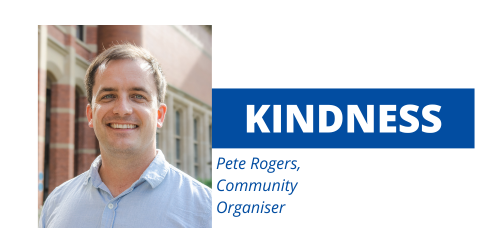 Kindness
"To me, kindness in my work means intentionally setting aside time in the busyness of the working day to think about colleagues and leaders... how is that person? What are they facing right now? What might they need? Do I know? Could I reach out and find out, share a word of encouragement, or simply let them know I'm here if they need anything? I know I have been on the receiving end of this type of kindness over the years - busy people taking time to give me a call or ask me how I am, and that's inspired me to do the same.
Kindness also looks like a courageous conversation. When someone cares enough about you and your learning, development or future, that they take time to give you feedback on something you've delivered for the organisation. The feedback itself can also be delivered in a kind way, but I think the very act of considered feedback is a radical act of kindness - to care enough about a person that you take time to reflect on their practice and share that with them. I know I've received this time and again over the years and I try to do it for others too."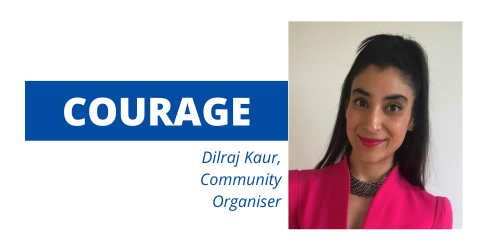 Courage
"Organising is not for the faint-hearted. This work takes courage. I've noticed organisers are drawn to the work of organising due to their own anger. It is not until we realise that we need to fuel this anger into action that we become courageous organisers.
We listen deeply, looking out for leaders with courage. The courage to firstly, voice their anger. Secondly, the courage to stand up for the issue they believe in. And thirdly, the courage to act on it despite it not being the norm.  As an organiser, to have the profound courage to hold all this and bring it together to make change.
As a brown female organiser, I've had to have the courage to be louder, stronger and believe that my voice is as important as a white man. Valerie Kaur says; "Go Gently. This is courageous work, and even if you don't see the fruits of your labour anytime soon, simply engaging your opponents with the ethic of love is revolutionary." For me, the slow and steady work of Organising takes courage. And finding ways to fuel anger into action whilst still feeling love takes courage."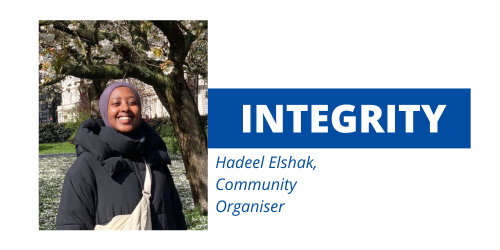 Integrity
"As an organiser it's easy for people to assume that you already hold the value of integrity, as your role is to work towards the common good. However, I've learnt (and am still learning) that embedding integrity into the job is an active and constant process. What differs integrity from honesty is having a strong moral compass alongside everything you do. Whilst this may sound like a given, the changing nature of being an organiser and constant new challenges means there's a large element of the work that has a lot to do with reacting. This is where the opportunity lies to embed and practice integrity by constantly having a set of values to return to that inform your everyday work.
One way that helps me is using questions that I can ask that guide me and my practice with others: What is the purpose of this work/project? Who is involved? Are leaders at the centre of this work? And do they know what lies ahead in this journey? If we don't know, have I shared that with them? Lastly one question which I've stolen from James Afsa (Citizens UK Assistant Director) is: If we win, who will celebrate?"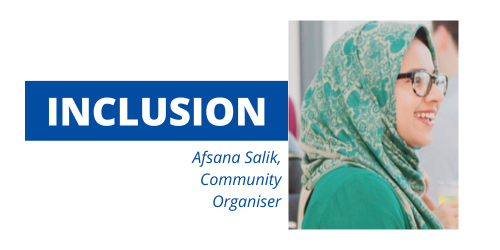 Inclusion
"Citizens UK allows me to be a true version of myself, where my faith and culture are well respected. Inclusion is at the core of our work, and there's not only an understanding of differences, but a celebration of them. As well as receiving work benefits such as flexible working hours and a good annual leave allowance, there are smaller day to day things that reflect our inclusive culture: for example, having the option to change my working hours during Ramadan, or being given breaks to perform prayers and during staff meetings. With my faith being extremely important to me, being given space to be myself is what makes working here so fulfilling.
Inclusivity is also integral to community organising, and I embed this value throughout my work. For example, by making sure our community leaders are from diverse communities and that they're not only included but feel heard. There's also been work around our training sessions and how we can make them as inclusive as possible, through offering childcare facilities and bringing in learnings from different faiths and cultures."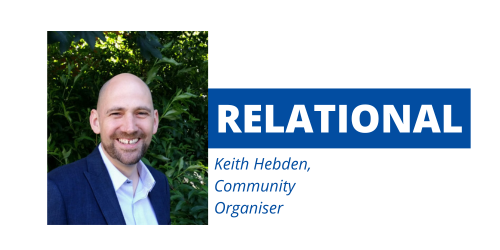 Relational
"In Alicia Garza's book on founding Black Lives Matter, 'The Purpose of Power', she writes, "Organising is as much about human connection and building relationships as it is about achieving a political goal." For staff and leaders at Citizens UK building public relationships based on a real curiosity about one another is foundational to every plan and action. IAF Organiser, Michael Gecan calls the one-to-one conversation 'the most radical thing we teach.'
As a Community Organiser I try to book in three one-to-one conversations every day, mostly with leaders I work with and sometimes with colleagues. But if you are in a meeting organised in Citizens UK, the chances are it will start with either one to ones or a 'rounds' with a prompt question that's personal, pertinent and political. Personal, because we bring our whole selves to work, even if we maintain a distinction between private and public. Pertinent, because we want to relate to each other, not just to the agenda on a piece of paper. And political because, as second-wave feminism taught us, "the personal is always political".
So, the habits of relationship building are recognisable across all projects and departments at Citizens UK, but especially when we come together as a whole organisation. The Jewish Austrian philosopher Martin Buber once wrote, 'all real living is meeting' and I really believe that meetings run with relational habits make us feel, not less alive, but more so!"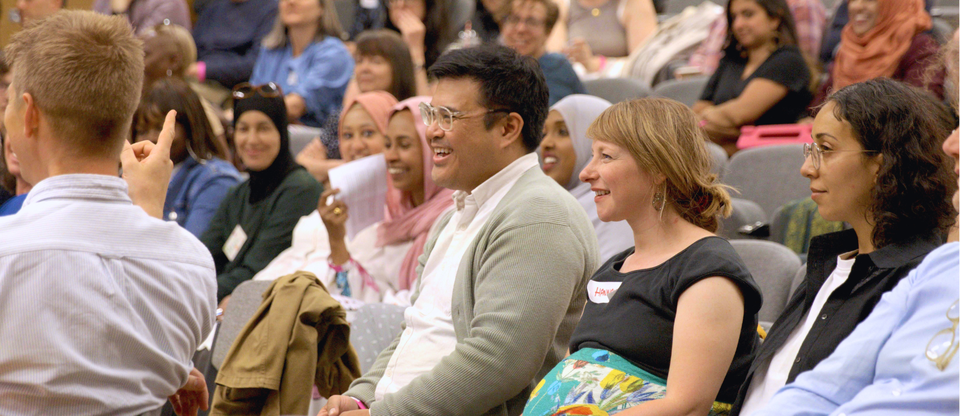 Interested in joining our team?
Find out what it's like to work at Citizens UK and see our current vacancies.