Leadership training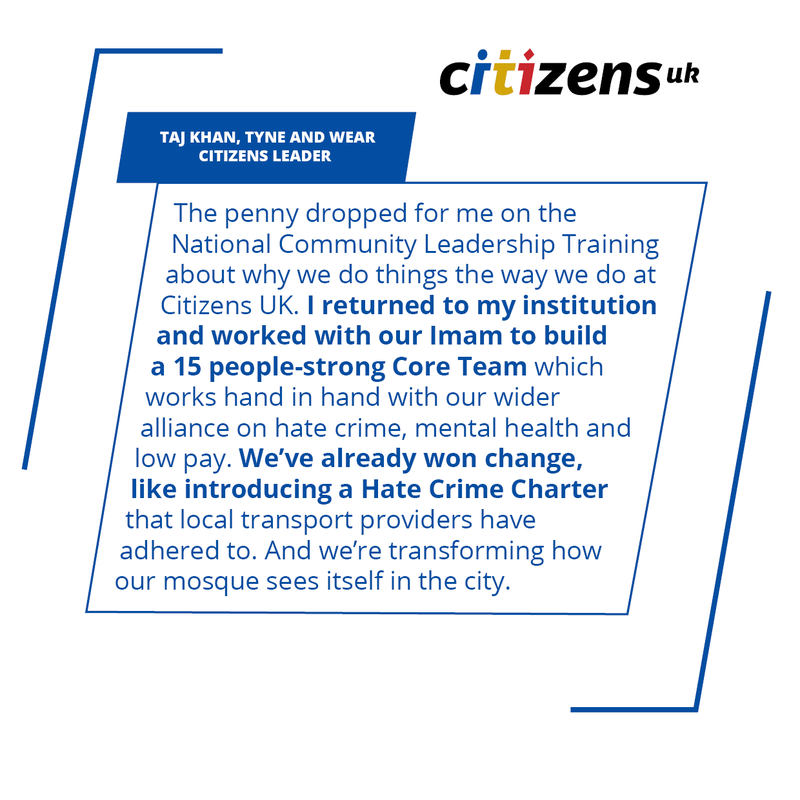 We believe that community leaders are made, not born– which is why we invest so much time and effort into leadership development and training. We also believe that people learn best by doing, which is why our training always focuses on putting the theory and the skills into practice.
All our training is delivered by experienced members of the Guild of Community Organisers, which includes the leading practitioners of the craft in the UK, with over a century of experience between them.
---
There are four opportunities to access training with Citizens UK:
1) Learning Thursdays: Free weekly online training workshops
During the first Covid-19 lockdown, we ran a weekly Organising civil society in Covid-19 session on Zoom. Hundreds of leaders participated from every chapter across Citizens UK, sharing experiences and learning on Covid-related issues such as bereavement and grief, volunteer training, and staying relational, as well as encouraging action on issues such as the Living Wage for Key Workers campaign, mental health and Black Lives Matter.
Since October we have formalised Learning Thursdays. Every Thursday afternoon from 16:00 to 17:15 we will offer a free learning opportunity. On most Thursdays there will be a choice of two types of session:
Learning for leaders. This is aimed at any leader within Citizens UK. These sessions will run on a monthly theme. Learning for leaders will be accessible even to those who are very new to Citizens UK and Community Organising.
Community Organising masterclasses. These are aimed at leaders who have some experience of Citizens UK and are likely to have been through our training. These will be stand-alone masterclasses focused on the key skills of Community Organising.
On the final Thursday of each month at 16:00 there will be a topical learning session open to anybody, where we will seek to apply Community Organising skills to a topical issue.

April: Winning Justice through Diversity
**Special Learning Thursdays Opportunity**: Safeguarding Training for Leadership Groups
April 29th 2021 - 16:00-17:15
Safeguarding is fundamental to our work - if you are the safeguarding rep for your Citizens chapter, part of a Leadership team focusing on safeguarding, or a leader looking to learn more about safeguarding in your work with Citizens UK, please join us for this event.
You will hear from Safeguarding experts, but this is also an opportunity to discuss what works well in your Chapter or institution - and what support you need going forward.
An important opportunity for Chapter Safeguarding reps and Leadership team members.
---
2) Local taster training: Introduction to Community Organising
A lot of our training consists of short workshops and one or two day local taster trainings delivered in the community or online. If you are part of a Citizens UK member organisation, ask your local Community Organiser for details of taster training courses in your area.
---
3) Regional community leadership training: The five steps to social change
For those who have completed a local taster training we offer our regional community leadership training. 

The purpose of this course is to equip you with the method and skills to lead action for change in your local Citizens alliance. We use the five steps to social change framework and a suite of complementary skills to help community leaders translate their anger at injustice into effective action for change. This is a three-day course, followed by 25 hours of additional workshops, and a 50-hour practical placement in your community. This course is accredited by Newman University, Birmingham as a Professional Graduate Certificate in Community Leadership.  
---
4) National community leadership training: Our flagship course
Our national community leadership training is a six-day immersion in Community Organising theory and skills, with a particular emphasis on building the method into the culture of your organisation through institutional development. After the six-day residential course there is a 50-hour practical placement in your community. This course is accredited by Newman University, Birmingham as a Professional Graduate Certificate in Community Leadership.
Our next confirmed in-person, residential six-day training will be taking place between 27th- March - 1st April 2022. Please check back here for more information.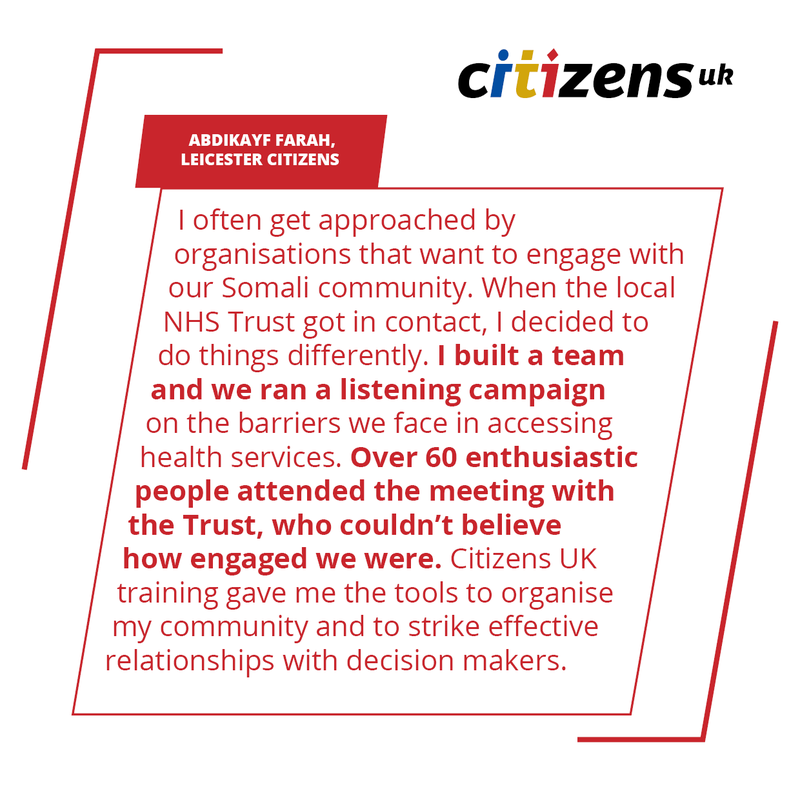 *New National Training opportunity* Online 3-day 'Introduction to Community Organising' training - June/July 2021
29th June - 1st July 2021 - Citizens UK Online National 'Introduction to Community Organising' Training.
A new 3-day online national training opportunity, with a new and exciting curriculum - check back here for more details. Accredited by Newman University.
---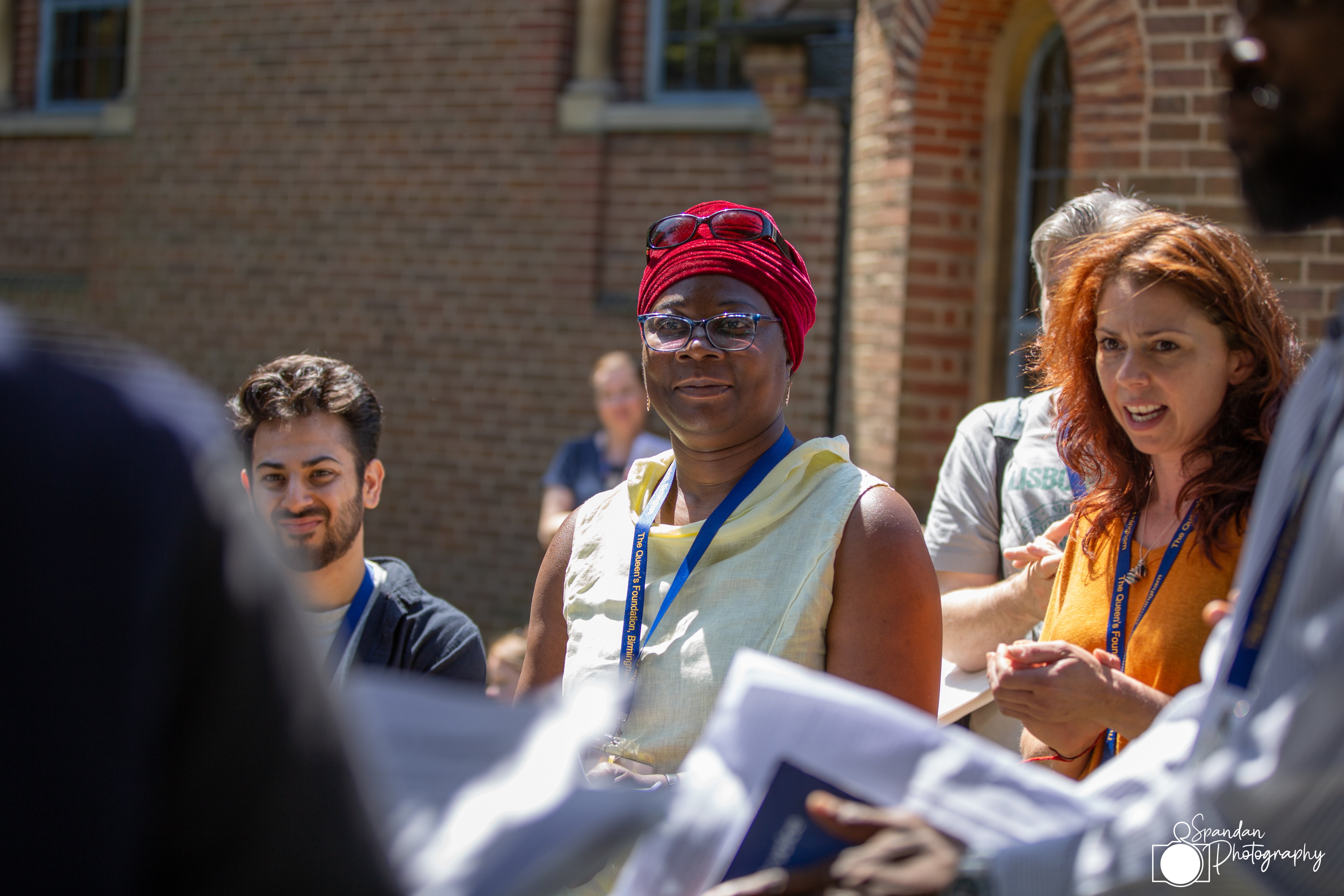 Find out more about our training
For any questions about our training opportunities or registration process contact our learning team at learning@citizensuk.org.