Toilet Triumph!
EVERYDAY PEOPLE MAKING CHANGE
EPISODE 2: TOILET TRIUMPH!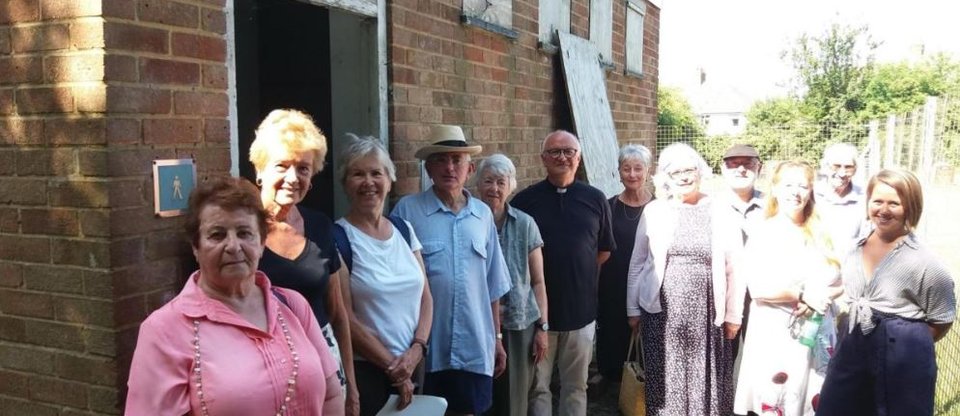 Would you ever dare to give politicians food and drink at an event…with no bathrooms? How about respectfully wrapping up their invites in toilet paper? Be inspired by the remarkable story of how community leaders from 15 diverse organisations across Brighton and Hove Citizens won their campaign to reinstate accessible public toilets in Hove Cemetery through strategic and creative actions.

Our hosts chat to Frida Gustafsson, the former Community Organiser for Brighton and Hove Citizens, and Sandra Walker and Michael Austin from Brighton Progressive Synagogue. They unpack how, after 7 previous years of no luck, this brand-new alliance helped Councillors understand the deep and discriminatory impacts of the issue on many affected communities, and persuaded them to fund the change needed.
Click the share button on the player above to download this episode, share it on social media and subscribe on your favourite listening platform.
Show notes and further reading
In the Toilet Triumph! story, several words and phrases are used that some people may not have heard before. These include:
Alliance - a term we use to describe groups of diverse institutions who come together to work for social justice - such as faith groups, universities, unions and so on, who become members of Citizens UK.
Founding members - groups who helped set up a Citizens UK alliance.
Testimony - storytelling in public, often shared by those who have lived experience of the issue.
Brighton and Hove Council's Environment Transport and Sustainability Committee - responsible for everything from park maintenance to road management.
You can find a full reading list on Community Organising here.
Challenge, Choice, Change
Challenge, Choice, Change was a concept first used by Community Organising veteran, Marshall Ganz. You can read more about the use of this framework here.
In Toilet Triumph!, members of the Brighton and Hove community faced a challenge. In 2007, the toilets in Hove Cemetery were closed by the council as a way to save money. It meant that many people, especially the elderly and disabled people, were not able to visit their loved ones or mourn a family member. It particularly impacted the Jewish community, because the burial ceremony occurred in the cemetery rather than the synagogue.
Community leaders from the Brighton Progressive Synagogue felt they had two choices. The first was to continue what they were doing and to do it alone. They had raised £5000 towards the cost of installing a fully accessible toilet; however, they realised they needed more money to build it and then to maintain it. The other choice was to join the Brighton and Hove Citizens alliance to have support to make this change. They chose to work with an alliance to make this change.
And the change was significant. The alliance believed the council had a responsibility to provide this public service and wanted to get the council to act not only on this toilet closure, but on their responsiveness to public facilities in the area more broadly. In response, the council re-opened the cemetery toilet, fully refurbished it, made it more accessible and added baby changing facilities. The council also ensured other toilets were made accessible in the local area.
The 5 Steps to Social Change
The 5 Steps are a framework commonly used in Community Organising and across Citizens UK. Following these steps can help civil society leaders make change on the issues that matter to them.
The best way to start Organising and practising these steps is by joining Citizens UK as a member. You can also join one our many leadership training programs - from free, online webinars, to immersive three and six day accredited Community Leadership courses.
Brighton and Hove Progressive Synagogue were one of the founding members of the Brighton and Hove Citizens alliance. Frida organised 14 other diverse organisations to make a long-lasting alliance in the area, ready to make change.
With this coalition of different members, Frida ran a listening campaign amongst different member institutions, as well as the synagogue. At the synagogue, it became clear that the community felt strongly about re-opening the cemetery toilet, because something that could seem trivial was really impacting their community, particularly elderly and disabled people, as well as the Jewish community whose burial ceremonies took place entirely in the cemetery.
The alliance decided to take on this campaign as one of its four key campaigning issues. They planned the best way to make the change happen, by identifying key councillors to target with creative actions to get councillors interested in the campaign. They also found moments to get councillors to publicly confirm their commitments, to hold them accountable to make the changes they promised.
One of the key actions the alliance took was to invite councillors to attend an action at the cemetery, with people from the local community affected by the issue attending. The alliance sent invitations wrapped up in toilet paper, as a creative way to get the councillors interested. Once councillors were at the cemetery, they were provided with food and drink and invited to listen to alliance members discuss the impact of the shut toilet on their lives. And in real time, councillors experienced the injustice of a closed toilet by having a long lunch without any public facilities nearby.
As a result of the action, the community got a seat at the decision-making table in order to negotiate. They raised the issue with the Brighton and Hove Council's Environment Transport and Sustainability Committee, who just a few months earlier had told Sandra it wasn't a priority. But in the meeting, the committee changed their mind and found the funding to fix the toilet, having an outsized change for the community who had fought so long for the change.

See our reading recommendations below for more information on each of the five steps.
STEP 1: ORGANISE
How to Build a New Citizens Alliance
How to collect annual membership dues: a guide for leaders and organisers
Mike Gecan on one to one meetings
Recruiting members through one to ones
Why we never go where we're not invited
STEP 2: LISTEN
Twelve steps to plan an effective listening campaign
Developing people through listening
How to do listening through House Meetings
How to do listening through Neighbourhood Walks
Template flyer based on a Listening Campaign
Template plans for Listening Campaign
STEP 3: PLAN
Developing an effective strategy to achieve change
Leadership Development Table - Tracking your development and that of others
Qualities and Habits of leaders who organise effectively
STEP 4: ACT
A story of action: Tesco and the Living Wage
Guide to turnout by Nottingham Citizens
STEP 5: NEGOTIATE
Dilraj is joined for this episode by Jonathan Cox, Assistant Director of Citizens UK and Paul Amuzie, Senior Organiser for North London Citizens alliance.
They discuss how leaders are made and not born, one of the key philosophies of organising. You can find this section at 51:55.
You can find out more about how we develop leaders on our six-day training.
In this episode, Jason explores the importance of building relationships with people in power to shine the light on injustice, as well as the importance of strong relationships across civil society.
You can find this section at 1:06:02.