Reclaim the Metro!
EVERYDAY PEOPLE MAKING CHANGE
EPISODE 1: RECLAIM THE METRO!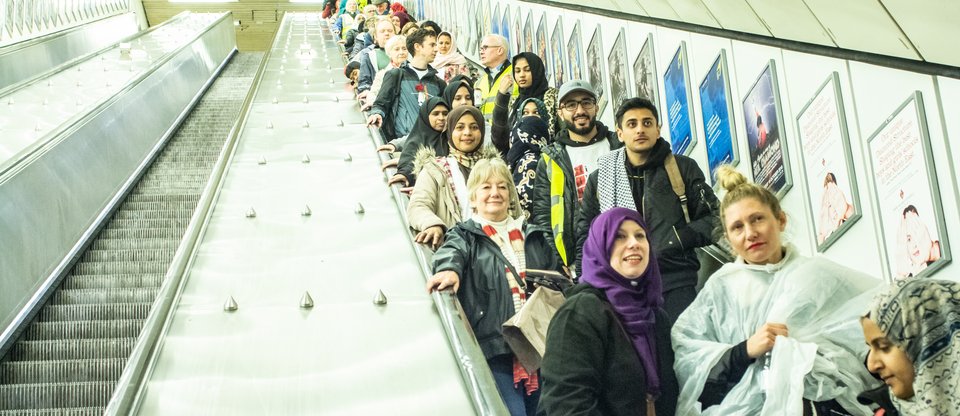 What could 'Human Shield' and 'Reclaim the Metro' have in common? They're both the names of creative and radical actions taken by everyday people across Tyne & Wear to stamp out Islamophobia, misogyny and hate crime in their community. Join us for this episode as we hear the story of how leaders of different faiths and non-faith backgrounds literally stood up against the English Defence League (EDL), a far-right hate group. Picture yourself joining them as they handed out roses to strangers on public transport, and celebrate with us as we explore how they won a transformative Hate Crime Charter making the streets safer for all.
With thanks to our guests on this episode from Tyne and Wear Citizens: Sara Bryson, Taj Khan, Helen Jarvis and Habeeba Haque.
Click the share button on the player above to download this episode, share it on social media and subscribe on your favourite listening platform.
Show notes and further reading
You can find a full reading list on Community Organising here.
In the Reclaim the Metro! story, several words and phrases are used that some people may not have heard before. These include:
Hijabi - A woman who wears a Hijab.
Misogyny - Misogyny is the dislike of or prejudice against women or people perceived as women
Islamophobia - Islamophobia is the dislike of or prejudice against Islam or Muslims, or people perceived to be Muslim.
Intersectionality - Intersectionality is an analytical framework for understanding how aspects of a person's social and political identities combine to create different modes of discrimination and privilege. Intersectionality identifies multiple factors of advantage and disadvantage. Examples of these factors include gender, caste, sex, race, ethnicity, class, sexuality, religion, disability, weight, physical appearance and height. These intersecting and overlapping social identities may be both empowering and oppressing.
In this episode, leaders often discuss their unique experiences as brown or black Muslim women, and the intersections between racism, misogyny and Islamophobia they experience.
Punish a Muslim Day - A horrific hate crime organised by a white supremacist promoting a flyer calling on people in the UK to physically attack Muslims on April 3rd in 2018
Read some of our training resources on understanding privilege and oppression here.
Challenge, Choice, Change
Challenge, Choice, Change was a concept first used by Community Organising veteran, Marshall Ganz. You can read more about the use of this framework here.
In Reclaim the Metro! members of the Tyne and Wear community were experiencing huge challenges. Especially since the Brexit vote in 2016, Muslim women were being subjected to a massive and disturbing rise in Islamophobia and other forms of hate crime, including verbal and physical violence and abuse. This problem was particularly profound in public spaces like on public transport and in GP surgeries. Muslim women were scared to go out and felt hopeless that no one was listening to them. There was a feeling that nothing could be done to tackle the issue.
However, members and leaders across Tyne and Wear Citizens, led by Muslim women experiencing the issue, made a choice to take action. Rather than settling for the exclusion of Muslim women from public spaces as inevitable, they chose to hold authorities to account and campaign for new policies that would improve safety across the region. Narrowing in on public transport as this is where the majority of stories were coming from, Tyne and Wear Citizens chose to 'target' public transport companies and held actions like Reclaim the Metro to grab their attention.
And the change was significant. Their Community Organising resulted in the publication of a Hate Crime Charter covering all public transport networks across the region. This meant a clear policy was in place, detailing how public transport companies would be expected to treat reports of hate crime, and passengers and drivers on public transport would know who to go to and what to do when instances arise. It also resulted in the training of all drivers on how to implement these policies, and Tyne and Wear Citizens held training for member institutions on how to support victims of hate crime and where to report if necessary.
The impacts of this work were even further reaching. As well as helping to break down barriers, prejudice and misconceptions across communities, many of the Muslim women who led this campaign are still regarded as important civil society leaders today and continue to campaign on and tackle other issues.
The 5 Steps to Social Change
The 5 Steps are a framework commonly used in Community Organising and across Citizens UK. Following these steps can help civil society leaders make change on the issues that matter to them.
The best way to start Organising and practising these steps is by joining Citizens UK as a member. You can also join one our many leadership training programs - from free, online webinars, to immersive three and six day accredited Community Leadership courses.

In Reclaim the Metro! Tyne and Wear Citizens leaders first started by Organising. Key leaders like Taj and Helen built an action team to anchor the campaign within the Chapter. Together the team built an alliance of civil society institutions that held the power and motivation to drive forward the campaign.
Next they listened, by hearing as many stories and testimonies as possible from people throughout the community. This wasn't just to collect evidence, but ensured people experiencing the issues were brought into the heart of the campaign.
Then they planned by breaking down the huge structural issues of misogyny, Islamophobia and racism into bite-size, winnable campaign objectives that really got to the heart of what people wanted fixing. They knew Muslim women were particularly effected, and were experiencing hate crime in public places like on public transport. They established a campaign aim of winning a new Hate Crime Charter for public transport, and identified the key decision-makers within the public transport companies they needed to influence.
In taking action Tyne and Wear Citizens proved that the threat of an action is often as powerful as the action itself. By notifying the public transport providers of their intentions to Reclaim the metro and publicise the issue, they broke a deadlock where officials had been ignoring calls for the past year.
This led to negotiation - where leaders won the commitment from the public transport providers to introduce a Hate Crime Charter. To keep them accountable to their word, and to remind decision-makers of the power held by this alliance for whom hate crime was still as pertinent an issue as ever, Tyne and Wear Citizens went ahead with the Reclaim the metro action. This also ensured that the issue was brought into the public realm and raised awareness about the experiences of Muslim women as well as celebrating their monumental win.

See our reading recommendations below for more information on each of the five steps.
STEP 1: ORGANISE
How to Build a New Citizens Alliance
How to collect annual membership dues: a guide for leaders and organisers
Mike Gecan on one to one meetings
Recruiting members through one to ones
Why we never go where we're not invited
STEP 2: LISTEN
Twelve steps to plan an effective listening campaign
Developing people through listening
How to do listening through House Meetings
How to do listening through Neighbourhood Walks
Template flyer based on a Listening Campaign
Template plans for Listening Campaign
STEP 3: PLAN
Developing an effective strategy to achieve change
Leadership Development Table - Tracking your development and that of others
Qualities and Habits of leaders who organise effectively
STEP 4: ACT
A story of action: Tesco and the Living Wage
Guide to turnout by Nottingham Citizens
STEP 5: NEGOTIATE
Habeeba is a leader from Tyne and Wear Citizens who shares on the podcast the spoken word she wrote and performed at the Reclaim the Metro action.
You can find her spoken word at 57:24 in the recording. For a full transcript, please email podcast@citizensuk.org.
Dilraj is joined for this episode by James Asfa, Assistant Director of Citizens UK and Paulina Tamborrel-Signoret, Senior Organiser for South London Citizens.
They discuss one of the fundamental tenets to Community Organising, The Iron Rule: Never do for others what they can do for themselves. You can find this section at 1:00:43.
Read more on The Iron Rule in this blog by Community Organiser for East London Citizens, Afsana Salik.
In this episode Jason explores historical and academic perspectives on the methodology of Community Organising, particularly within the context of its use as a tool for bringing together people of different backgrounds around a common cause.
You can find this section at 1:12:37.