Creative and cultural
Living Wage for creative and cultural workers
Making London a Living Wage City
With the Living Wage Foundation, we are working to make London a Living Wage City. This multi-year campaign will see us work to put hundreds of millions of pounds of wages back into the pockets of low-paid workers in London.
As part of this campaign, we are focusing on sectors where employers paying the real Living Wage can have the most impact in London. This is true for the creative and cultural industries.
The creative and cultural industries can be a force for good as well as a source of enjoyment and provocation. I am delighted to be co-chairing this project, not only because it is close to my heart but because it is important too. Working across sectors as allies we can make a difference Angela Jain, Director of Unscripted UK, ITV Studios
Creative and Cultural industries and the real Living Wage
These industries include work in:
Television
Film
Music
Theatre
Marketing
Why creative and cultural industries?
The creative and cultural workforce play such an important role in shaping London, yet some of the industries producing this significant and influential work have a higher proportion of low paid jobs compared to other industries.
Whilst the creative sector in isolation now generates over £115.9 billion, growing two times faster than the rate of the national economy, unfortunately, many of the industry's workers do not see this growth reflected in their pay.
The creative and cultural industries employ around 3.5 million people across the UK in a wide variety of roles, with 25% of all workers situated in London.
It's never been more important to make London a Living Wage City. So many workers and their families are struggling with the soaring cost of living and are falling into in-work poverty. The launch of the Creative and Cultural Industries Action Group brings together a range of expertise to address the challenges of low pay and precarious work in one of London's most poorly paid industries head on. More employers must accredit with the Living Wage Foundation and provide their workers with the respect of a wage they can live off Matthew Bolton, Executive Director of Citizens UK
ACTION STRAND FOR CREATIVE AND CULTURAL INDUSTRIES
As part of the 'Making London a Living Wage City' campaign, we are supporting cross-sector coalitions to tackle low pay in London. These coalitions are made up of business leaders in the industries, workers, and key civil society groups who are coming together to make change.
The formation of the action group marks the beginning of their work to increase uptake of the Living Wage accreditation among London employers across these sectors, which will evolve over time to respond to industry-specific challenges and the landscape of low pay.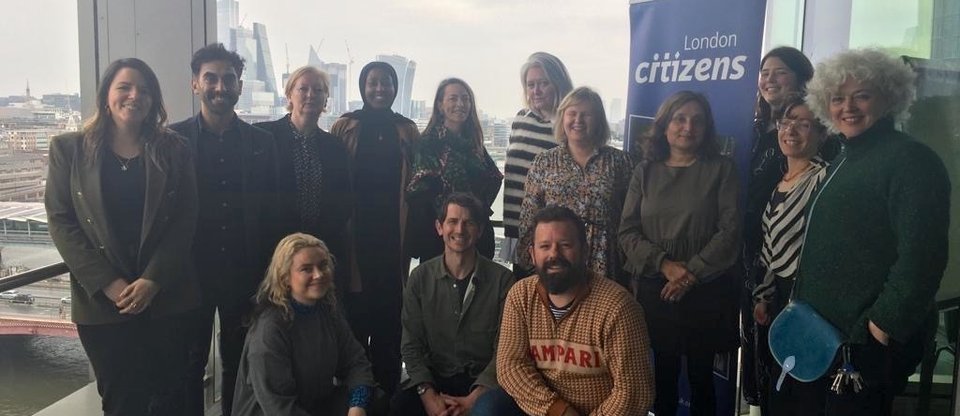 I'm honoured to join a group that shares our commitment to driving London's global reputation as a thriving hub for creativity and culture. As an accredited London Living Wage employer, we believe fair pay is crucial to a sustainable and inclusive industry that benefits everyone and, in my new co-chair role, I look forward to influencing others to follow suit and positively impacting the lives of thousands of workers in the sector Fiona Gordon, CEO of WPP's Ogilvy UK
Angela Jain - Director of Unscripted UK, ITV Studios
Fiona Gordon - CEO of WPP's Ogilvy UK
The Greater London Authority (GLA)
Creative UK
Artichoke
Guardian News and Media
Creature London
People Like Us
Youth Music
Bectu
Jerwood Arts
London Stadium
University of Arts London (UAL)
Living Wage Foundation
Citizens UK
Londoners working in the creative and cultural sectors add enormous value to London's economy and social fabric and, with the rising cost of living, it is more important than ever they receive a decent wage. A fair day's work deserves a fair day's pay. That is why I have long championed the London Living Wage and fully support this work to make London a Living Wage city. This new Action Group to tackle low pay in certain subsectors of our creative and cultural industries will help to bring greater financial security to thousands of people, ensuring a better, fairer, more prosperous London for all The Mayor of London, Sadiq Khan