Local pre-election Assemblies: 'Citizen is the most important title'
Local pre-election Assemblies: 'Citizen is the most important title'
"No one is born a good citizen; no nation is born a democracy. Rather, both are processes that continue to evolve over a lifetime. Young people must be included from birth. A society that cuts off from its youth severs its lifeline." – Kofi Annan, former UN Secretary General
Healthy democracies need active citizens who work with their elected representatives, seeking their partnership and holding them to account. Without active citizens, democracies can become hollow and weak, as people start to feel that the decisions taken that affect them do not represent what they want.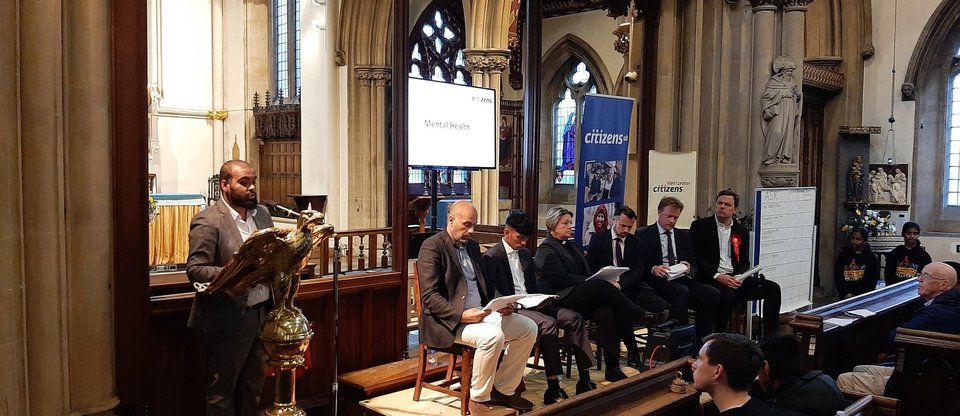 This month, in Ealing and Hounslow, hundreds of local people demonstrated what active citizenship looked like in a celebration of democratic life. Collectively, citizens leaders have been listening to one another, and then working with experts to turn stories into policy asks. From there, Citizens leaders have built pre-election manifestos and met with the key candidates seeking to be leader of the council in each borough. Local people, who often do not have the chance to engage in public life and be powerful enough to win change, took center stage.
In Hounslow on 21st April 2022, 178 leaders from 8 member organisations, ran a listening campaign of over 400 conversations. The stories they heard led them to call for an Onside Youth Zone to be accessible to 1000 young people from the borough every week; for Hounslow to become a Living Wage Place; making the London Borough of Hounslow a Living Wage Funder, with immediate focus on all care contracts awarded by the Council and encouraging care companies to become accredited Living Wage employers; bringing back the 2-year Health Visitor checks in person and ensuring that the local authorities Short Breaks service provides the same number of sessions, if not more, than there were pre pandemic.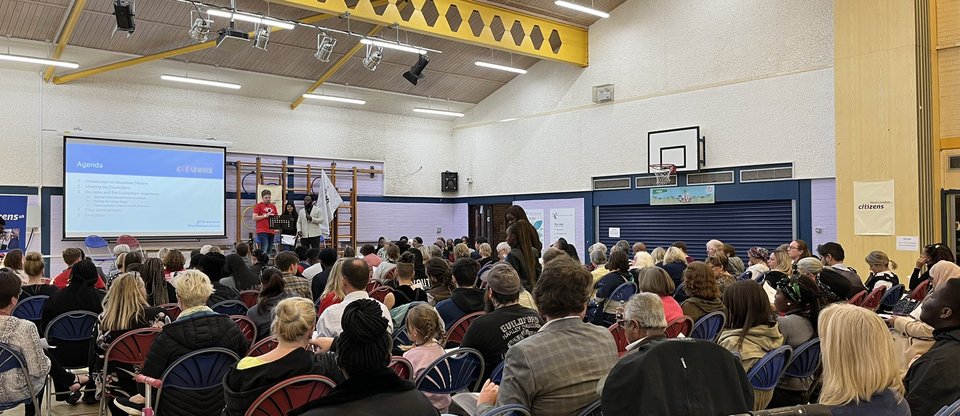 Cllr Tom Bruce (Labour) and Cllr Gerald McGregor (Conservative) joined the 178 local leaders at the assembly.
Here are 3 stories from local leaders that they heard:
Nasra Abdullahi, a local mum of 4 who works with Reach Children's Hub and whose child has special educational needs (SEND), shared this about why she wanted 2-year checks to be in person:
'With the help of the school and my increased knowledge of the system, we finally got Tasneem assessed and diagnosed with autism and ADHD at the age of 9!! We'd waited 6 years to get her the support she needs to be successful in life. I just hope and pray that those 6 years without help don't have a profound impact on her wellbeing, especially her mental health.'
Sanaa Haloul, from Refugees Welcome Hounslow, commented on the cost-of-living crisis, stating:
"I myself am struggling on a low income to pay my rent, bills and buy food. As well as all the other things we need. My son who lives in Finland always tells us that we live under the poverty line. We have only £500 a month to spend, how can we live a decent life? I'm waiting for my electricity bill, and I am very worried. How can we pay? This is why we need everyone in Hounslow to be paid the London Living Wage."
Jade Terry, a local youth worker and pupil from Reach Academy Feltham said:
"The young people in Feltham deserve to have an Onside Youth Zone as it would give us a place to be ourselves in a safe environment which is something I wish I had when I was younger … More youth opportunities within the area, open multiple days a week, means that we will have a place to go to and no longer have to chill on the streets, get involved in anti-social behaviour and cause a disturbance."
Young People in Feltham's brilliant video to 'Dont Stop Us Now' about their campaign for a £10 million pound Onside Youth Zone building in Feltham with 40 youth workers every night, climbing wall, recording studio, gym, music lessons, career hub, basketball and football fields.
Cllr Bruce and Cllr McGregor made wonderful commitments on the night, summarised in this victory picture with Flint McLister and our local organiser, Hilal Yazan, below.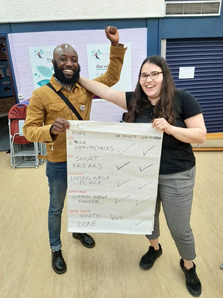 On Wednesday 27th April 2022, over 143 leaders from the 6 Ealing Citizens member organisations, held an assembly with Cllrs Peter Mason (Labour Party), Gary Malcolm (Liberal Democrats), Gregory Stafford (Conservatives) after a 500-person listening campaign. Through their listening, they found key solutions to the issues local people were facing include the following asks for the next Leader of Ealing Council:
Creating Special Educational Needs (SEN) Champions and Mental Health Champions;
Making Ealing into a Living Wage Place and more than double the number of living wage accredited employers in the borough from the 41 organisations currently accredited;
Improving renters' knowledge of their rights by running workshops to hold their landlords accountable.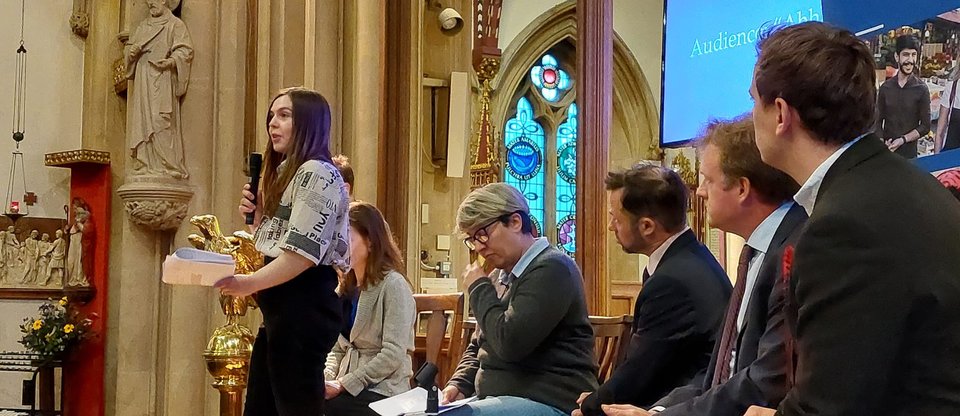 These solutions arose out of the local stories from the listening campaign, including those below.
Caetano Fernandes from St Anselm's Catholic Church in Southall, said:
'Living on low pay, I have been suffering daily. I cannot feel secure, am very stressed and I cannot save even a few pounds. It's very hard to know how much you need to get by each month as prices are creeping up and up. Next month my colleagues and I will start to receive the London Living Wage of £11.05 an hour. Now we will finally be able to get some of the things we need. It will make a huge difference to us. Our voice wasn't listened to before - we were speaking but the message wasn't getting out. But now we feel our voices are finally being heard. We want to make sure this suffering in our community stops by joining together to push for more Ealing employers to pay the real Living Wage.'
PJ Grayson from St Martin's Church, West Acton, said:
'If there are had been mental health champions when I was seeking help last year, it would have been a lot less anxiety-inducing and stressful time. This is why we want the council to create mental health champions and I want to train up as one so that others don't have to go through what I did.'
Ealing Citizens leaders made the pre-election assembly into a special night with a game of snakes and ladders to demonstrate the random and bureaucratic experience of parents trying to access the local SEN system. Justin Dodd, Vicar of St Barnabas, Ealing, explains: "Exhausted Special Educational Needs parents are drowning in red tape. We need someone on our side, helping us to find our way in a complex and overburdened system. SEN champions will do just that!"
Commitments on the night included: Ealing becoming a Living Wage place, 10 new renters right workshops, 50 new community land trust homes and council funding for mental health and SEN parent champions.
Finally, the evening ended with a special iftar (breaking of the fast during the Muslim holy month of Ramadan), generously provided by the sisters of the West London Islamic Centre.
With democracies under threat around the world, we cannot afford to take ours for granted in the UK. The leaders who participate in West London Citizens get a chance to practice the habits of democratic citizens. Through their efforts, they demonstrate that if we are organized, ordinary people can be powerful and seek partnerships with decision makers, so we can be around the table when decisions are taken about our lives.
And it is the courage that citizens demonstrate when we take public action that former US President Barack Obama recognized when he said:
'It is citizens – ordinary men and women, determined to forge their own future – who throughout history have spared all the great changes and progress' – President Barack Obama from his speech 'The Most Important Title is Citizen'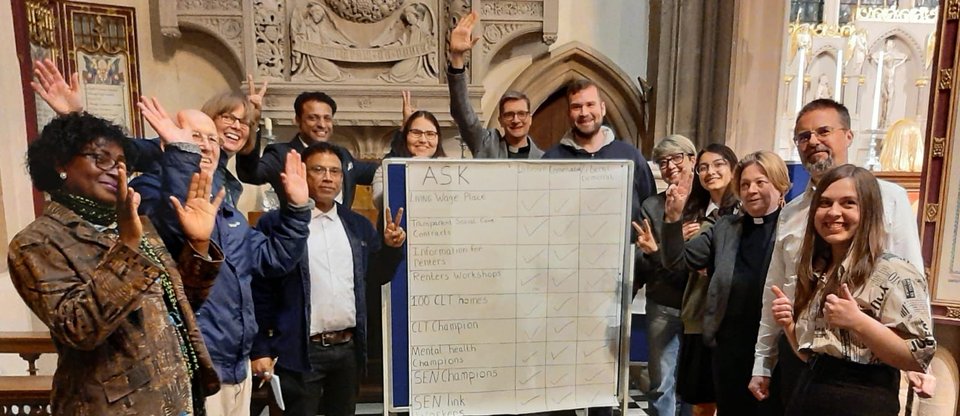 Posted by Daniel Mackintosh on 28 Apr, 2022