School leadership is community leadership: how being a Citizens member builds our school and contributes to our community
School leadership is community leadership: how being a Citizens member builds our school and contributes to our community
By Dave Bennett MBE, Head Teacher of Winstanley School
I have spent the vast majority of my teaching career working in schools that serve disadvantaged communities. I am absolutely convinced it is important for all schools, but especially those serving disadvantaged communities, to be a real force for good in their community. However, I wasn't always sure of the best way of doing this. When I became Headteacher at The Winstanley School we suffered from a difficult reputation and I knew that we had to do something to build our reputation as well as doing good things in the community. I was considering ways that this could be done beyond the obvious of being good to parents and encouraging students to walk home in an orderly way without upsetting the neighbours (obviously these are still very important!). I heard about Citizens and community organising and felt that this could be one way to make a real local difference as well as providing a voice for students who can easily feel disempowered and voiceless. Initially, I wasn't totally clear what being part of Citizens would involve but felt that we should 'take the plunge' and see what happened! I am so glad I did!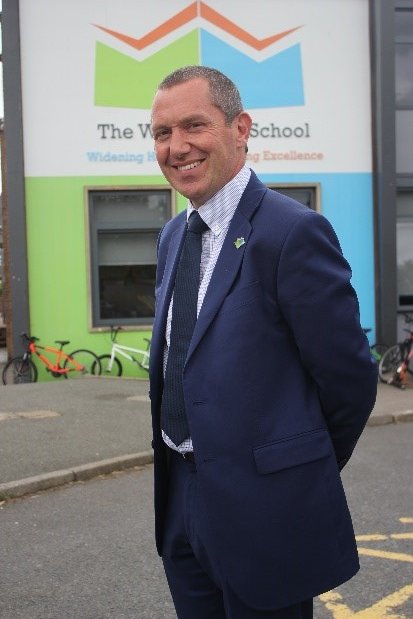 As a Headteacher being part of Citizens has enabled me to develop my thinking about Community involvement and I no longer see it as a 'nice add on', but as an essential part of the curriculum we offer. Citizens have given us a structure to carry out any sort of campaign whether that is about mental health provision, improving a local park, knife crime or addressing racism within our community. It has been fantastic to see students develop their voice and see them standing up in front of 400 adults and challenge the Leicester City Mayoral Candidates as well as see them speaking at a virtual mental health summit. The most exciting thing for me to see as a Headteacher is when my students realise that they can present to those in power and their voice can be heard and has real weight because they have listened to their community and are presenting what needs to be done. It has also been exciting to see the teacher leading Citizens in the school developing her skills as a community organiser, training staff and students and in turn being asked to present at various National Conferences because of the work we are doing.
The group of students involved in the actual campaigning has so far been quite small but from next year we have got all of Year 8 working on a campaign as well as the Leicester and Leicestershire Citizens ambassador group. We are part of a MAT made up of 8 schools and through our persuasion all the schools have joined this year. In general, we have been a school which has accessed support from the lead school in the MAT, but we will be leading this aspect of the work for all 8 schools. This will enable our staff and students to take leadership roles and further develop their skills and sense of agency. I am so convinced that being part of Citizens will improve what schools are doing that I was involved in promoting membership to other local schools and a number of them have now joined as well. I was incredibly proud of how our students explained the benefits and what they had learned to a meeting full of over 20 Heads and Senior leaders from across the city in May 2021
I think the key to successful involvement in Citizens is to make sure that it is supported from the top and that the Headteacher understands Citizens and community organising. I have also found it invaluable to have an Associate SLT member leading our work with Citizens. She has ensured that it is not an optional extra but something that is vital to the whole school. It is also important to remember that you are not investing in a service when you join - you will get training but Citizens will not come and 'do a campaign for you'. It is about working with Citizens to create your own campaigns or working alongside other community organisations to campaign about broader local issues.
Posted by Fran Picciano-Moss on 6 Sep, 2021