South Bank for South Leeds Launch
Leeds is set to undergo its biggest regeneration in more than a hundred years, as the South Bank of the River Aire is redeveloped. The regeneration will bring 35,000 jobs, over 8,000 homes, a new park, HS2 terminus and much more .
Leeds Citizens has launched a new campaign - South Bank for South Leeds - to ensure this regeneration has a tangible, positive impact across South Leeds communities.
On Monday 25th November, 120 people packed the Holbeck Working Men's Club to launch the campaign. Through poetry, song and even ribbon twirling, Leeds Citizens members shared the story of South Leeds - past, present and future.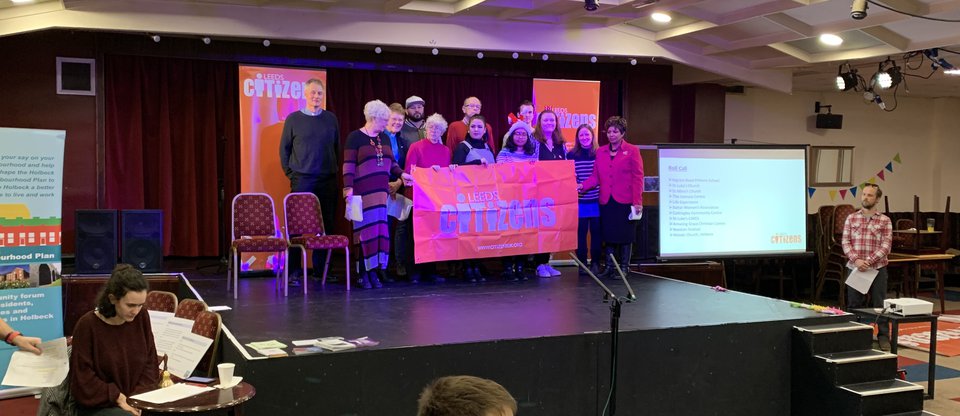 They went on to secure public commitments to the campaign and a working, accountable relationship with CEG (one of the first developers to break ground in the South Bank area) and Leeds City Council .

Nick Lee, Director of Development , and Lucinda Yeadon, Community Liaison Manager at CEG spoke to the audience and agreed to:
Create a positive legacy for South Leeds from their developments, built around around the ideas and ambitions of the people who participate in the South Bank for South Leeds campaign
Meet with Leeds Citizens in January to make a plan for the creation of Living Wage jobs
Convene a roundtable of other property developers involved in the regeneration of the South Bank to discuss plans for local employment and affordable housing
Cllr Paul Wray , representing Hunslet & Riverside Ward and Cllrs Angela Gabriel and Gohar Almass , representing Beeston & Holbeck Ward spoke on behalf of Leeds City Council agreeing to:
Meet with Leeds Citizens in January to plan their participation in the South Bank for South Leeds campaign
Attend listening events and participate in the process Leeds Citizens will design for identifying priorities for South Bank
Broker relationships between Leeds Citizens members and the Director of City Development
Listen to the ideas and proposals that are generated from the South Bank for South Leeds campaign and use them to set the scene for decisions about local expenditure of the neighbourhood portion of Community Infrastructure Levy money generated from new developments on the South Bank.
For more on the event, check out this blog from A Leeds Revolution