Mental Health Blog: Martin's Story
Leeds Citizens is campaigning local NHS trusts and Clinical Commissioning Groups to work with us to improve primary care mental health services, so everyone has access to a 'navigator' – a locally-based mental health professional linked to their GP.
In the first in our series of stories from Leeds Citizens members about their experiences with mental health services, Adrian Strain of Newman Parish, speaks about his son Martin.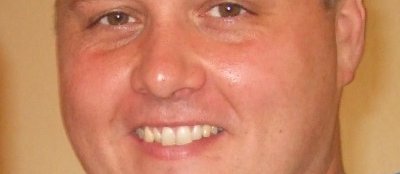 "Martin was a young man who spent most of his thirty-four years winning friends, making people smile and enjoying life. But he also spent a lot of time in, what I now imagine to be a very dark tunnel, alone, frightened and with no way out. One Friday morning he woke up and at some point after getting dressed and making a cup of tea, but before lunch, he put a bin liner over his head and suffocated himself. His wife Lindsey came home from work to what was the worst moment of her life. Martin's short life finished abruptly and whatever misery he was enduring, ended with it.
Martin's gravestone reads, "kind, caring and mischievous". These few words describe him well – always eager to please, eager to have a joke or play a small prank. He was bright and quick to learn, making a career for himself in I.T., largely on the strength of his personality and his eagerness to learn. He advanced quickly in the IT department of a large City law firm and was devastated when they announced that they were to outsource their IT services and that he would be made redundant. I'm not sure precisely when the downward slide began but it would appear that the furtive use of cocaine and other drugs became more and more common. One evening, his wife came home to find he had cut himself and had a noose ready to hang himself. He was admitted to hospital and referred for psychiatric help through his company's private health plan.
A short course of Cognitive Behavioural Therapy (CBT) and regular sessions with a psychiatrist seemed to benefit Martin, but when the private plan was withdrawn and he reverted to anti-depressants and his GP, his mental health declined. A move north to his home in West Yorkshire was supposed to help, but in hindsight the loss of his job in London had severely knocked his self -esteem and established a pattern of drug and alcohol abuse.
The last two years of his life – the period covered by the Serious Incident Investigation carried out by the South and West Yorkshire Partnership Hospital Trust (SWYPHT) – listed a catalogue of GP consultations, prescriptions, referrals to primary and secondary psychiatric services and other counselling, but at no stage evidenced any consistent oversight of his care or assessment of any improvements in his mental health. The Coroner's Inquest noted that had the threshold for a Care Programme Approach (CPA) been lower then Martin would have received coordinated and consistent care, something which the Coroner felt was significantly lacking in Martin's interactions with mental health services.
At the end, Martin was physically drained, mentally pulverised, to the point where he could not get out of bed, preferring to leave the phone unanswered and stay under the duvet, wanting another day to pass.
I spoke to his GP, Dr Bilal in Batley, some weeks after his death. She is a kind unassuming woman, happy to discuss and contribute to our greater understanding of what had happened and whether or not we or any health service could have done more. She was humble and admitted that she didn't know. She did not have enough time. She felt she lacked the necessary training to do more than prescribe medication. She freely admitted that if a trained mental health worker had been available from her Practice, then the hundreds of patients she was treating for moderate to severe depression would be better served.
In the twenty months since Martin's death I have learned a great deal about mental health services in this country. The recently published Kings Fund report shows GPs under tremendous pressure – in time, skills and finances – and never less fit to deal with the increasing number and complexity of cases of mental ill health. Mental health care is expensive, outcomes are difficult to evidence, causes and therefore treatments are fundamentally disputed. What is not disputed by GPs, psychiatrists or patients, is that proactive and consistent care from trained people is integral in achieving recovery from severe chronic depression. There are so few of such personnel working in GPs that NHS England does not record the figure.
The number of suicides is recorded. The figure is rising. Anecdotally, I know that there are many doctors like Dr Bilal who would welcome the time and money to be able to appoint a mental health worker to work alongside her in her Practice, referring the most severe cases for weekly or even daily visits. It's my hope that we can change Government policy and funding arrangements to that this can happen."
If you have a story to tell or would like to get involved in our mental health campaign, please get in touch