Leeds Citizens take centre stage to strike deals with decision makers
Hundreds of Leeds residents met at the famous City Varieties Music Hall and won commitments from local decision makers on mental health, low pay and youth opportunities.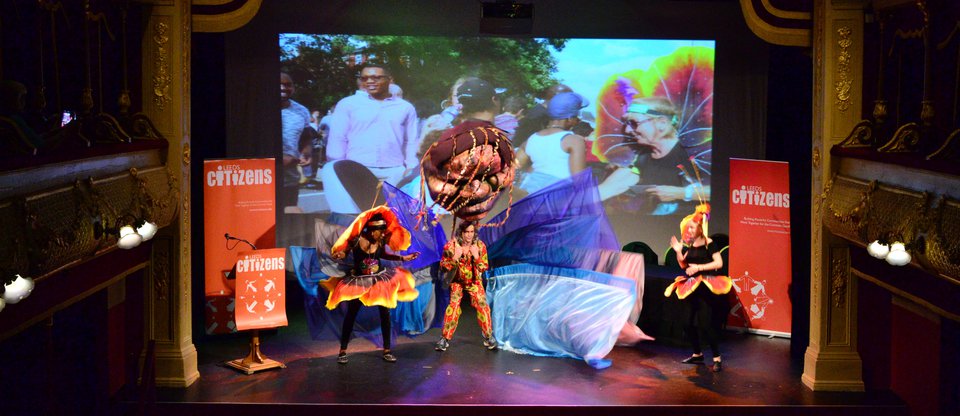 The Accountability Assembly was organised by Leeds Citizens, an alliance of faith, education and civil society organisations who work for the common good of the city.
The evening began with a carnival performance from the David Oluwale Memorial Association . Their 'King David' masquerade troupe danced exactly 49 years and 1 day since his tragic death, reminding us of the ongoing campaigns to support migrants and people with mental health issues.
We heard a range of stories from Leeds residents who celebrated how working with Leeds Citizens is making a positive impact in their local area.
Tina Horsfall, Jane and David Baines
spoke about how organising with
Stainbeck United Reformed Church
on the
Beckhill Estate
has given residents the confidence to speak up and win new rubbish collections, street signs, fun days and over half a million pounds of estate repairs.
Mark Hodgkinson
spoke about how forming a
Community Reference Group of local churches, schools and community groups in Holbeck
has allowed residents to secure accountability from the Council and Police to address some of the difficult challenges emerging from the Managed Approach to street sex work.
Revd Arani Sen
spoke about how Community Organising training at has benefitted
Christ Church, Upper Armle
y
as well as how participating in an
Action Learning Community for Anglicans
across the Leeds area is helping him bring Community Organising into his ministry.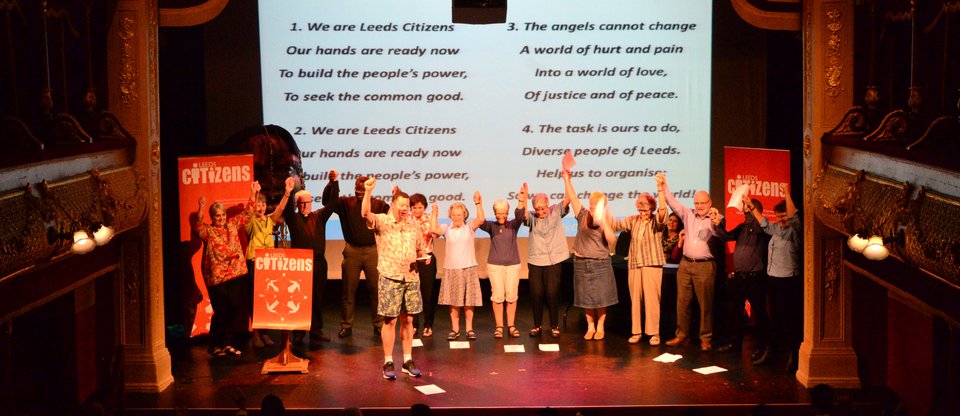 No event at City Varieties would be complete without a sing-a-long. Following an enthusiastic demonstration from Revd Tom Lusty (St Chad's Headingley) and a choir of Leeds Citizens members from across the city, the whole audience rose to sing a specially written song, " We are Leeds Citizens ", together.
The next act saw moving testimonies on the major issues facing Leeds Citizens members around the city:
Matthew Gibson (Path Yorkshire & New Testament Church of God)
spoke about his experience of working for the last 13 years on minimum wage jobs in the retail sector and at the Royal Armouries Museum.
He said: "The minimum wage is not enough. What I need is a real living wage."
Darlin Nitcheu (Holy Rosary Church)
spoke about how difficult it is for young people to get work experience.
He said: "I have applied for over 150 jobs...most of the time you get no feedback...how do you expect me to get experience if you won't give me a job?"
Idris Aslam (Leeds Muslim Youth Forum)
spoke about the need for improved mental health care in GP surgeries and workplaces.
He said: "[My friend] would sit me down trembling as she admitted her attempted suicides to me...I wish I could have pointed her in the right direction, to someone locally based with expertise, who could have helped her to access care."
In response to these testimonies, local civic and business leaders were challenged to take specific actions with Leeds Citizens to address the issues of Living Wage , youth opportunities and mental health .
Here is a summary of all the deals won:
Youth Opportunities (Work Experience)
Cllr Mohammed Rafique (Leeds City Council Executive Member for
Employment, Enterprise and Opportunity)
committed to:
Work with Leeds Citizens to identify 100 new work experience opportunities for young people in 2018/19. These will be:
Paid
Bite-sized, regular encounters
Centrally advertised
Focussed on the industries named in the Leeds Inclusive Growth Strategy
Convene a meeting of employers with Leeds Citizens, WYCA and other local authorities who have successfully implemented similar programmes in Summer 2018.
Mental Health
Paul Taylor (Business Development Manager, harris cm - one of our region's leading construction firms) committed to:
Attend the Leeds Citizens Mental Health summit on 24th September to share his case study with other employers.
Work with Leeds Citizens to get 10 construction companies represented (5 big and 5 small) on the day and signed up to Mindful Employer or the Time to Change Charters.
Integrate mental health into the firm's staff briefings and employee handbook.
Include mental health support in the firm's tender documents and selection criteria for subcontractors.
Kashif Ahmed (Head of Commissioning for Mental Health, NHS Leeds CCG) committed to:
Meet with Leeds Citizens again to follow-up from the Assembly.
To propose a citywide expansion of the mental health liaison practitioners service, by November 2018 (in line with the commissioning cycle), to ensure it continues to be funded after March 2019 and is made available around the city.
To attend our Mental Health in Leeds summit on 24th September to share lessons learned from the mental health liaison practitioners in GP surgeries and up-to-date plans for the citywide model in 2019.
To work with Leeds Citizens to increase the participation of people outside established service user networks and patient participation groups in developing mental health services.
Living Wage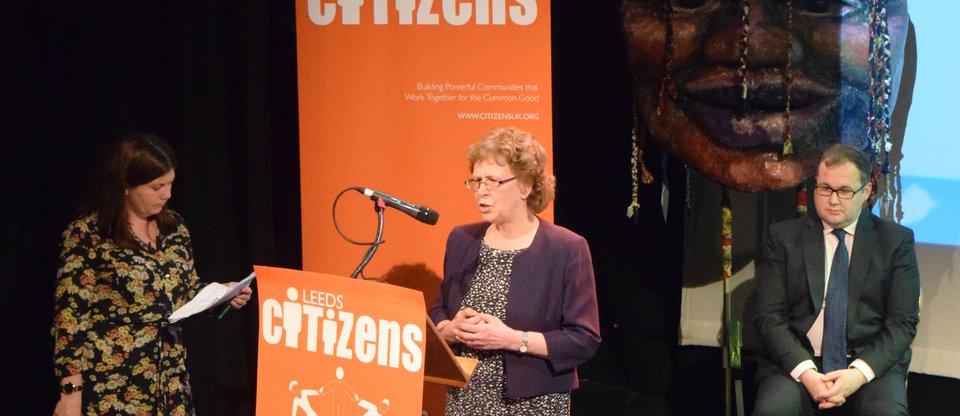 Bill Barton (President, Leeds Law Society) committed to:
Promote Living Wage at the upcoming Leeds Law Conference 2018
Host an event during Living Wage Week 2018 (starts 4th Nov) for the legal sector
Promote Living Wage online and in the Leeds & Yorkshire Lawyer
Secure 10 additional Living Wage accreditations in the legal sector by Living Wage Week 2018 – writing to 10 Managing Partners
Andy Howarth (Leeds United Foundation) committed to:
Work with Leeds Citizens to promote the Living Wage to the LUFC Board and work inside the club to develop the strategy for the Leeds United to seek Living Wage accreditation.
Offer the HR expertise of his company, Howarths People & Safety Management (already an accredited Living Wage Employer), to help the club with managing the transition towards paying the Living Wage.
Cllr Judith Blake (Leader, Leeds City Council) committed to:
Leeds City Council seeking Living Wage accreditation.
Host an event with Leeds Citizens during Living Wage Week (4-10th November 2018) to promote the Living Wage to high profile businesses in the city and the Council's main contractors.
Finally, Cllr Judith Blake (Labour) and Cllr Alan Lamb (Conservative) committed to meeting with Leeds Citizens within 100 days of the local elections to plan how local councillors from their parties will engage with support Leeds Citizens on local and citywide campaigns.
The deals won are great news and testament to all the local and citywide actions of Leeds Citizens members. It will take further organising to hold these decision-makers to their commitments and we invite communities to participate in this process. Follow-up meetings with the decision makers begin in the week of 14th May. If you would like to be involved, please contact info@leedscitizens.org.uk .