Leeds Citizens meet senior NHS commissioner for mental health
Amrita Johal of Leeds Trinity University blogs on her experience of action with Leeds Citizens to improve mental health in Leeds: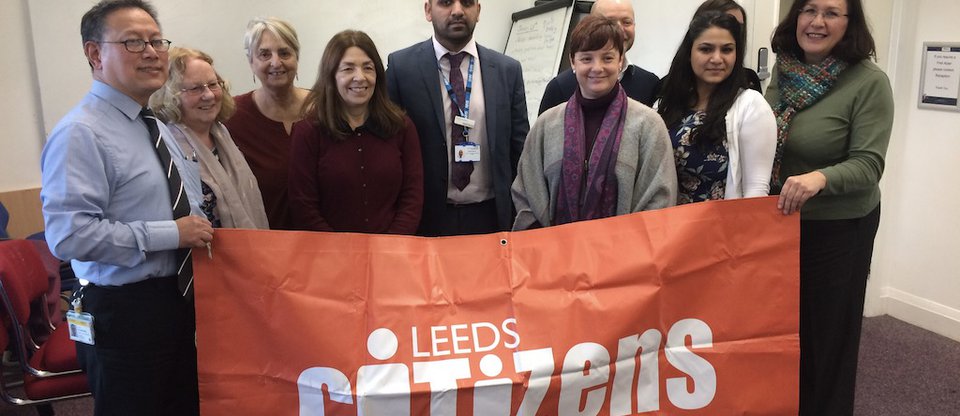 Monday 28th January at the Hamara Centre on Tempest Road, saw Leeds Citizens hold a successful meeting with the top local NHS Commissioner with responsibility for mental health.
Meeting a decision-maker
Leeds Citizens met with Kashif Ahmed, Head of Commissioning for Mental Health at NHS Leeds Clinical Commissioning Group. Kashif leads the CCG's work on planning and funding of mental health services across the city.
Kashif had first met Leeds Citizens at the April 2018 Accountability Assembly , where he pledged to work with them develop a citywide expansion of the mental health liaison practitioners service, which had been piloted in a limited number of GP surgeries. In November 2018, he met them again to discuss how this might take place as part of a recommissioning of the citywide IAPT (Improving Access to Psychological Therapies) service. Leeds Citizens have been campaigning for such improvements for a number of years and with vital decisions being made by the end of March 2019, the organisation may be close to the finish line of one of its priority campaigns.
The 28th January meeting was the first of four which Kashif has committed to having with Leeds Citizens during 2019. The group were hoping to secure Kashif's support for an ambitious community-led mental health listening campaign, as well as finding a way to celebrate the work of mental health liaison practitioners and share the lessons from the pilot more widely.
A community alliance
Mental health is an issue which is often overlooked. Leeds Citizens wanted to change that. Conversations and listening campaigns in their member communities have shown that mental health is a major concern for people in Leeds. The team who met with Kashif all had stories to tell.
The team consisted of Citizens UK Community Organisers, Thomas Chigbo and Becky Howcroft, as well as Graham Brownlee and Ivan Nip (Moortown Baptist Church), Liz Monaghan, Tricia Shaw (Christ Church, Upper Armley), Pat Brown (Parish of Mother of Unfailing Help), Shanaz Gul (Hamara Healthy Living Centre), Kären Gray (Connecting Crossgates) – who chaired the meeting, as well as myself.
Leeds Citizens pride themselves on their diverse membership of 35 civil society organisations across Leeds. Their strengths lie particularly in faith communities with members from the Christian, Islamic and Jewish faiths. Their incredibly varied membership ranges from universities to small community centres on council estates, to large black majority churches in deprived areas to money advice services in inner-city areas, providing their different perspectives and stories from all around the city.
"The action is in the reaction"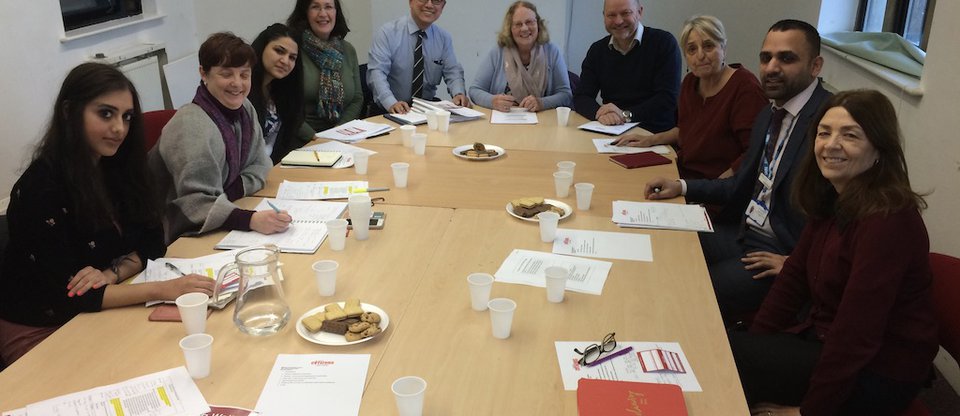 After giving a brief explanation of how Leeds Citizens works, the team explained how the NHS has previously engaged with Citizens UK on the issue of health - using a recent example from Tyne and Wear. Tyne and Wear Citizens ran a Mental Health Commission called "Living Well" in 2018 , working with the NHS Foundation Trust and other organisations to bring about change in mental health. The Commission collected 300 testimonies through the member organisations of Tyne & Wear Citizens and recommended some very concrete changes that could be made to local services, such as mental health training for all staff having patient contact and the re-design of a CAMHS (child and adolescent mental health services) clinic in partnership with a local school. The Living Well final report and recommendations were shared with Kashif.
Leeds Citizens proceeded to voice the proposal to Kashif Ahmed; outlining how the listening campaign could succeed in mobilising the wider public behind much-needed improvements to mental health services and helping the CCG to access people who do not identify as 'service users' or participate in existing consultative forums.
Success
After the discussion, Leeds Citizens were successful in gaining support for a number of actions.
Kashif agreed to work with Leeds Citizens to make the listening campaign a reality and agreed to identify ways to take forward the ideas that emerge. He also agreed to open doors by setting up a meeting with the CCG engagement team and to provide assistance in writing up and publishing a report similar to the "Living Well" report by Tyne and Wear Citizens, after the listening exercise is completed. Once the citywide IAPT recommissioning is complete, and more is known about the future of mental health liaison practitioners, Kashif said he would be happy to work with Leeds Citizens on an event to celebrate their work and share lessons learned from the pilot.
At the end of the meeting, there was a brief discussion of a draft poster outlining the report, while the CCG also handed out crisis cards based on helping those who may come into a mental health crisis, therefore by distributing these cards the networking of mental health awareness is prominent. A triumph!
Reflections and observations
As someone who has personally been affected by mental health and has first-hand experiences as well as with the services, it is a subject which is incredibly personal to myself and that I am passionate about. Fortunate to be part of this campaign, I am inspired by the work that is being done, not only to address these important issues and to improve services but also that this campaign will help reduce the stigma surrounding mental health and its illnesses.
I am pleased that things are going well for Leeds Citizens' mental health campaign, inspired to be part of the success in bringing change to mental health in the city and look forward to the future.