Leeds Citizens launch new cycle of action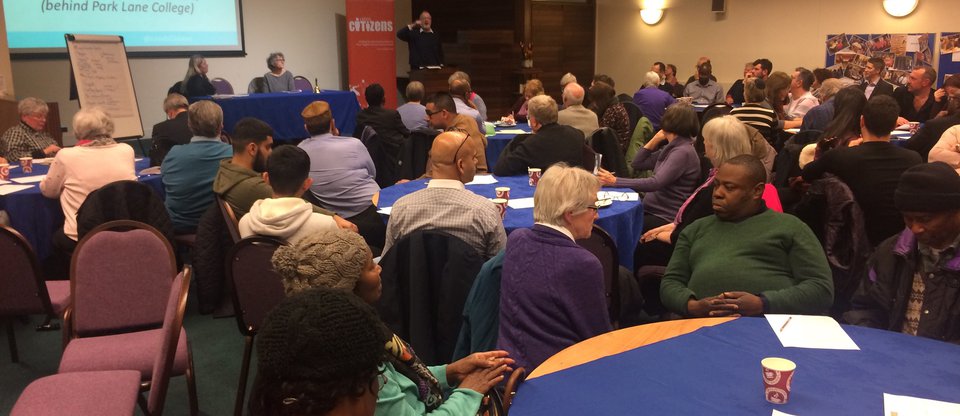 On Tuesday 28th February, Leeds Citizens held a Delegates Assembly at Oxford Place Centre to launch a new phase of action to tackle some of the city's big injustices. Over 75 people turned out from a range of faith, education and community organisations to share to stories from listening campaigns and commit to action on Mental Health , Living Wage and Opportunities for Young People .
Malaak Daneshyar, a student at Notre Dame Sixth Form College and member of Leeds Muslim Youth Group, passionately called on Leeds Citizens to address youth unemployment and challenged employers to create more work experience pathways for teenagers:
"You give 100% to employers and receive close to nothing in return. Most employers do not even contact you back to let you know that your application has been unsuccessful or why you were unsuccessful... this demoralises and demotivates a person and they soon begin to give up... On the bus to college I pass numerous law firms, so why can't we get all these employers to come together to create new pathways for local young people into jobs?"
One care worker spoke about the difference receiving the Living Wage has made to his life:
"Working on £7.20 meant I would need to work more shifts, so that I'd have enough to support my family. Having a one-year-old son and spending a substantial amount of time at work meant I was missing out on time to spend with him and my wife... I felt frustrated, as I did not have time to actually enjoy myself with my family because of the hours I had to put into work.
Now I am on the Living Wage, I feel so much more relaxed - I feel as if I have no worries. I do not feel the pressure to work more shifts, as the amount I receive is enough. This means that I have more time to spend with my family. I also believe that I am working harder as I am being paid more so feel more appreciated by the company I work for. I take pride in my job and really enjoy what I do. The £8.45 per hour I now receive makes me feel like a more valued employee and allows me to spend more time with the people I love. "
Kären Gray, from Connecting Cross Gates and Simon Dunigan from Stainbeck United Reformed Church, encouraged us to keep campaigning to improve mental health services:
"Four months ago, a friend with a history of depression, began talking about not being able to carry on. Although I telephoned his GP, no-one was able to visit and all they could offer him was the crisis line number. That was Monday. I persuaded him to keep in contact with me every 2 hours. On Tuesday I spent the afternoon sitting with him. The next day he didn't answer my calls. On Thursday morning, I learned that he had jumped from a railway bridge and was in intensive care. He spent a further 4 weeks there, surviving against all the odds. He later explained that he felt he'd "used up enough of my time" but didn't feel able to ring the Crisis Team because he didn't know them. We know that many many people are giving this sort of support every day. More help is needed!"
Leeds Citizens will take forward these issues for citywide campaigning over the next 18 months alongside one additional issue, to be chosen at the next Leeds Citizens Together meeting.
To get involved in tackling any of these issues, or putting forward an additional citywide issue for action, please attend the Leeds Citizens Together meeting on Thursday 30th March, 7pm at Ahlulbayt Cultural Centre, 35 Hanover Square, LS3 1BQ (behind Park Lane College).
For more information, please contact Tom Chigbo .