Leeds Citizens Holds First Delegates Assembly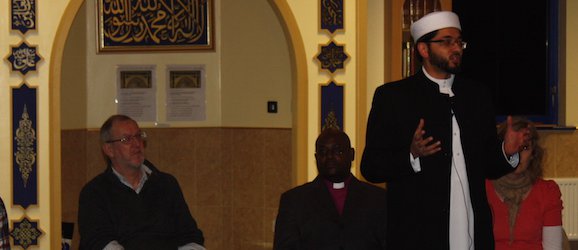 150 people from across Leeds civil society came together on Wednesday 11th February to announce the first organisations to join Leeds Citizens and launch our first Social Justice Agenda.
During a powerful Roll Call, 21 organisations announced their commitment to work together for the common good and confirmed payment of membership dues. We thank those organisations for their courage and leadership, and hope their actions will inspire many more in the coming months.
The event, hosted by Makkah Masjid , came at the end of our 6-month Listening Campaign - a focused effort to build relationships and identify the major issues affecting our communities. Through one-to-one conversations, group meetings and community events, trained teams of leaders highlighted a number of common concerns across communities:, including Poverty, Transport, Community Facilities, Health & Social Care, Litter and Dog Fouling.
Following testimonies on each issue, the newly announced members of Leeds Citizens voted to prioritise 3 of these for public action in Spring 2015:
Poverty & Debt, Heath & Social Care and Transport
These issues form our Social Justice Agenda and we ask all communities to help plan and turnout for joint action on at least one of these issues.
Finally, the Delegates Assembly agreed to publicly launch Leeds Citizens at a Founding Assembly on Tuesday 7th July .