Leeds Citizens Call for Living Wage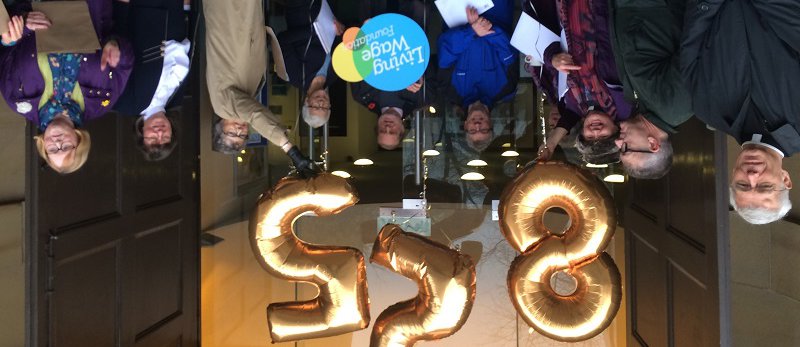 Leeds Citizens held several actions during Living Wage Week to celebrate the achievements of Living Wage Employers and encourage others to pay the voluntary rate. Events included:
- Actions at 2 Lidl stores on Sunday 1st November, congratulating the store for its October pay rise and encouraging them to become accredited as Living Wage Employers.
- The Living Wage rate announcement was made on Monday 2nd Nov in Leeds City Centre, featuring helium balloons and leaders delivering letters to local law firms.
- Wednesday 4th November saw the Living Wage Action team agree to focus their campaign on Leeds City Centre Employers, and seek a relationship with the new Leeds Business Improvement District (BID).
- A Living Wage Tea Celebration was held on Thursday 5th November, hosted by 2 employers with beautiful Living Wage cakes, filming of a video from another Living Wage employer and lots of tea.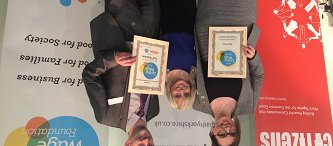 The Living Wage Awards and business lunch on Tuesday 3rd November brought together 60 employers from across Leeds and Yorkshire, to gather at St George's Centre in Leeds. The awards recognised the 114 accredited Living Wage employers in the Yorkshire area. 35 employers received Living Wage Leadership Awards, in recognition of their status as Living Wage employers. The event was endorsed by the Archbishop of York, Dr John Sentamu who said:
"More and more businesses are paying a Living Wage across Yorkshire and beyond, they are tackling low pay and stepping towards paying a Living Wage. For those businesses that can - they should do it! Let us make the paying of the Living Wage the litmus test for a fair recovery. It is for us in our time to fell the giant of income inequality.'
Graham Brownlee, Leeds Citizens co-chair said: "Leeds Citizens member communities see the terrible effects of working poverty every day. While we celebrate the great leadership shown by living wage employers in our region, research shows that 26 per cent of workers in Yorkshire are still paid poverty wages. We urge businesses, large and small, to join the growing movement of Living Wage employers so that work can be the surest way out of poverty."