Leeds Celebrates Living Wage Week With New Accreditation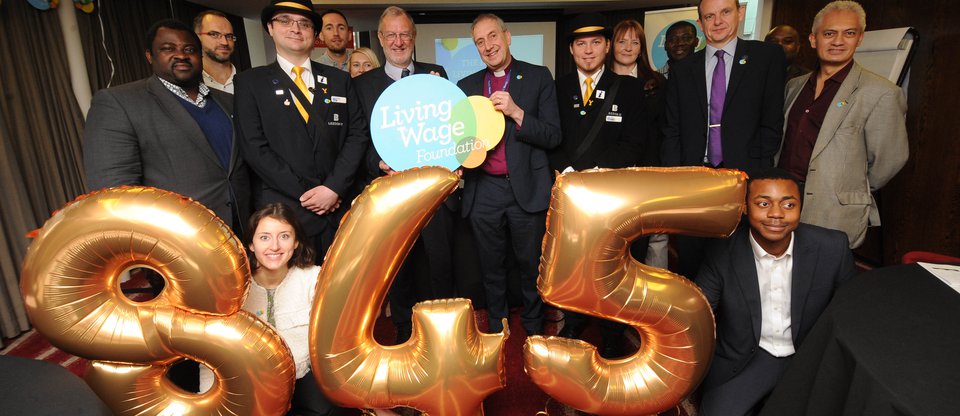 Credit: Yorkshire Post Newspapers
LEEDSBID ANNOUNCES LIVING WAGE ACCREDITATION
NEW LIVING WAGE RATE ANNOUNCED FOR UK - £8.45
We are delighted to announce that the Leeds Business Improvement District (LeedsBID) has been accredited as a Living Wage employer.
LeedsBID celebrated its accreditation at a Living Wage business breakfast hosted by Leeds Citizens and Path Yorkshire . Their new Living Wage Employer plaque was presented by the Rt Revd Paul Slater, Bishop of Richmond, who has responsibility for the Leeds Episcopal Area. The event also announced the real Living Wage rate for the UK of £8.45 per hour . The rate is set independently, according to the basic cost of living in Britain, and currently stands at 17% higher than the government minimum for over 25s at £7.20 per hour.
Credit: Yorkshire Post Newspapers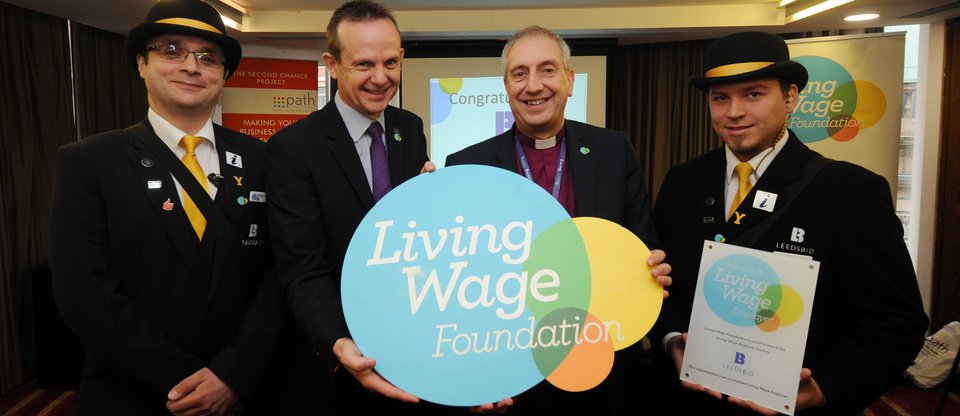 Alongside the announcements, Leeds Citizens presented Winder Power , a transformer manufacturing firm based in Pudsey, West Leeds, with a Living Wage Champion Award . There are now 147 Living Wage employers in Yorkshire and Humber.

LeedsBID is a not for profit company, bringing together over 1,000 businesses and organisations to improve experiences, raise standards and add value to Leeds city centre, and bring benefits to all city users. LeedsBID has committed to pay all of its directly employed staff, and third party contractors, at least the Living Wage. This includes the teams of Welcome Ambassadors who provide a professional meet and greet service and Street Rangers providing an enhanced cleansing service for the city centre.
The company's commitment comes following an approach from Leeds Citizens, the local civic alliance who have been campaigning for responsible employers go beyond the government minimum and adopt the real Living Wage.
The Living Wage campaign has helped to close the cost of living gap for more than 110,000 low-paid workers across the country, and today nearly 3,000 employers have committed to ensuring their employees earn a real Living Wage that meets the cost of living, not just the government minimum.
Read more at:
Yorkshire Evening Post:
Leeds staff to enjoy higher Living Wage 
Leeds BID:
Leeds BID receives Living Wage accreditation
Tom Chigbo from Leeds Citizens said:
" We are delighted that Leeds BID has accredited as a Living Wage employer. This is a significant milestone for the Living Wage movement and we hope to see the Living Wage become more prominent in our city centre. This move recognises that workers deserve a wage they can live on, not simply survive, and that increasingly customers see the Living Wage as a mark of responsible business. Whilst it's not always an easy choice for business to make, it is the right choice, and we hope that both staff and customers in the city centre will support the leadership shown by Leeds BID."
Andrew Cooper, LeedsBID Chief Executive said:
"LeedsBID is delighted to be an accredited Living Wage employer. Our Welcome Ambassadors and Street Rangers make a vital contribution to the Leeds visitor experience, interacting with people across the city centre and helping to raise standards. We are proud of all our staff and our Living Wage accreditation demonstrates our commitment to being a responsible employer."
Daniel Mundet, CEO PATH Yorkshire said:
"PATH Yorkshire is pleased to be hosting this opportunity with the Living Wage Foundation, Leeds Citizens and LeedsBID. PATH Yorkshire, along with our HR and training partners, are supporting employers in Leeds to identify ways they can improve productivity and profitability while paying their staff a wage they can live off. We are delighted to have notable employers like the LeedsBID, Oliver Bonas and others on board who can be examples of 'good practice'. We are looking to make good practice common practice."