TELCO celebrates 20 years of people power in east London and sets ambitious vision for the future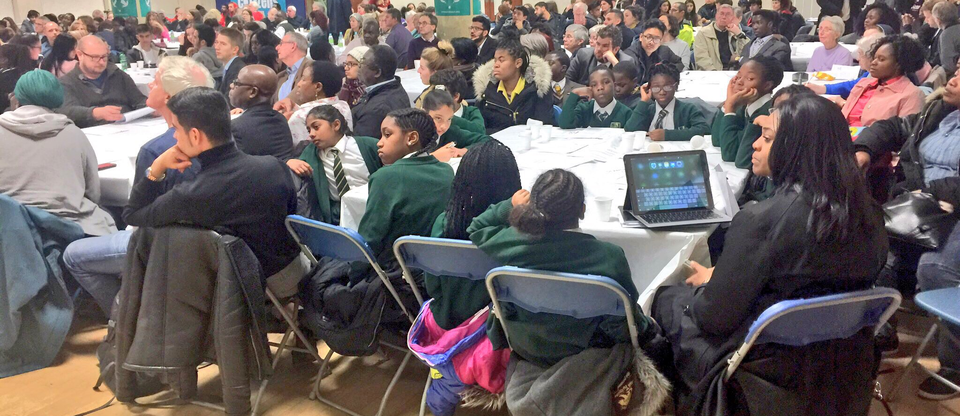 On Thursday 17 th November, 300 organised citizens from Tower Hamlets, Newham, Hackney, Redbridge, Waltham Forest and Barking and Dagenham gathered at the London Muslim Centre for the Delegates Assembly and Annual Meeting, and to celebrate TELCO's 20 th Anniversary.
TELCO members celebrated their remarkable past, and set an ambitious vision for refounding TELCO for action, power and justice for the next 20 years. Existing campaigns on the Living Wage, jobs, housing and refugees will continue and new ones will be launched in health and energy. Plans for growth include rebuilding the alliance in Waltham Forest and building a new alliance in Barking and Dagenham.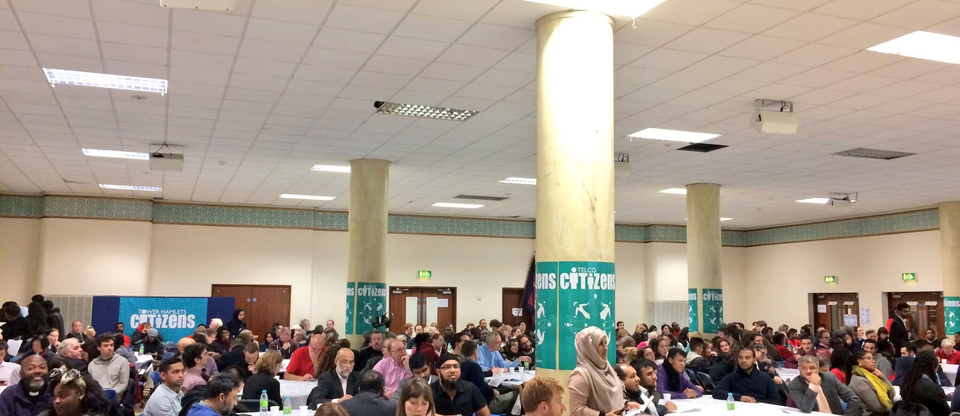 Annual awards were given for:
The biggest win in Citizens UK – Newham Citizens:
Collected by St Antony's Primary School and Caritas Anchor House in recognition of for taking on a developer and winning £90 million worth of affordable housing on the Boleyn Ground Development.
The most unique leadership team – Tower Hamlets Citizens:
For building a team whose sole role is to focus on building relationships between member organisations, and staying true to building relational power.
The most outstanding young leaders – Hackney Citizens:
Collected by Ruhi Altun on behalf of the Alevi Cultural Centre who won a campaign to put Alevism onto the school curriculum in Hackney.
The most ambitious rebuilding effort – Waltham Forest Citizens:
For building a team and a two-year plan to more than triple the number of organisations in Waltham Forest.
The most creative actions – Redbridge Citizens:
by filling the Redbridge Council chamber with &0 leaders and Bob the Builder to secure agreement 250 CLT homes - winning commitment for the largest scale-up of CLT homes in the UK.
Members also celebrated the Living Wage campaign, pioneered by TELCO 15 years ago, now a nationally recognised movement with nearly 3,000 accredited employers - and still going strong. TELCO members committed to continue the campaign with new tenants coming onto the Olympic Park, including West Ham FC; Sadler's Wells; University College London (UCL); University of the Arts; Victoria and Albert Museum; and the Smithsonian Institute. Action teams were launched for Refugees Welcome; Housing; Energy and Health campaigns.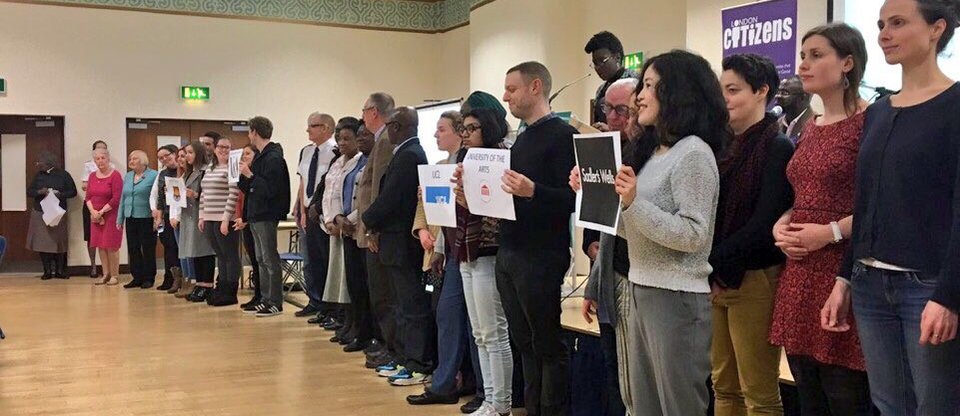 David Goldstone, Chief Executive of the London Legacy Development Corporation (LLDC), attended the Assembly to share opportunities coming onto the Olympic Park and responded to questions on community land trust homes on East Wick and Sweet Water developments.
The Assembly celebrated the commitment of the LLDC to ensure provision of genuinely affordable housing on the Olympic Park. TELCO have been campaigning for this since 2003, and piloted London's first community land trust homes to prove that it is possible to link affordability to average incomes per borough rather than to the market.
The Assembly heard that the successful development partners on East Wick and Sweetwater, are likely to publish an open tender in the 'coming weeks'. David Goldstone also made clear it would happen 'definitely in this calendar year'.
TELCO members also had the opportunity to vote for a possible change of name from The East London Communities Organisation to East London Citizens or The East London Citizens Organisation, to be in line with other Citizens Chapters across the country. Members voted 60% to 40% in favour of The East London CITIZENS Organisation – still TELCO with a slightly different meaning.
For Press coverage from the Assembly click here.