Community Land Trust and affordable homes win in Waltham Forest
On Sunday 21 October 2018, church and mosque leaders, school children and local campaigners walked between the Lea Bridge and The Score housing development sites, meeting Cllr Simon Miller at St Marys Church in Leyton. Cllr Miller committed to ensuring that 50% of the homes built on these 2 sites will be classified as affordable. In particular, Cllr Miller announced that a Community Land Trust proposal has been written into the developer brief for the Lea Bridge site. This would be the first CLT in Waltham Forest. [see below for additional information on CLTs]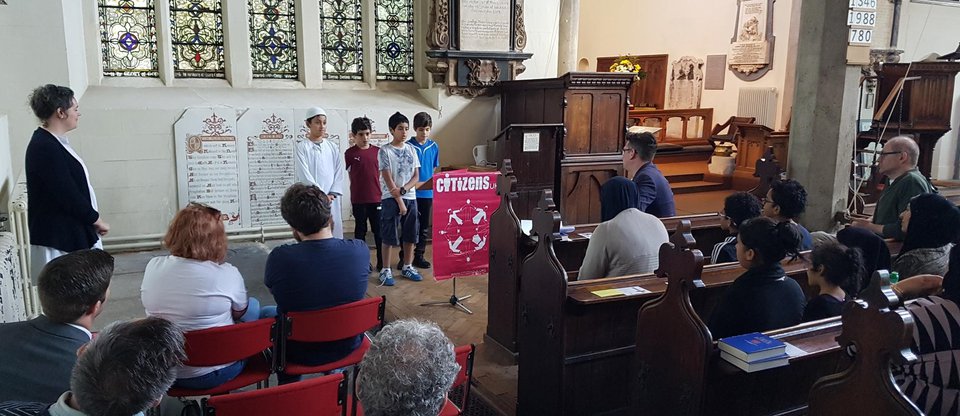 These announcements follow a year of campaigning by Waltham Forest Citizens (WFC), an alliance of 10 education and faith organisations in Waltham Forest. Before the 2018 local election, WFC listened to 1200 local people and built a People's Agenda that included asking for 50% of all homes built on public land to be classified as affordable, starting with the Lea Bridge Road, The Score and Whipps Cross Hospital sites. In addition, WFC called on the next administration to build 1200 new social rent homes and 600 CLT homes. At the pre-election Accountability Assembly in April 2018, Cllr Coghill agreed to these asks and has subsequently confirmed her commitment to them in 2 follow-up meetings we have had with her in May and September 2018.
Sunday's public action was led by members of St Mary's Church in the Parish of Walthamstow; Parish of Chingford; Connaught School for Girls; Cornerstone Church; Greenleaf Baptist Church and the students of Faizan-e-Islam, who shared a poem about the hardships faced by families evicted from their homes. In addition, personal stories were shared by Paul Phillips, a teacher from Connaught School for Girls, and Andrew and Beth, a young couple living in Chingford, who spoke about their struggle to find affordable homes in Waltham Forest and its impact on them, their families and their work.
Helen Stedeford, co-chair of the WFC Housing Team and member of Cornerstone Church, said : "It's important that local people act on the issues they care about because it builds solidarity and relationships within the community. The poem the Faizan-e-Islam students performed was about a family being evicted for falling behind on payments based on real experience. It is incumbent on all of us to say 'This is not right and this matters to us' and when we act with that together with a family affected, it has the power to influence key power-holders. These decision-makers don't work in a vacuum but are exposed to market forces every week of the year in the form of financial constraints or lobbying by business interests so we need to make sure the organised and powerful voice of the community is at the negotiating table."
Dan Copperwheat, Minister of Greenleaf Baptist Church, said: "Waltham Forest Citizens has provided an opportunity for Greenleaf Road Baptist to participate in local social justice work. Our Baptist tradition has a rich history of social action that values and cares for the dignity of human life and its living conditions. We want to dedicate our time and energy and invest in the issues of the common good because the housing crisis affects people in our congregation too."
Jess Hall, co-chair of the WFC Housing Team and member of St Marys Church, said: "Affordable housing that is permanently linked to average local incomes is the only way that an average earner like me could buy a home and put down real roots in the borough. I'm encouraged that London Borough of Waltham Forest are starting to include CLT in their briefs for developers. I hope that this approach to affordable homes can be realised."
Vanessa Conant, Rector of the Parish of Walthamstow said "Community organising builds power among local people, enabling real change on issues which matter. We do this through investing in relationships with one another and with politicians."
"As a result, we were delighted to welcome Cllr Simon Miller to our event on Sunday and to continue our work together on exploring the possibilities for CLTs in Waltham Forest. In September, we were proud to be invited to join Cllr Miller at a meeting with James Murray, Deputy Mayor for Housing and Residential Development, to discuss new opportunities for community led housing. We look forward to working more closely to identify possible sites and continue to support LBWF as they pursue their ambitious goals for affordable housing in our borough."
Waltham Forest Citizens wants further action to ensure all developments across the Borough on public land have 50% affordable housing, and is looking to work with the Council to deliver on their commitment to build 1200 social rent and 600 CLT homes.