Citizens UK and Together with Refugees demonstrate against refugee child detention in Parliament Square
CITIZENS UK AND TOGETHER WITH REFUGEES DEMONSTRATE AGAINST REFUGEE CHILD DETENTION IN PARLIAMENT SQUARE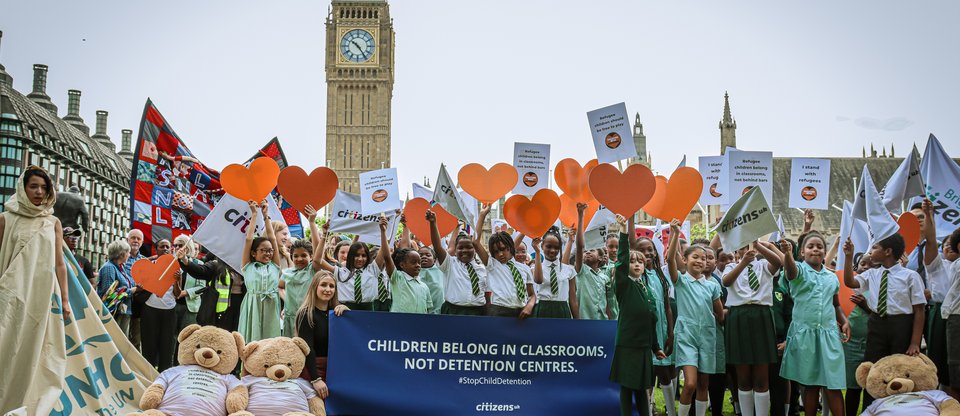 On 27 June, Citizens UK and Together With Refugees revealed that two classrooms of children could be detained each day under the new Illegal Migration Bill, as school children, teachers, community leaders, and campaigners demonstrated outside Parliament to call for an end to refugee child detention.
"Children belong in classrooms, not detention centres". A classroom of school children on Parliament Square wrote messages of support on giant teddy bears for the two classrooms a day of refugee children who could be detained under the Illegal Migration Bill.
They were joined by a children's choir from St Antony's Catholic Primary School - who sang "I am a stranger" and "Refugee" - and refugee artwork co-created by the University of the Arts London (UAL). Dress For Our Time led a procession, followed by All Snakes No Ladders, a cloth designed as a prompt to engage with the perils of the UK immigration system, as well as textile banners co-created by UAL and refugee collaborators in the Decolonising Fashion and Textiles project who also performed the manifestos they wrote as their collective visions for a more compassionate future.
The Bill, which is being voted on 28 June in the House of Lords, would allow for babies and children who arrive in the UK via unofficial routes, such as small boats across the Channel, to be locked up with no time limit. They would have no opportunity to apply for asylum, regardless of the war zones or the persecution they have fled.
Those demonstrating demanded that the Government listens to parliamentarians from across the political spectrum who are calling for these measures to be dropped. During the earlier Committee Stage of the bill in the House of Lords a Conservative-led amendment called for the Government to stick to their 2014 commitment of ending refugee child detention, which followed years of campaigning by Citizens UK.
The Illegal Migration Bill would hugely expand the Home Secretary's powers to detain people. Alongside the new duty to remove, the Home Secretary has the power to detain anyone who arrives in the UK without prior permission, including children, whether they are lone children or with their family. The government has not ruled out the use of force on pregnant women and children. There is no time limit for how long someone can be detained for. Current time limits were introduced following serious harm that vulnerable people faced in detention centres. Under the new law, these vital safeguards would no longer apply. This in effect allows for the indefinite detention of children, including unaccompanied children.
Leading medical bodies, including the BMA, Royal College of GPs, Royal College of Psychiatrists, Royal College of Paediatrics and Child Health and the Faculty of Public Health have all raised concerns about the impact of the Bill on children's mental and physical health. Children who are detained also don't have access to appropriate education that meets their needs and are cut off from interacting with peers, which can have long-term effects on their development.
Detention is mental torture. Children should never be in these spaces and should never be deprived from their freedom. The impact this has on a child's life and development is immeasurable. Children should be free to grow in a safe environment where they can play and learn. Please protect our children and stop child detention. Nadia (not her real name), a Citizens UK leader who was trafficked into the UK in 2015 and was detained at 18 years old
No child should ever go through detention. Imagine putting your child in prison for a week – how would that feel? No child should have their lives damaged by the physical and mental effects of being in such an environment. We must fight to end this despicable practice and provide kids a future free of trauma. Ijeoma, a Citizens UK leader who was 3 years old when she came to the UK and was detained as a child
As an educator, I believe the UK cannot - and must not - lock up refugee children. Faced with multiple global crises, we live in a world where ever-increasing numbers of fellow human beings are forced to flee their homes. We need more than words to show our solidarity and to shine a light on inhumane policymaking. Working alongside displaced people, we can use the power of creativity to envision and shape alternative outcomes for children threatened with detention when reaching our shores, and to shape better lives for us all. Professor Helen Storey, Centre for Sustainable Fashion, University of the Arts London (UAL), a Citizens UK member
---
Since the action...
On July 3rd the House of Lords voted on a series of amendments to the Illegal Migration Bill, including our amendment to #StopChildDetention. Led by Baroness Nosheen Mobarik, a majority vote of 230 to 152 was won to amend the bill and include a series of safeguarding measures to #ProtectChildren, both accompanied and unaccompanied, who arrive in the UK from March 6th. The bill must now be reviewed and debated in the House of Commons with a final round of votes to pass the amendments.
Read more here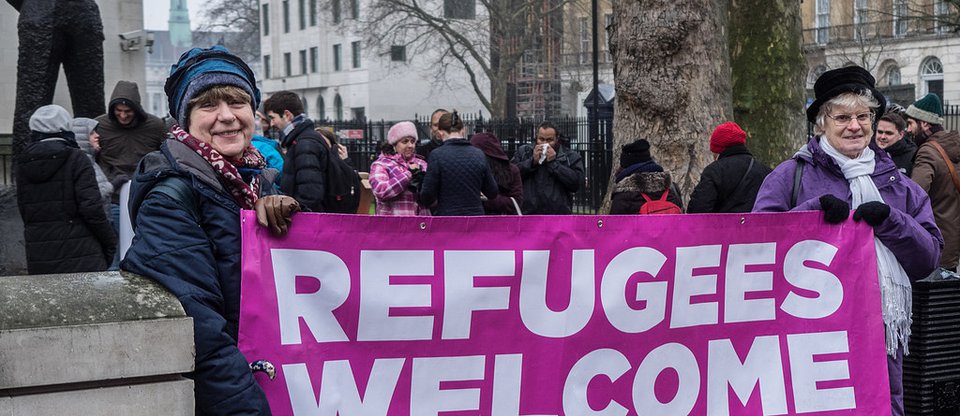 Citizens UK has a range of projects and campaigns calling for an end to the hostile environment for refugees and migrants in the UK. There are so many ways you can join our movement - from helping a refugee family resettle in their new home to lobbying the Government for equal and affordable access to Citizenship.
Read more about our different campaigns and find out how you can get involved.
Posted by Sylvie Pope on 27 Jun, 2023