New real Living Wage rates announced for London & the UK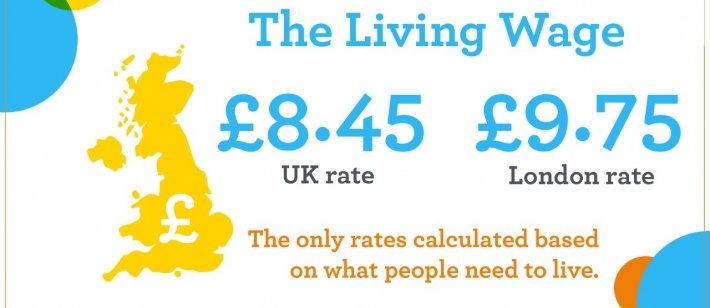 The Mayor of London Sadiq Khan today announced that the new London Living Wage has increased from £9.40 to £9.75 per hour to reflect the higher cost of living facing families in the city – an increase of 3.7 per cent. This year over 300 more London-based employers have signed up to pay their staff the hourly rate required to make ends meet in the capital, bringing the number of London Living Wage employers to nearly 1000.
The UK rate has increased by 2.4% from £8.25 to £8.45. This is 17% higher than the government minimum for over 25s which is £7.20 per hour. And in total nearly 1,000 employers have signed up since Living Wage Week last year bringing the total number of accredited Living Wage organisations to nearly 3000.
Today new household names are announcing their commitment to pay the real Living Wage: Everton Football Club , the British Library , RSA Insurance Group , Curzon Cinemas and law firm DLA Piper International . They join employers across the UK ranging from FTSE 100 companies to small independent businesses who are choosing to go further than the government minimum wage and ensure that all their staff and onsite contractors earn the real Living Wage which meets the cost of living.
These companies join others signed up with the Living Wage Foundation including household names IKEA , Majestic Wine , National Express Bus and EDF Energy .
The announcements come after new research published by KPMG yesterday showed that 1 in 5 people are still paid less than the real Living Wage .
The Mayor of London, Sadiq Khan, announced the new rate for the London Living Wage at the British Library, the latest London employer to commit to ensure staff earn a real Living Wage. He said:
"It's great news that London is leading the way in paying the Living Wage and that over 1,000 businesses are now accredited and helping to make this a fairer and more equal city. I'm glad to say we're well on track to see it rise to over £10 an hour during my mayoralty, but we need to go further and for many more businesses and organisations to sign up.
"Our economy continues to grow and for the first time in London's history we now have over one million businesses based here. It's essential that hard-working Londoners, who keep this city going, are rewarded for their integral role in this success.
"Paying the London Living Wage is not just the right and moral thing to do, it makes good business sense too. As many employers already accredited know, the benefits are clear - including increased productivity and reduced staff turnover.
"The London Living Wage is a fantastic campaign and I will be working to encourage more businesses across our great city to get involved. This will not only help London become a city where it's a badge of pride for employers to pay the London Living Wage, but help us become a city where everyone benefits from the capital's success."
First Minister for Scotland Nicola Sturgeon , and the First Minister for Wales, Carwyn Jones today announced the UK-wide Living Wage rate in their respective nations.
Nicola Sturgeon announced the new UK rate in Airdrie at painting and decorating firm Bell Group:
"The new Living Wage of £8.45 will be a welcome pay rise for thousands of Scottish workers and ensures people's basic wage continues to meet the real costs of living.
"Like the Bell Group , 630 employers in Scotland are now accredited Living Wage employers and I want to see all businesses implement the new Living Wage rates as soon as possible.
"For business, paying the Living Wage makes sense - it's an investment in people and all the evidence shows it leads to increased productivity and reduced staff absence and turnover, while sending a strong signal to customers about fairness.
"Yet we also know around 20 per cent of Scotland's workforce earn less than the Living Wage. With low pay one of the main drivers of in-work poverty, it's vital that employers who can pay the real Living Wage do so. We'll continue to work with the Living Wage Foundation and the Poverty Alliance to encourage more businesses to recognise the benefits of paying the real Living Wage."
Carwyn Jones announced the new UK rate in Cardiff Castle, saying:
"My vision for Wales is for a strong, fair economy delivering more and better jobs. I am proud that we have record levels of employment in Wales, while there has been great progress in the number of employers across the private and public sectors adopting the Living Wage.
"At its heart, the Living Wage is all about a fair day's work for a fair day's pay. The Living Wage allows people to improve their situation and enjoy their lives. But it also makes sound business sense – it boosts morale, improves productivity, innovation and, ultimately, staff retention."
Katherine Chapman Director of the Living Wage Foundation said:
"Today's new Living Wage rates bring a welcome pay rise to thousands of workers across the UK. 1 in 5 people earn less than the wage they need to get by. That's why it's more important than ever for leading employers to join the growing movement of businesses and organisations that are going further than the government minimum and making sure their employees earn enough to cover the cost of living. As we kick off Living Wage Week today we are celebrating nearly 3000 employers across the UK who lead the way on tackling low pay by paying the real Living Wage. The sheer growth of our movement shows that the Living Wage is good for people and good for business."
Roly Keating, CEO of the British Library said:
"I'm proud and delighted that the British Library is now fully accredited as a Living Wage Foundation employer. Our dedicated staff are at the heart of the Library's mission to make our intellectual heritage accessible to everyone, and Living Wage accreditation reinforces our commitment to the values of fairness and respect for all."
Stuart Wright, Aviva PLC , Group Property and Facilities Director, and Chair of the Living Wage Advisory Council  said:
"Everyone working at Aviva in the UK, whether they are a permanent employee or an on-site contractor receive at least the real Living Wage. We made this commitment because it is the right thing to do. And because it is also good business. We want to be an employer of choice, which helps us to protect the long term success of our business.
"But we also know that paying the Living Wage is good for our industry and business at large – employers who pay a fair wage have a multiplier effect, because as ambassadors they help encourage other businesses to do the same."
"Paying the real Living Wage will create a better, stronger and ultimately a more successful company for our customers, our people and the communities we are a part of."
For more information on the Living Wage, visit the Foundation's website at www.livingwage.org.uk