Citizens UK secures study into safety of Tottenham road crossing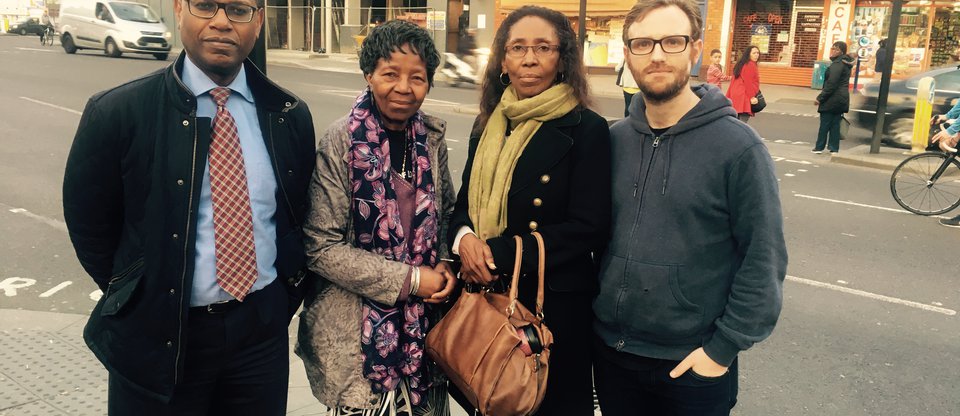 Picture shows: Anthony Davis, Rebecca Ellis, Yvonne Jhagroo, Matthew Creber
Transport for London (TfL) have agreed to undertake a new feasibility study to review the safety of pedestrians at the junction of Philip Lane and A10 High Road after meeting with members of Haringey Citizens last month.
Haringey Citizens have long argued that the road crossing is unsafe for pedestrians and have been campaigning for a change to the road crossing for the last two years.
Yvonne Jhagroo, a parishioner from the near-by Holy Trinity Church, said:
"We are encouraged to hear TfL are conducting a study into the safety of the crossing. For many local residents like myself, the crossing is a nightmare for pedestrians and has been for too long. It serves two primary schools, multiple churches, a housing development, a bus station, local shops and a near-by leisure centre and many risk their lives every day without a 'green man' light or puffin crossing"
Haringey Citizens members went to the TfL head offices in December to give Leon Daniels, Managing Director of Surface Management at TfL, a toy puffin and mince pies as a Christmas present to illustrate their desire for a safer road crossing.
A Freedom of Information (FOI) request followed, calling on TfL to release more data on the safety of pedestrians at the crossing. This revealed there had been an increase in pedestrian accidents since its conversion (from two in the 26 months between Sep 09 - Nov 11 to five in just 20 months between Mar 13 - Nov 14) and TfL had rejected safety concerns for over five years.
Rebecca Ellis, who goes to St Marks Methodist Church on the High Road, said:
"The FOI request confirmed what we had expected - that the Philip Lane/High Road crossing had the highest amount of pedestrian traffic on the gyratory and it remained unsafe for many"
The feasibility study will take place over the next 8 months to December and will include work from a designer to explore the potential re-design of the crossing.
"Whilst TfL haven't gone as far as committing to change the crossing as of yet, we had a productive meeting with Mr Hardy and Ms Joanne Elmer and we look forward to meeting with them again in June to check on progress of the study and if a solution can be found - we would be excited to host a public consultation on its outcome in December" said Mrs Ellis.
The campaign for a safer crossing is supported by David Lammy MP and Deputy Leader of the Council - Bernice Vanier