Citizens' league table shows developers' failure to build affordable London housing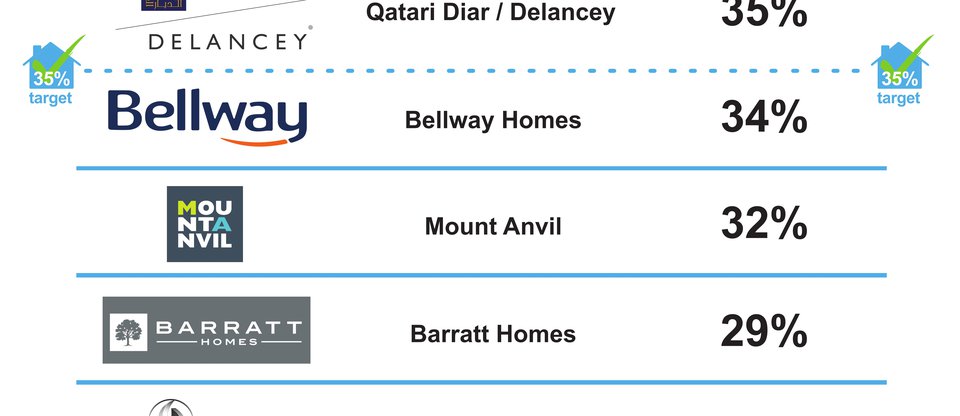 London Citizens' Affordable Homes League Table for London: The eight biggest housing developers in London (by the amount of homes built) ranked by percentage of affordable housing in developments of over 50 residential units, completed between April 2011 and March 2016.
London needs at least 90,000 affordable homes, London Citizens is echoing the call of London Mayor, Sadiq Khan, asking developers to build at least 35% affordable on all sites
Community leaders attend Taylor Wimpey AGM to demand 35% affordable homes be built in future developments
A group of campaigners from London Citizens, part of national community organising charity, Citizens UK, has today released an Affordable Homes League Table for London, detailing the percentages of affordable homes that developers have built in the capital over the past five year.
London Citizens, whose membership is made up of hundreds of civil society institutions from across the capital including churches, mosques, synagogues, trades unions and universities, ranked a lack of affordable housing as their number one concern following a listening project involving conversations with thousands of Londoners ahead of last year's London Mayoral election.
The group developed a Good Development Standard which the Mayor, Sadiq Khan, adopted at a 6,000-strong London Citizens Assembly at the CopperBox Arena in May 2016. As part of his pledge to adopt the Standard, the Mayor said he would rewrite the London Plan — the Mayor's planning bible — to ensure that at least 50 per cent of development on public land is genuinely affordable.
Now the community activists are taking their call for more affordable homes direct to the developers and asking them to ensure all new developments include a minimum of 35% affordable housing.
Jackie Ashmenall, London Citizens leader, Christ the Saviour, Ealing said:
"The Mayor estimates that London needs at least 90,000 affordable homes - yet developers are building new schemes that don't do enough to help reach that target. Time and time again we hear of more and more families having to leave their communities, struggle with squalid living conditions and chronic overcrowding. Poor housing is bad for families and bad for society.
"We can't get enough decent affordable homes via public land developments alone, so that's why today we are asking Taylor Wimpey to do the right thing and increase the percentage of affordable homes they build in London to at least 35%. We're taking a copy of the league table to their AGM and hope they will be keen to work with us."
A delegation of London Citizens leaders will today be attending the Taylor Wimpey AGM in Tavistock Square; they will be sharing testimony of the challenges of poor housing and asking the developer to work with them and at least start discussions about how they can reach the 35% target.
Jackie Ashmenall continued: "According to our research, in the past five years Taylor Wimpey 's profits and returns to shareholders have more than doubled to over £300 million a year, but the percentage of affordable homes has only risen by 1% over five years. Over a five-year period just 28% of Taylor Wimpey homes were built as affordable housing.
"We know that Taylor Wimpey take the issue of affordable homes seriously, their own Materiality Assessment lists affordability of housing as a top priority for the company. London Citizens look forward to working with Taylor Wimpey, we hope they will be keen to work with us."
Anne Baxendale, Shelter's director of communications, policy and campaigns, said :
"As ordinary families across the country feel the pain of our deepening housing crisis and struggle to find somewhere to live, it's more crucial than ever that housebuilders ensure their new developments include a fair share of affordable homes.
"Whilst we are reassured by commitments from the London Mayor and some housing developers to raise affordable housing contributions, this crisis will persist unless we bring down the astronomical cost of land so we can build more genuinely affordable high-quality homes."
ENDS