London Citizens 2021 Manifesto
Our people powered path to the Mayoral Election
London Citizens 2021 Manifesto For Change
Citizens UK: the UK's biggest, most diverse, and most effective people-powered alliance. ​
We're working together to make change on the issues that matter, from campaigning for zebra crossings on dangerous roads, to reforming the immigration system, to the Living Wage campaign.​
We're shifting the balance of power, bringing people together across their differences, to find common ground and win change.
This manifesto has not been created by experts in think-tanks or political-masterminds, but by hundreds and thousands of everyday Londoners and local organisations.
We believe that this manifesto and working together to make it happen can bring real change to Londoners. That's why we want you to back it. Together we can transform our city.
Housing and homelessness
We want the next Mayor to:
Make housing genuinely affordable
Increase the supply of supported accommodation e.g. Project Malachi
Make 'temporary accommodation' temporary and improve the quality
Youth Safety
We want the next Mayor to:
Commit funding and powers to police scrutiny
Establish a parent commissioner for London at the GLA to amplify and advocate for parent voices
Commit funding and resources to tackle the issue of school exclusions
Living Wage
We want the next Mayor to :
Make London a Living Wage City with a target of 1 million Londoners employed by a Living Wage Employer by 2024
Make the Greater London Authority a Living Hours employer
Welcome and Sanctuary
We want the next Mayor to:
Give long-term commitment and support for Londoners to settle their immigration status
Fund and create a continually updated ESOL website, to make accessing English classes easier
Work with us to make hate crime reporting easier and more effective
Just Transition (Climate)
We want the next Mayor to:
Create 60,000 good green jobs and apprenticeships
Upgrade 100,000 homes to end fuel poverty by 2030
West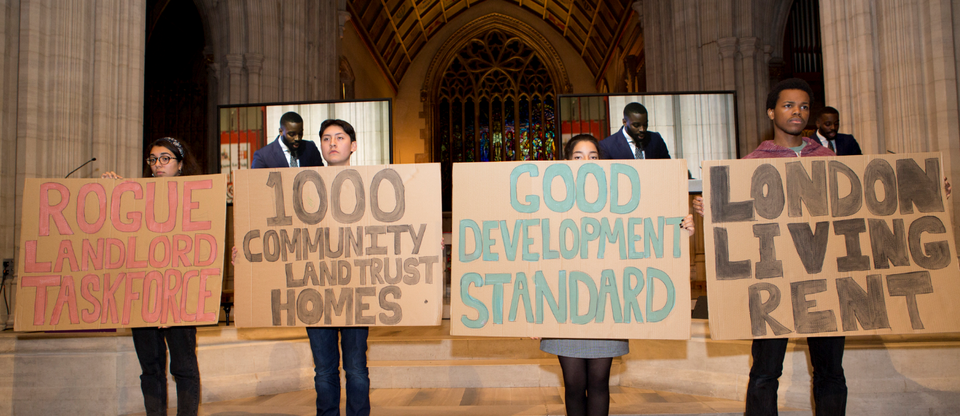 Add your name
If you've got a question about what a Citizens Assembly is - or why we only invite certain candidates - check out our FAQ.