MK Spins Out for City Status Celebration
MK Spins Out for City Status Celebration
120 people from across Milton Keynes gathered for a short cycle ride through the city centre to celebrate MK's new city status and recent increases in cycling to school and work in MK (see Cycling CitizensMK project and event trailer).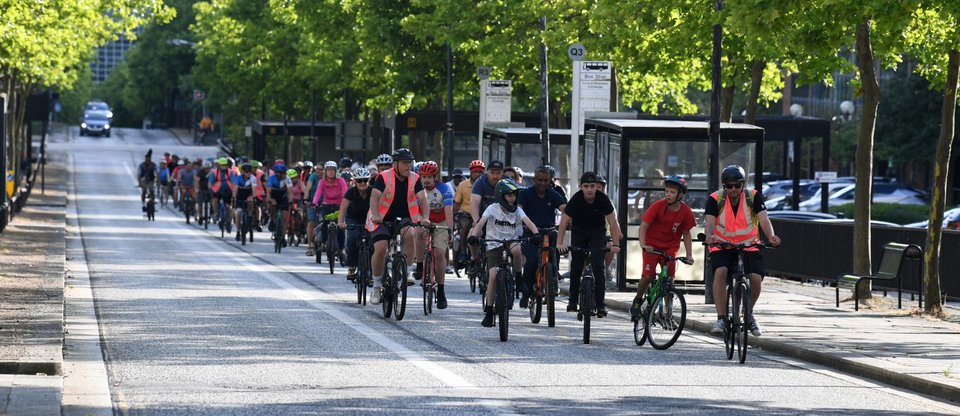 The ride was organised by Cycling CitizensMK, a project funded by MK Council. The riders included MK Councillors, business and school leaders, primary school pupils, teenagers and vintage bicyclists in their 70s.
10-year-old Luca Galeanu, who recently helped Bradwell Village School win MK's (and UK's) first Bikeability Olympics competition between primary schools, said: "Cycling is important because I learn new things and make new friends, plus it keeps you healthy."
Charlotte of MK Youth Cabinet said: "I really enjoy cycling with my friends, I just find it's an easy way to get around."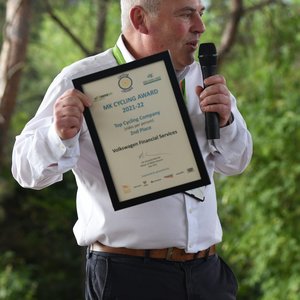 Cycling is a Council priority, it goes to our cycling strategy and our target to halve our carbon emissions by 2030. We've long been a supporter of cycling. We've got over 300 miles of redway network. Cllr Mick Legg, Deputy Mayor of Milton Keynes
"For us it's a real win-win," said Richard Scott of Volkswagen Financial Services, winner of the award for large company with the highest number of cycle trips per employee. "Cycling is good for our colleagues' health, not only physical but also mental health. Our group cycle rides in the evenings help camaraderie, bringing colleagues together."
The Mayor's Cycling Awards presentation took place on Thursday 14th July at The Old Bus Station (schedule), following a Vintage Bicycle Competition (see bikes) and Bunny Hop and Wheelie stunt contests (see trailer) – award winners listed below. MC for the presentation was Ian Revell, CEO of MK Community Foundation.
MK Council's Highways department received a Special Thanks award, presented by Dylan Murray, Deputy Member of Youth Parliament MK South, and collected by Andy Dickinson, Client Services Manager of MK Highways. "Without your hard work maintaining our roads and redways," said Ian Revell, "none of us would be able to cycle in MK."
Former Mayor Cllr Mohammed Khan told the riders how proud he had been to see city status achieved during his time as MK Mayor and how important cycling was to MK's vision of itself as a city.
The awards were preceded by a short performance from MK champion break dancer Kevin Kallon and hot snacks from Namji's Restaurant were served during the awards presentation.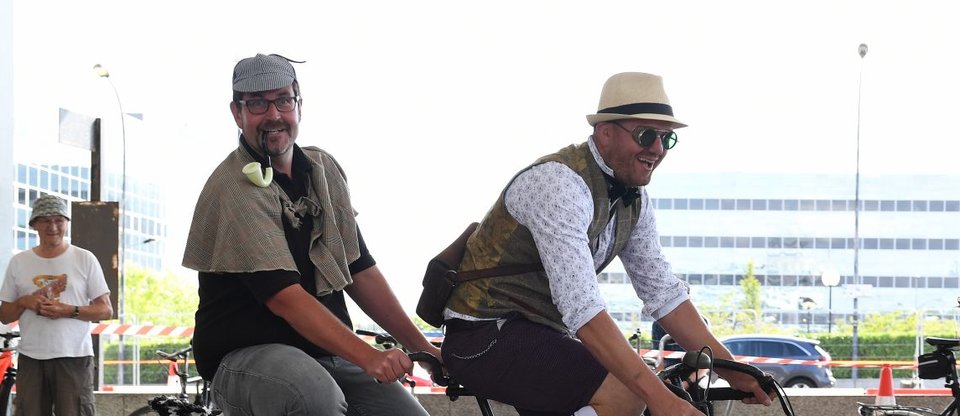 The award winners (photos below)
Category 1: MK's Top Large Companies (average trips per employee):

ICAEW (0.89) – Liz Tribe, Senior Employer Training and CPD Support Executive
Volkswagen Financial Services (0.76) – Richard Scott, Chair of Employee Forum
The Open University (0.48) – Nick Braithwaite, Head of Sustainability
Gemini Rail Services UK (0.45) – David Smith, Change Control Manager
Red Bull Technology (0.35) – Phill Elvidge, Production Control

Category 2: MK's Top Secondary Schools (average trips per student & staff member):

The Radcliffe School (1.29) – Paula Lawson, Headteacher
Watling Academy (0.51) – Ian Bacon, Headteacher
Ousedale School (0.26) – Tim Coffey, Teacher

Category 3: MK Bikeability Olympics Awards for primary schools:

Gold Award: Giles Brook School
Silver Award: Bradwell Village School
Bronze Award: Oxley Park School

Category 4: Contest Awards organised by Cycle Saviours and Iain Talbot

Stunt Contest Gold Award (£100 cash prize): Brandon
Stunt Contest Silver Award (£50 cash prize): Tim
Stunt Contest Bronze Award (£50 Madison voucher): Alex
Vintage Bicycle Gold Award (£50 Madison voucher): Allan
Vintage Bicycle Silver Award (£10 John Lewis voucher): Barry
Vintage Bicycle Competition Bronze Award (£10 John Lewis voucher): Steve

Category 4: Special Award

MK Council Head of Highways – Thank you for providing our roads and redways. Collected by Andy Dickinson, Client Services Manager.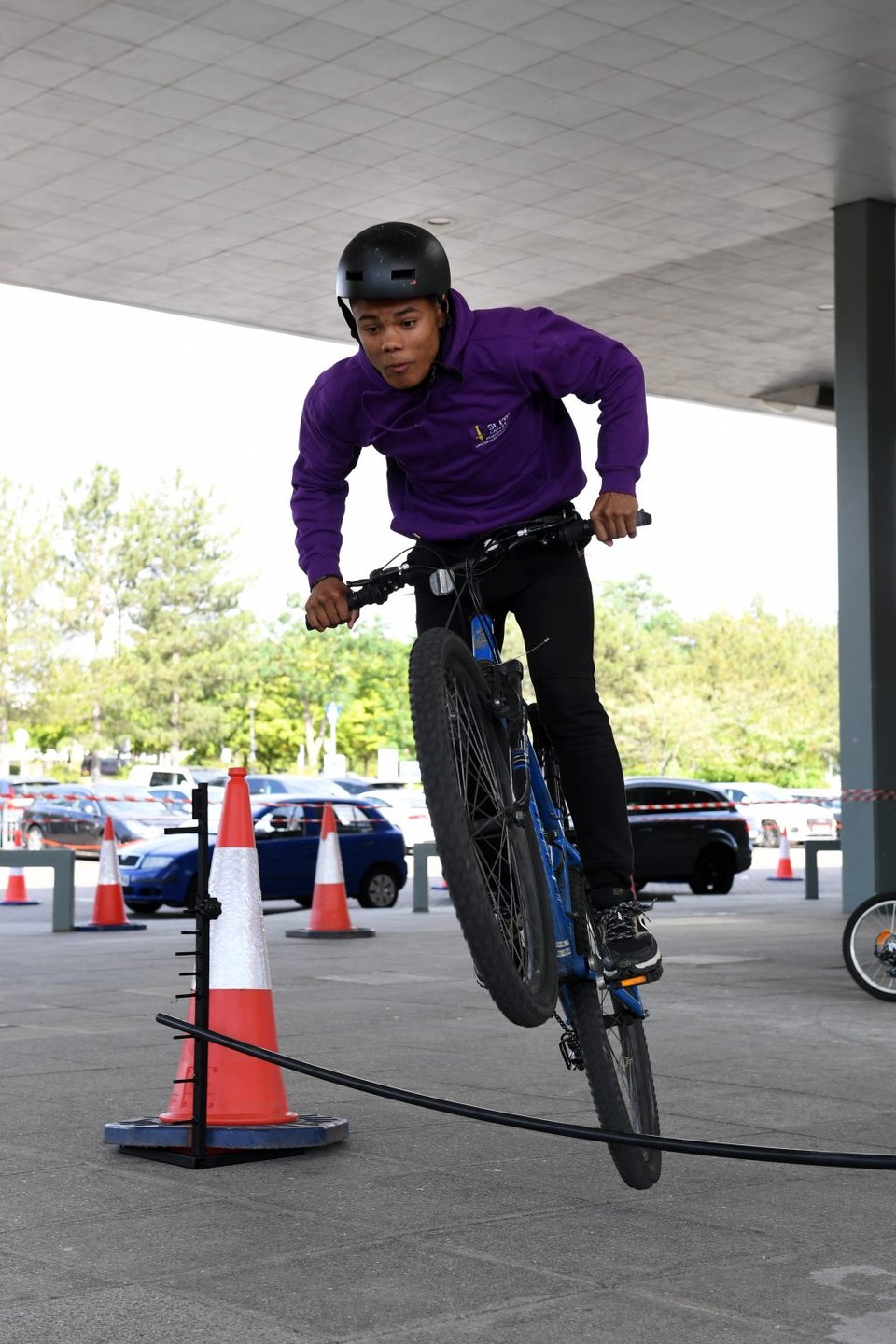 Special thanks to MK Development Partnership for permitting use of the area outside The Old Bus Station and Ringway Infrastructure Services for providing cones and tape to mark the area off for safety.
See how MKFM Radio trailed the event.
For more information, contact:
Tom Bulman, Cycling CitizensMK, cycling@citizensuk.org, 07962 838685
Raeesa Chowdhury, MK Council, raeesa.chowdhury@milton-keynes.gov.uk
Adekunle Odunewu, akaodunewu@yahoo.co.uk, 07935 797242
Note: Category 1 and 2 awards were based on business and schools' performances over four cycling competitions 2021-22 (Bike Month June 2021, Cycle September 2021, Winter Wheelers 2021, Ride Anywhere March 2022)
Photos by Jane Russell Photography.
Film: click here to see Thomas Gray's fantastic new film about cycling in MK, Grid Spinners.
Future rides. Cycling enthusiasts meet for a short ride through CMK every Thursday 5.30pm. Just show up at The Old Bus Station.
Posted by Keith Hebden on 25 Jul, 2022