Multi Faith Assembly Calling for Promotion of Integration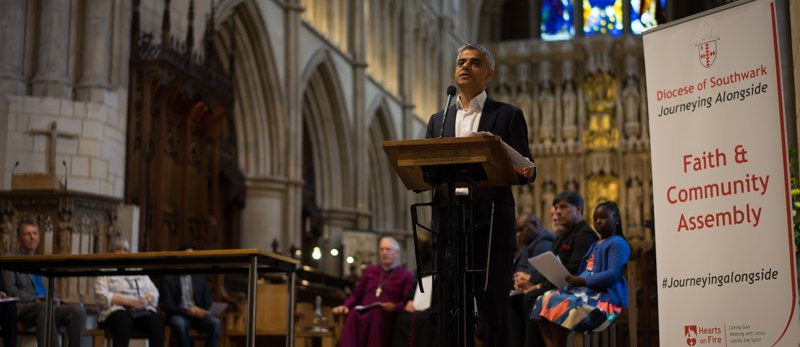 On Saturday 1 st October, leaders from London Citizens attended the Faith & Community Assembly organised by the Anglican Diocese of Southwark, which focussed specifically on making London Open and No Place for Hate.
The Mayor of London – Sadiq Khan, Bishop Christopher Chessun and the representatives of the major faiths, along with Citizens UK and several young people from South London Citizens member churches, schools and colleges signed a Declaration which starts with 'we pledge our determination as Londoners to ensure that this great city shall continue to be a place of welcome, generosity and equality, with respect to all.
The Bishop explained that the event was "about London, our hopes for the future, and the part we can each play in promoting values which will help all Londoners flourish".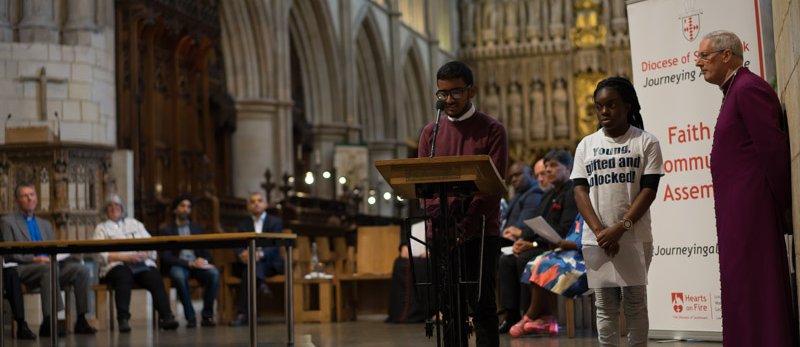 Young leaders Tahmid Islam (from the campaign Stand Up Stand Out ) and Ijeoma Moore (who shared her story of immigration at the London Mayoral Assembly in front of 6000 people in April 2016) both addressed the audience and thanked the Mayor of London Sadiq Khan for honouring the commitments he made at the London Mayoral Assembly.
Tahmid said "More often than not young people get the shortest end of the stick, pushed aside to the margins of agendas, our university fees constantly rising, our grant funding cut from us - the cost of living is higher than any generation before us. The same can be said for migrant and diaspora communities - we are not integrating enough, the media spinning negative stories about us, with hate crime on the rise - we are feeling less welcome than ever before.
What Stand Up Stand Out are doing is flipping that narrative - we work on issues of social justice and believe no matter where you were born you should be welcomed.
There is much to improve, we know that because we are leaders of our communities and they tell us so. You said that as Mayor you would personally be a champion for these issues of integration and you have done that successfully with campaigns like 'London is Open' which was just what we needed after the Brexit vote. You honoured your commitment to us and we now have a Deputy Mayor for Integration who can also champion this and we at London Citizens and Stand Up Stand Out want to thank you and offer you our support to help make London a city for all of us."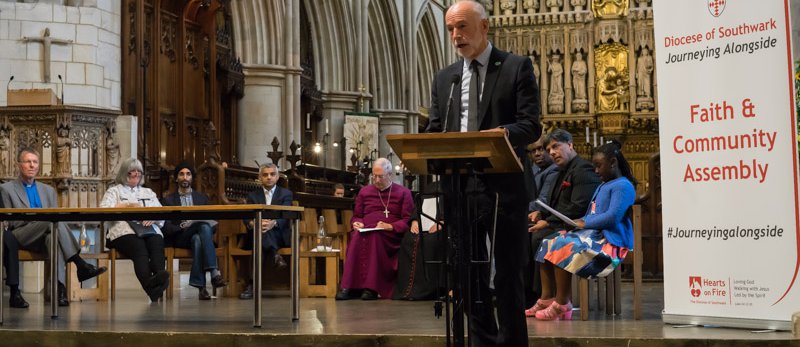 The Mayor praised the capital for its hospitality to people from so many backgrounds, but urged Londoners to do more to promote genuine integration. The Mayor stated that "while I represent a diverse and tolerant city, improving social integration is still one of the biggest challenges we face if we want the capital to fulfil its true potential."
Neil Jameson, Executive Director of Citizens UK, also spoke sharing his thoughts on how by organising around issues we agree on in London Citizens, such as better wages, safer streets and help for refugees, our member institutions also get into a mutually respectful relationships. He said; "our experience is that people in relationship and groups in relationship are far less likely to stereotype, label and blame the other. People who organise together tend to stay together!"