Rebuilding the relationship between young people and the Met Police
Hamsa from SAAFI, a member of Brent Citizens, reflects on the recent Assembly with London Mayor Sadiq Khan and calls on members across London Citizens to stand in solidarity with young leaders like him who are taking action to build and improve trust between BME communities and the capital's Met Police.
Join us on Wednesday 19 December for our action when we will be delivering a Christmas list of shared values that both we as civil society and the police can commit to.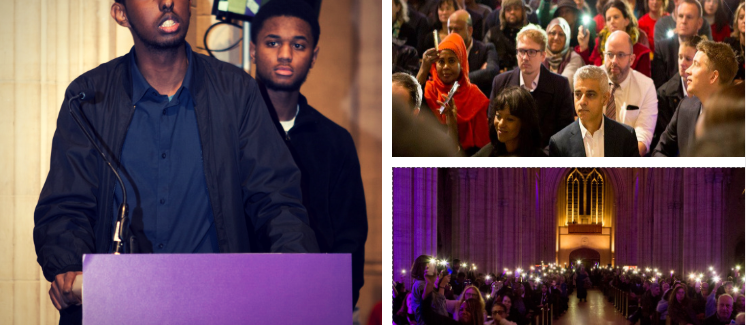 When I stood up to share my story at the recent Assembly with Mayor Sadiq Khan, it's fair to say I was a little nervous. This was my first Citizens Assembly and the stakes were high. But it was so powerful to look up and see over 1,400 people – all of us there to work for a better London.
I am a proud member of SAAFI, a British Somali community organisation that's part of North London Citizens. Like many other young BME Londoners I'm concerned about staying safe from knife crime as much as being safe around the police.
That's why I urge members of London Citizens to join me and over 100 other young BME people on Wednesday 19 December. We will be taking action outside New Scotland Yard to deliver a Christmas list of values that both the police and civil society – that's us! – can commit to.
At the Assembly, we heard from Mayor Khan that he will work with London Citizens to build more trust between young Londoners and the police. But we can't sit back and wait for that to happen.

It doesn't matter whether you're directly impacted by this or not. Maybe you've never been threatened by the police, or racially profiled and stopped and searched for no good reason. Maybe you have.

Either way, as active members of civil society it's our responsibility to work towards a better, more accountable relationship with the police if we are to start tackling the awful rise in violence in our city.
I hope you will choose to stand in solidarity with us next week and put the spirit of Christmas in action.

To join us, please contact your Organiser to find out more details about the action on Wednesday 19 December.