Living Wage Week action on "Bob the Care Board"
Living Wage Action: Oxford Citizens doorstep 'Bob The Care Board' with a gift and a message: Pay a real Living Wage!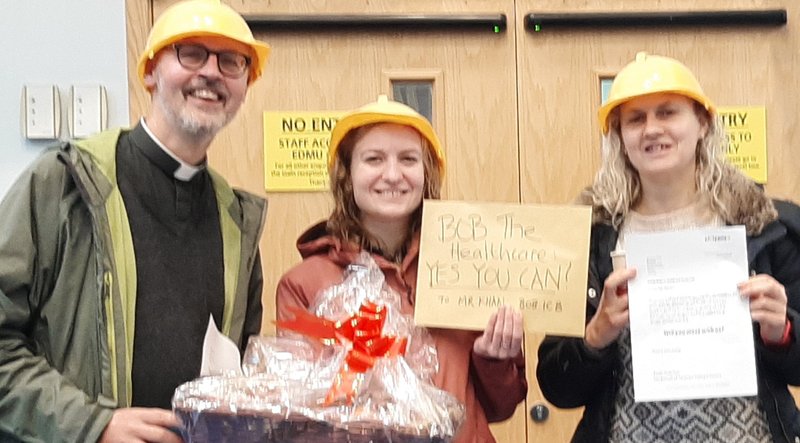 Leaders from Oxford Citizens turned up early and very soggy on the wet November morning of Tuesday 15 November to follow up on an invitation to Mr Javed Khan, the Chair of the newly formed Care Board for Buckinghamshire, Oxfordshire, and Berkshire West - or "Bob" as it likes to be called.
Hannah Ling, Social Justice Adviser for the Diocese of Oxford, joined veteran leader Holly Templer and Revd Phil Ritchie, newly returned from Citizens UK national training with a gift of basket of fruit and a letter from Thames Valley Citizens.
This letter followed up from our letter sent last month by Steph Jankovic, Centre Manager at the Cutteslowe Community Centre, and Rt Revd Gavin Collins, Bishop of Dorchester, to which they have had no reply.
Oxford Citizens are simply asking Mr Khan for a meeting to discuss how we can make sure everyone in the new "Integrated Care System' is paid at least a real Living Wage. On Tuesday, members of the Care Board held a three-hour meeting and were hand delivered a detailed proposal document from our leaders along with a gift basket of fresh fruit to keep them fresh for their massive meeting.
Our message is simple:
With staff turnover at an all time high and recruitment in health care in crisis we are seeing Care Workers in our foodbanks and clients in distress.
BOB the Care Board - Can you Fix it?
BOB the Care Board - YES YOU CAN!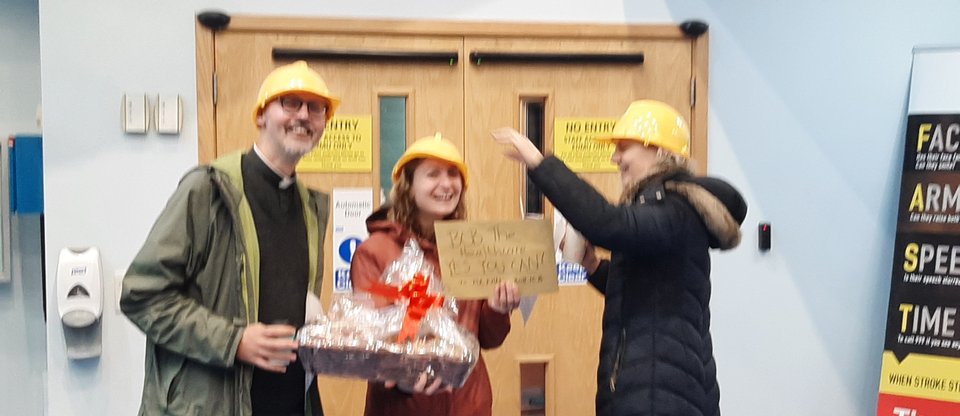 Posted by Keith Hebden on 17 Nov, 2022