Getting London's Latin American community online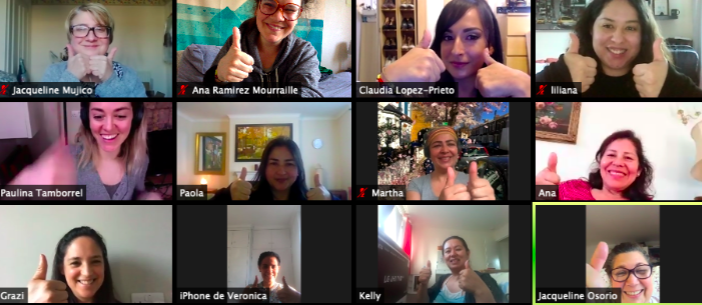 Ana María Ramírez, a collaborator from Empoderando Padres, writes on how the Covid-19 pandemic has put a spotlight on the lack of online access for London's Latin American community.
Since the start of lockdown, we've been constantly hearing that Covid-19 is 'democratic' and 'fair', and 'anyone can get it'. While it's true the virus 'does not discriminate', it's also true that the most vulnerable people in society are facing the crisis disproportionately worse. You don't need to catch the virus to suffer the consequences of the pandemic.
Citizens UK, like many organisations around the country, are currently working online and adapting to the 'new normal'. Yet we need to ask ourselves - what happens with the people who don't have access or can't connect online?
We quickly discovered in this process that we might be assuming everyone can and knows how to connect. But not everybody has internet access or technology to get online, meaning knowledge that comes with how to use video software (Skype, Zoom) or the internet is not a given.
It is not only about moving online, either. It is about allowing and guaranteeing everyone, despite previous knowledge or devices, to have the opportunity to join these new spaces and to actively participate.
In just a few weeks, we have worked with 20 mums to:
Guarantee all members felt included
even before we started with one-to-one tech support on Zoom, giving advice on how to optimise the internet connection in the native language
Expanded tech support to include translation of websites,
sourcing reliable news and alerting on fake health advice spreading via WhatsApp
Engaged a core group of leaders to reach directly into a wider group within their community
to play a much more active role in mutual aid and peer support
In these strange digital times, it's tempting to create very complex and sophisticated online solutions. So how can we guarantee that everyone can participate and 'join the call'?
Read more like this:
A mum from Parents and Communities Together (PACT)
blogs about life in lockdown and reasons why Covid-19 has made her worry
This is
how we're responding to the Covid-19 crisis
Find out
more about Empoderando Padres
, a group set up in London for Latin American parents