Winter round-up
Citizens of Nottingham
New strategic partnership
We are delighted to share the news that LEAD Academy Trust have entered into a new strategic partnership with Citizens UK and Nottingham Citizens. Pioneered by Meeta Dave, headteacher at Radford Academy and member of our local leadership group, the Trust is forming a community of practice for school leaders across the Trust over the next 18 months in order to use the tools of organising to enlarge the civic mission of the Trust. The partnership will also create capacity for organisers to work more closely with 6 primary schools in the Nottingham area - Huntingdon, Windmill, Jubilee, Hogarth, Sycamore and Radford. You can read more about this exciting development HERE
Better Books
A final congratulations to all our funders and partners supporting #NCBetterBooks. We have been able to support the City of Literature & Switch Up book gifting for Christmas campaign and also donate to the City's Early Help Team supporting refugee children and other families in need this Christmas. So, as well as all 76 city primary schools and a number of other educational settings it has been great to see remaining books head into the community. What a difference this campaign has made, and as books are read, re-read and shared - this will continue for some time. Well done everyone!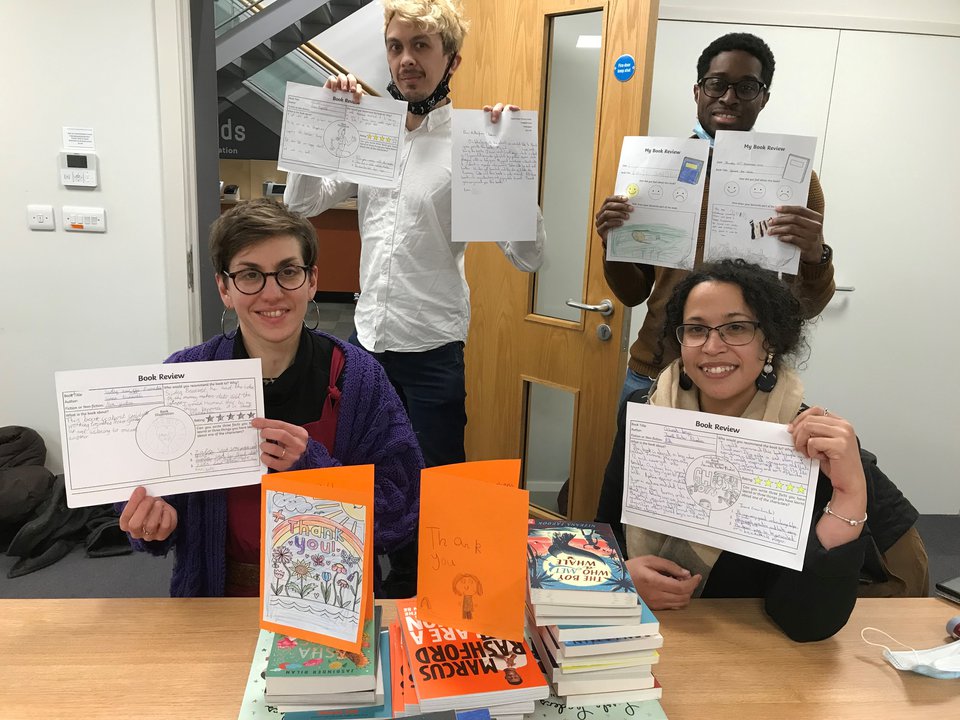 Fair Work
Last month we celebrated Living Wage Week, the annual moment when the new real Living Wage rates are announced signalling an uplift in pay for hundreds of thousands of workers across the UK. Citizens UK's flagship campaign now has over 9000 employers accredited to the Living Wage Foundation and the movement has to date shifted over £1.7bn into the pockets of the UK's lowest-paid workers.
Our campaign to win a real Living Wage at Forest continues. Students from Sycamore Academy and Nottingham Girls Academy recorded video messages and wrote letters to the club this month, urging the board to end the practice of poverty-pay. Watch this space for a release of a compelling campaign video in the new year as fans, civil society leaders, primary and secondary school children call out this injustice and ask Forest CEO, Dane Murphy, to do the right thing.
In the new year we'll be launching a 'Fair Work' action team which will continue our focus on the Living Wage, whilst also listening into our communities to better understand related issues around the fair work agenda. We will also be joining in with a new UK-wide focus on winning a Living Wage in Health and Care, culminating in an exciting national action in London over the May bank holiday.
The first meeting of the Fair Work action team will take place on Tuesday 1st February, 6pm (venue/Zoom tbc) - Citizens members are invited to join. Contact an organiser to register your interest. You can also contribute to the work of this team by sharing this short listening tool below 👇
Better Learning
Our Vision: for Nottingham to be known as a place where our educational institutions are taking the lead on creating an anti-racist curriculum and an anti-racist and inclusive teaching environment
Emerging from the early work of the Equalities Action Team, (the formation of this team was the primary ask of the Nottingham Education Partnership Board) a key group of Multi-Academy Trusts have launched cross-MAT groups to work on race equity in curriculum and workforce development. A group of regional providers of Initial Teacher Education have developed spaces and processes for their global majority trainees, and to develop their curriculum to support schools and trainees to strengthen anti-racist policy and practice. If you want to know more, or if you are a black or global majority community, organisation or leader that wants to see more representation and progression in the educational workforce, contact Heidi Shewell-Cooper about the next phase of this campaign.
Mental Health
Our Mental Health taskforce launched this October has continued to develop it's campaign strategy. Anecdotally, we are hearing that people often do not know where to go for support with their mental health challenge, either in their own organisation & community or indeed in the healthcare system. To help us better understand the scale of the problem we invite you to fill out and share the below listening tool in your networks. Our next taskforce meeting will be on Thursday 20th January, 17.15-18.30 (Zoom). Contact an organiser to find out more.
Training
We had a great day last month training leaders from Nottingham and Leicester in community organising methods and tools. Thanks to St Martins Church Sherwood for their generous hospitality.
Training is at the heart of Citizens UK - equipping local people to build power and relationships in order to work for social justice change. We provide regular local, online and nationally delivered training in organising. You can find out about our 5 training options HERE
In wider news
Many of you will have been shocked and angered by the recent attacks on women in Nottingham's night-time economy. Organisations like Nottingham Women's Centre and Equation are doing invaluable work to campaign for change and to provide education to a new generation of young people. We encourage you to support their work. Schools may be particularly interested in a session Equation are running on misogyny and gender equality. 
Christian readers may also want to support the work of Street Pastors who work on weekends to support the police, bars and clubs by offering support to anyone in need in the city centre. They are currently looking to recruit new volunteers in order to be able to cover more nights of the week. Contact streetpastors@maltcross.com for more information.
Connect
linktr.ee/nottinghamcitizens is our one-stop-shop for all actions, events and training opportunities.
Organiser Contact: pete.rogers@nottinghamcitizens.org / 07376009949 ; heidi.shewell-cooper@nottinghamcitizens.org / 07376013644
Posted by Lauren Del Fabbro on 7 Jan, 2022