Still No Place for Hate: George Floyd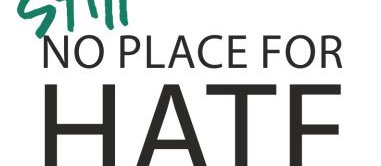 The dreadful video showing the killing of an unarmed black man George Floyd whilst in police custody in Minnesota, USA has caused widespread revulsion and reaction around the world.
As the New York Mayor said, 'he was simply killed because he was black'. Sadly this is just not an isolated incident but the result of decades of structural racism. This awful act of brutality strengthens our resolve that the scourge of racism and hatred cannot be tolerated or ignored by any of us in our society.
We stand with the family of George Floyd, and in solidarity with all t hose who are peacefully protesting against all forms of racism and hate crime in our society. Individually and together, we commit to continue to work for justice and systemic change.
Nottingham Citizens has sought to address racism and hate crime through the Love Not Hate campaign. Our Still No Place for Hate report makes a number of recommendations to address the inequalities affecting our communities.
Remember, there is Still No Place for Hate. Stay safe.


On behalf of the Nottingham Citizens leadership group,
Clive Foster
Senior Minister Pilgrim Church
For more information contact p ete.rogers@nottinghamcitizens.org