MISOGYNY HATE CRIME - NATIONAL WIN!
We've won our national campaign to recognise misogyny as a hate crime!
On the 17th March 2021, Government made the historic decision of instructing all police forces to record misogyny as a hate crime.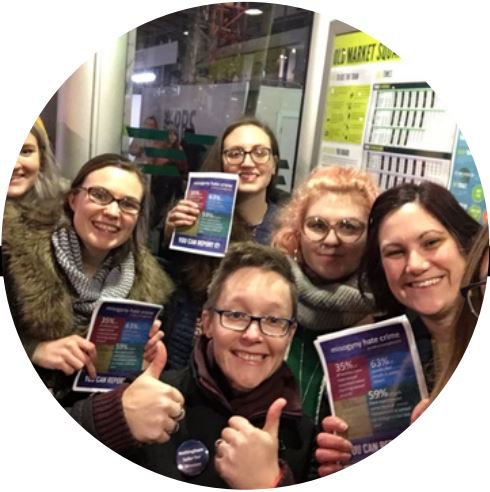 This victory started with us in Nottingham and our 2015 'No Place for Hate' peer-led research into hate crime which listened to the experiences of over 1000 Nottingham people. Owning much to the courage and tenacity of leaders like Mel Jeffs and Zaimal Azad, and driven forward by Nottingham Women's Centre, in 2016 Nottinghamshire constabulary became the first force in the UK to record misogyny as a hate crime.
The government's decision last month represents a huge victory for the thousands of Citizens leaders that picked up the baton from Nottingham and led this work forward over the last 5 years. And it's a big step forward in the campaign to keep women and girls safer because:  
All police forces will record and map hate crime against women
We can now understand better other forms of hate crime such as around race and religion and how it intersects with gender
This gives survivors of misogynistic hate options outside the criminal justice system for redress.
For an excellent overview of what misogyny hate crime is, what is isn't, and what's next, check out this excellent 2-page explainer HERE
None of this would have happened without the courage of women and girls speaking up about traumatic experiences and turning that private pain into a powerful public call for change. 
This is also a victory for all our member organisations in Nottingham. Your diligence and determination in continuing to join with other organisations for the common good makes victories like this possible. If you're connected to one of our 36 member organisations - congratulations!
If you're not yet, then you're invited. The bigger and broader we are as a collective, the more power we have to make change on issues that matter to Nottingham people. Drop us a message to arrange a conversation with an organiser or leadership group member. We're currently taking action on mental health, structural racism and low-paid and insecure work. 
Finally, we know the fight for gender equality is far from over. Nottingham Women's Centre have created this helpful Facebook post full of links to local and national support services for women - please share in your networks. You can support the vital work of Nottingham Women's Centre by donating here
Posted by Pete Rogers on 19 Apr, 2021