Nottingham Citizens win 'Upstanding Organisation' Award at 2018 No2H8 Crime Awards
Nottingham Citizens have been recognised at yesterday's No2H8 Crime Awards , a national award ceremony that aims to celebrate those contribute toward the cohesion of different communities the UK by tackling hatred and prejudice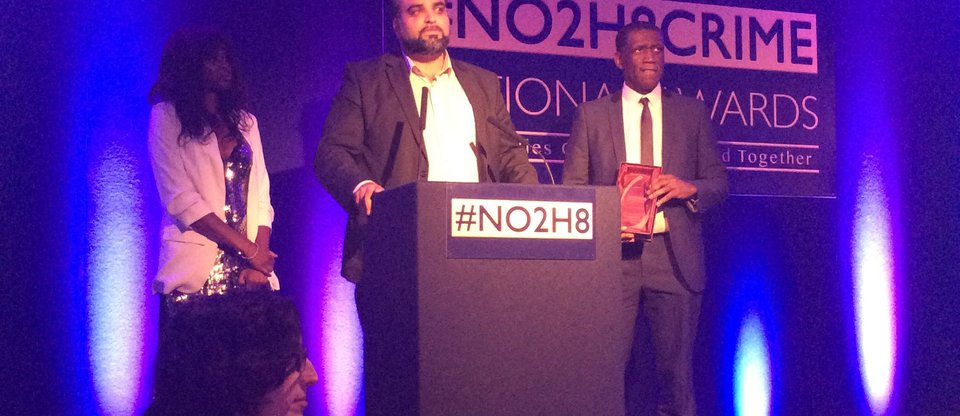 This award is a recognition of Nottingham Citizens' proud history of working on hate crime. As an alliance, Nottingham Citizens has brought together a wide range of community organisations to work together to make Nottingham hate free for all. These include Himmah, The Pilgrim Church, Nottingham Women's Centre, Nottingham Trent University, Djanogly City Academy, the Karimia Institute, Mojatu Foundation and many more.
In 2014, this Citizens alliance was able to persuade Nottinghamshire Police to become the first constabulary in the world to record misogyny as a hate crime. More recently, Nottingham Citizens have conducted the largest single piece of research into hate crime across the UK, surveying over 4,000 people including almost 3,000 secondary school students. We found that 59% of Muslim respondents, 47% of LGBT respondents, 45% of black or black British respondents and 34% of women had all been victims to hate crime at some point.
Following publication of this study (see here ), Nottingham Citizens put forward a series of asks to their local Council and police in order to continue building on their joint work so far and continue to tackle hate crime.
Throughout these years, Nottingham Citizens leaders have been driven by a strong commitment to see all corners of society to recognise that hate crime isn't just a problem for those who are victims of it, but it is an attack on our values and society as a whole.
Clive Foster, Senior Pastor at The Pilgrim Church, said:
"We are honored to receive the No2Hate Awards for the Upstanding Organisation Award on behalf of Nottingham Citizens for our Hate Crime work. This is a tribute to the commitment and power of Citizens UK's community organising. The groundbreaking changes made have impacted our city, county country in such a positive way. It's been a wonderful journey to see a diverse background of people and institutions listening, researching and taking action together for the common good. This does not happen on the wheels of inevitability but by being trained in and executing the art of community organising. Well done to all who have been involved."
Everyone at Citizens UK is thrilled to see Nottingham Citizens being recognised for their pioneering organising efforts, which have been an example to other Citizens alliances across the country.