Nottingham Citizens Launches Social Care Listening Campaign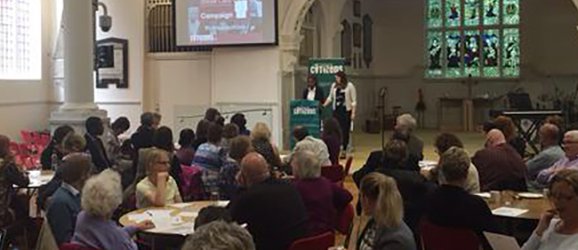 Last night Nottingham Citizens launched their social care listening campaign in Nottingham. There were over 80 enthusiastic members of the public in attendance, who all cared about care, representing 30 different organisations in the community, and working to acknowledge the main problems with social care in Nottingham that they wanted changed.
In 2014, after conducting thousands of conversations with members of their 41 diverse community organisations, Nottingham Citizens identified social care and isolation as their main concern and focus of the coming year. This work started with the listening campaign that took place last night. Inviting as many people to come and share stories and opinions about care. In attendance Nottingham Citizens had at least 30 of these organisations represented at their launch campaign, including faith groups, university students and lecturers, care recipients, care workers and unpaid care workers (normally family members).
The event included groups of 8 people on each table having conversations discussing their opinions and stories about care and what they wanted changed. The main issues identified were unpaid travel time, too short visiting periods (longer than 15 minute visits), the need for more detailed training specifically in regards to dementia and mental health and finally the need for care no matter the recipients age.
Future steps were also decided on, including people completing other listening within their own organisation, having a team member from Nottingham Citizens coming to talk them through the campaign, or completing 121 meetings with people to collect more stories that will create more of an impact and spread the word about the social care campaign as well as involving more people in future listening events.
Nottingham Citizens is now hoping that the future of the social care campaign will involve more listening events and feedback, and results on our main issues, such as recognition and support from social care services for unpaid family members working as carers, carers being paid for travel time and an increase in the quality of training.
Dr Sheila Marriott, Director of the Royal College of Nursing in the East Midlands, said:
"The ambitions of the Social Care Campaign echo our desire to see people receive consistently high standards of care from care workers who are supported, well-trained and truly appreciated for the work they do. Proper investment in a skilled, compassionate workforce is essential and the promise of greater integration between health and social care must be realised in the interests of people who receive care and the efficiency of our health and social care system."

Charlotte Wood from Grace Church Nottingham, social care recipient, said:
"Having lived in a residential care home and now in receipt of home care I personally have witnessed the importance of excellent care and the challenges and tragedy when the care system fails. Too often caught up in blame Citizens UK are committed to working with all parts of the industry to bring about real change for those in need of care. Put simply everyone in receipt of care should have a known carer with enough time and training to do their job well and be paid a fair wage for it."