Nottingham Citizens - Autumn Round-up 2021
Nottingham Citizens - Autumn Round-up 2021
It was wonderful to gather at Nottingham Girls Academy this week for our Autumn Assembly, our first in-person meeting as an alliance for well over a year. Over 100 people showed up to celebrate the past 18 months of action and activity, to build relationships, and to engage with the social justice opportunities in the coming year. Some highlights included:
Better Books
We are delighted to have raised over £25'000 to support the gifting of racially and culturally diverse reading books for Nottingham City Primary Schools, smashing our £10K target. Our celebration video for the #NCBetterBooks campaign was premiered last night (see below). The team have been busy organising distribution of the books to schools across the city and we are being supported by Nottingham Contemporary with wider curriculum resources to enable schools to make the most of these books. Congratulations to everyone who played a part in this!
Work & Wages
Nick Gretton (Trent Vineyard) and Anna Bulcock (University of Nottingham School of Politics and IR) shared updates on the campaign to win a real Living Wage for workers at Nottingham Forest FC. We took a letter signed by MP's, union leaders, Bishop Patrick McKinney and over a dozen civil society leaders to the Forest ground this week. To find out what happened when we invited the CEO, Dane Murphy, to receive the letter and our welcome gift, check out this clip 👇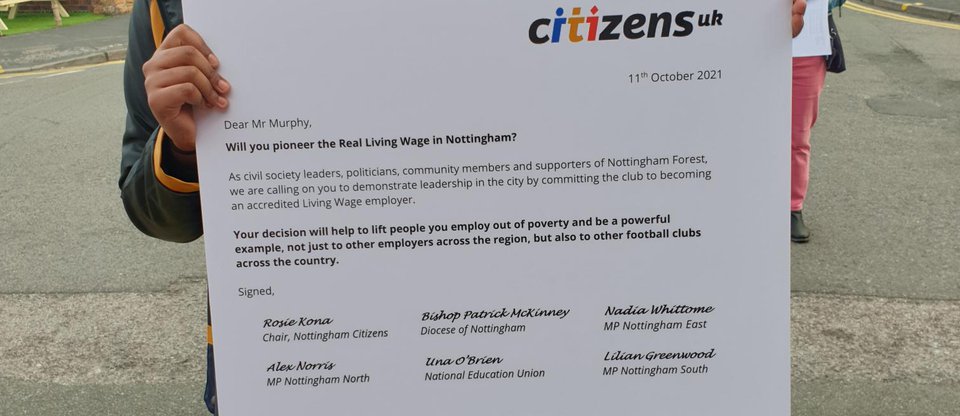 Next month we'll be taking action again, this time ahead of the home match against Luton Town. To find out more, or to join the campaign team, drop Pete a message (contact info below).
Sharon Hutchings (NTU) also introduced a listening tool the team are using ahead of a re-launch in January 2022 under the banner of 'Fair Work'. We know low pay is an ongoing issue, but we are interested in digging deeper into wider issues around bad work, particularly the connection with poor mental health and the disproportionality of people from BAME communities reliant on low-paid insecure employment. You can take part in our Fair Work listening campaign by hitting the green button.
Better Learning
Our Vision: for Nottingham to be known as a place where our educational institutions are taking the lead on creating an anti-racist curriculum and an anti-racist and inclusive teaching environment
In our last round-up we shared the good news that we secured a commitment from the Nottingham Education Partnership Board, (a gathering of senior education leaders across Nottinghamshire) to establish an Equalities Action Team (EqAT) to drive forward our recommendations for change. We shared with members at the assembly that the EqAT has now met for the first time last month to begin putting together an action plan to drive the change forward. More to follow… 
Race Equality Justice Council Nottingham (REJCN)
Clive Foster (Pilgrim Church) & Sajid Mohammed (Himmah) spoke passionately about the ongoing need to fully establish the REJCN in the city. The REJCN is an autonomous BAME-led organisation which will work to hold our leading public and private sector employers to account on their engagement and treatment of people of colour in Nottingham. Now a registered entity, the REJCN and its steering group are seeking to consolidate its supporters and partners and to raise approximately £18'000 to employ a project worker to drive forward their action plan.
For a full briefing on the REJCN and to add your organisations name to the Open Letter of support click the link.
For enquiries about the REJCN please write to hello@rejcn.org
Mental Health
Andy Day (St Nics) spoke to us about the deeper listening that has been taking place within many of our Nottingham Citizens organisations in the past few months. Our next step is to bring together a taskforce of community leaders to begin to strategise around areas of shared concern.
This will take place on Thursday 21st October, 19.30-21.00, St Nics, NG1 6AE. Contact Pete to find out more.
In wider news...
Training
We are delighted to offer a 1 day 'Introduction to Community Organising' training course on Saturday 6 November, St Martins Church, Sherwood. Participation comes included for member organisations and at a fee for non-members.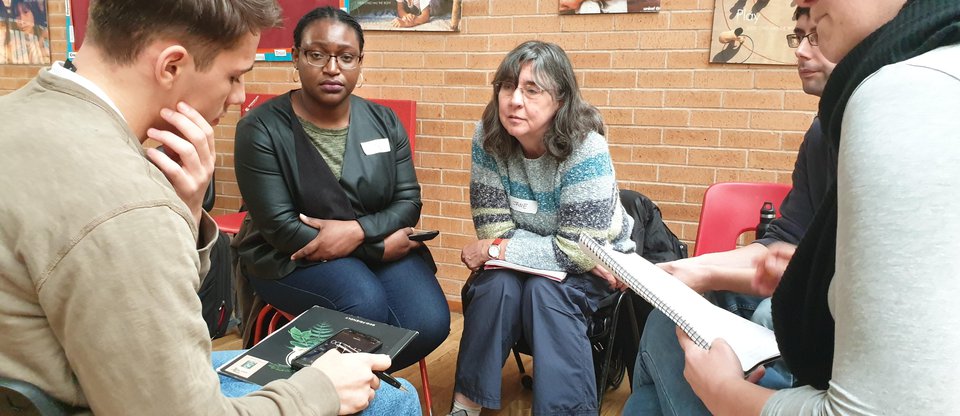 Misogyny Hate Crime
It was disappointing last week to hear the Prime Minister speaking out against making misogyny a hate crime, followed by the Justice Secretary's apparent lack of understanding about what misogyny even is. It is clear that this campaign, birthed here in Nottingham 6 years ago, is needed more than ever. It was encouraging to hear Zaimal Azad and Sajid Mohammed interviewed on BBC Breakfast News last week in response to the PM's comments.
Global climate issues and Faith
Do you belong to a faith-based organisation? If so read on….Chris Ward from St Peter's Church is looking for people across all faith groups who are concerned about global climate issues and our ecological emergency. Please can you pass this on to your networks and congregations and contact him if you want to know more about establishing a communication network among faith-based groups across greater Nottingham for mutual support, to foster hope and to create a platform for future activity together. Contact Chris at chrisdward89@protonmail.com
Connect
linktr.ee/nottinghamcitizens is our one-stop-shop for all actions, events and training opportunities.
Organisers: Pete Rogers - pete.rogers@nottinghamcitizens.org / 07376009949. Heidi Shewell-Cooper - heidi.shewell-cooper@nottinghamcitizens.org / 07376013633
Posted by Pete Rogers on 15 Oct, 2021