Launching a Young People's Manifesto: A Guest Blog, Sandra Stewart
Launching a Young People's Manifesto: A Guest Blog, Sandra Stewart
On Thursday 4th May 2023 people in Nottingham City will go to the polls to select the 55 councillors who they want to represent them in the 20 wards across the city. Nottingham is one of the youngest cities in the country and while U-18's are unable to vote, we believe that young people should have a say on shaping the future of Nottingham. That's why we launched #YPManifetso23 : so that young people from schools, faith and community groups across the city can play an active role in shaping an agenda for change to take to decision-makers ahead of the local elections.
Here's some reflections on the launch of this campaign from Sandra Stewart, governor at Radford Academy, one of our member schools.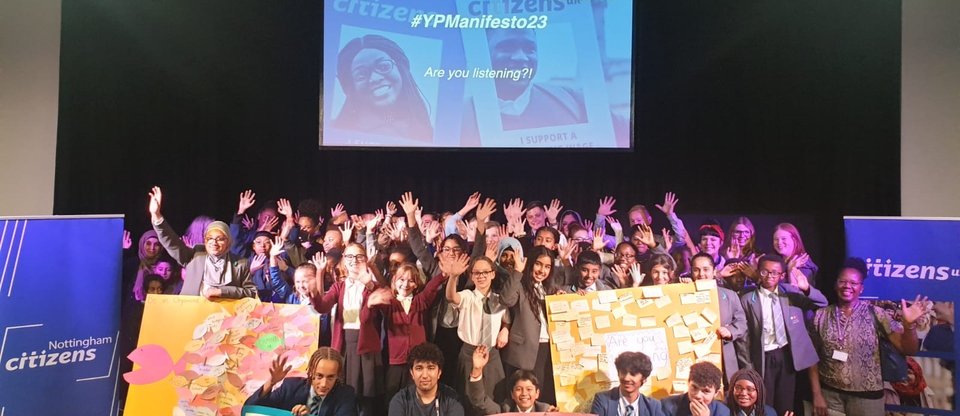 5 determined individuals, some blu tack and a WhatsApp group
Joking aside. #YPManifesto23 has been germinating in the Nottingham Citizens think tank for some time. Traction grew over the summer months when members and friends of the alliance were invited to be part of the discussion and attend the launch. I was bowled over to be asked by Heidi, one of our Community Organisers, to help lead the movement to hear from young people, and what matters to them.
The launch event
I was thrilled to have the role of introducing the launch event in October and welcoming everyone to the impressively decorated room at Trent Vineyard. The numbers just kept on mounting. Around 75 young people had been confirmed for the day, but still 10 minutes into the launch more and more young leaders continued to show up with their chaperones.
I was able to set the scene of the number of young people the city has that are not yet able to vote and have a say in who runs Nottingham. I was astonished that there were so many gung-ho volunteers that were willing to help me on stage to demonstrate that Nottingham has 69,300* young citizens aged 17 and below. Rosie led on both our Roll Call and Icebreaker, expert as she was at making sure we were energised and focused, laughter here was a welcome natural by-product. And then onto the main event……..
#YPManifesto23: The plan was well explained by our Community Organiser Pete, along with some listening input tips and tricks to support the process of listening and gathering content from conversations.
On and off screen we heard some stories from the teams of young people and their recent escapades as activists. Nadia Whittome MP for Nottingham East, the country's youngest member of parliament wished us luck with the task at hand over the coming months. With Heidi and Rosie lending their voices to the final section of the launch regarding taking action, we could sense from the after formalities talks, young people wanted to stay behind and were fired up for their role in the movement
Great examples of teamwork and comradeship were witnessed in the run-up to and during launch day. A big thanks to Althea, Rosie, Pete and Heidi for an experience I am most proud of.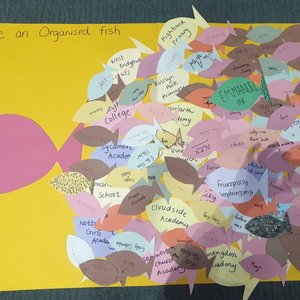 There's still time to get involved. Check out the #YPManifesto23 timeline to see where you can hop on the train and contact our Community Organisers. Don't delay! See you early December.
Why does this Campaign to hear from young people matter to me?
The strong network that Nottingham Citizens engenders is magnificent in its reach, moral fortitude and its potency of feeling for good doing and change. The group's ability to own a mission to fruition is commendable.
'Strength in numbers' 'Economies of scale' 'Many hands, light work' 'Lead from the front'
Choose any of those adages. They all synonymise the Nottingham Citizens following. Who wouldn't want to be part of that winning team with such selfless goals?
The future: the exciting next steps
Already much is being done to further the meaningful listening cause and reach the combined pledge of near 4,000 conversations. It is heartening to hear the detail of the listening acts trickling in day by day. I look forward to watching the numbers of young people taking part grow alongside their confidence to speak out and own their futures.
Posted by Heidi Shewell-Cooper [N/A] on 24 Oct, 2022