Communities that Care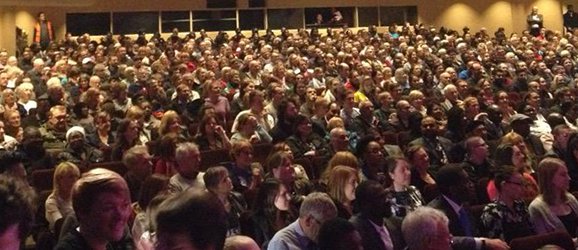 Last night, Tuesday, 24th March, 2,300 people from Nottingham Citizens, a part of national community organising charity, Citizens UK, came together with local, regional and national politicians ahead of the general election to ask them how they will fix the crisis in the current social care system.
Over 40 diverse local groups including faith communities, schools, colleges, universities and unions make up Nottingham Citizens, an alliance that works together for the common good.
On stage in the Nottingham Royal Concert Hall local care workers and care recipients asked Under-secretary of State for Health Dr Dan Poulter MP and Shadow Minister for Care and Older People Liz Kendall MP , if they are re-elected in May, to commit to supporting the Citizens UK call for people to receive care from named, trained, reasonably paid care workers with enough time to deliver quality, meaningful care. They then asked each of the politicians to explain how they would, if they were in power, deliver the improvements required in the social care system independently costed at just over £1 billion.
At the same time as the county prepares to head to the polls Nottingham communities put their agenda to Cllr Jon Collins, Labour leader of Nottingham City Council and Cllr Georgina Culley, Leader of the Conservative Group for concrete responses. Among Nottingham Citizens' agenda are calls for:
A compulsory landlords register to improve the quality of private rented accommodation in the city
Inward investment of 5% of the County Council pension fund to stimulate Nottinghamshire businesses with £150 million of investment
Creation of a convention centre in a Living Wage development, with sector based work academies to help long term unemployed people access the opportunities it creates
The Rev Josephine Tatum, member of the Nottingham Citizens Leadership team said:
"This is a historic evening for Nottingham. We believe this is the largest pre-election event in the Midlands with 2,300 of us from all walks of life together because we care - about our city, about our county and about social care.
"We've spent the last 18 months developing our agenda for tonight, seeking justice for the people we love. We want to see action on hate crime and housing, unemployment and low pay and of course our top priority - social care.
"The social care system is falling apart. Care workers routinely paid less than even the minimum wage with no real training; care recipients with dozens of different people in and out of their house with no time to build a relationship. We need action.
"This is likely to be the closest election in a generation. It is our chance, as communities, to make ourselves heard at every level. That only comes with work, with organising, to identify our shared concerns and act to build a better city, a better county for our children in the years to come."
Pastor Clive Foster, also of the Leadership Group, in response to local UKIP criticism of the event, saying:
"We invited the Conservatives and the Liberal Democrats (as they make up the current Government) and Labour being the official Opposition. Nottingham Citizens are meeting with individual local MPs and prospective parliamentary candidates in the lead up to the election on a range of issues, including social care. We've already met the UKIP candidates and are actively feeding back their response to our members."
ENDS
The costings in this release were developed by the Resolution Foundation in this report - http://tinyurl.com/kpeh75u
For media enquiries and to arrange an interview with care workers and care recipients please contact George Gabriel, Nottingham Citizens m 07969151841.
This article was amended at 10:05 on 26th March 2015. It had incorrectly stated that Andy Burnham MP was present.