April 2019 Nottingham Citizens Newsletter
Our Accountability Assembly that we were planning to hold on Thursday 25 April will now take place instead on Wednesday 26 June at Trent Vineyard. The Nottingham Citizens leadership group felt it was prudent to postpone the event until after the Nottingham City Council election when the Councillors who will form the Council's new political leadership team will be known.
Continue reading...
This follows the announcement by Jon Collins, the Council's leader for the past 16 years, that he is to step down as a councillor at the election on 2 May. This means a new leader and key portfolio holders will be elected by the Council's ruling party immediately after the election.

We had, understandably, identified Councillor Collins as someone from whom we would be seeking commitments at the Accountability Assembly to support those areas of our ongoing work in which the Council is a potential stakeholder in achieving positive change. As it is, the leadership group felt that Councillor Collins will not be in a position before the election to give any such commitments in response to our asks.

As an organisation committed to creating meaningful change, we believe we will have the best opportunity to achieve our aims by developing a positive working relationship with the new Council leadership and seeking commitments from this new team once they are in post.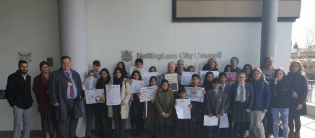 The change of date to 26 June does not affect the priorities for improvement and justice in the areas of mental health, work and wages, and education and young people which will still comprise the business that we are seeking to do at the assembly.
In the meantime, research and action have continued apace since our last update. Over 100 of our members gather at Sycamore Academy last month to hear stories and progress from our three action teams.
Mental Health. The team have three current priorities; 1. Tackling stigma and discrimination 2. Capacity building in the community 3. Early intervention & young people. On the first priority, work to develop a training session to be delivered in organisations across the city is well underway, in conjunction with partners in health.
Work & Wages. The two broad priorities are; 1. Tackling poverty through the real Living Wage 2. Addressing wider employment conditions. Relationships are being developed with key employers in the public and private sector.
Young People & Education. Two agendas have emerged; 1. Provision for young people in neighbourhoods 2. Access to opportunities and impact
on aspiration.
The team are particularly interested in the new library development and ensuring our young people are included in the conversations. Last week, students from Djanogly City Academy, Fig Tree Primary and Radford Academy gathered outside Loxley House and presented Cllr's Trimble and Mellen with a book put together by young people from across our membership detailing their 'hopes and dreams' for the new library, securing commitments from them to work with us in the coming months.