Brent Citizens schools prioritise development of young leaders during Covid-19 pandemic
Despite the challenges presented by lockdown, students from Ark Academy (Wembley) and Newman Catholic College (Harlesden) have enthusiastically participated in Community Organising and Community Leadership training programmes over the past few months in order to develop their skills and be equipped with practical tools to take collective action on the issues affecting them, their families and local communities.
At a time of hardship and uncertainty, they have shown resilience and a remarkable commitment to social justice and the common good!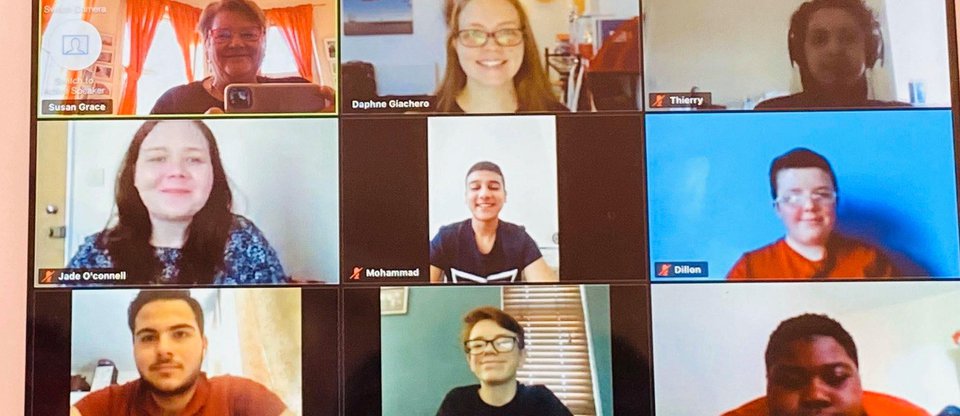 Newman Catholic College
The 3-month in-depth training programme developed for the London Citizens after-school club at Newman Catholic College was designed to provide students with a strong foundation and understanding of Community Organising principles, and followed a successful student-led campaign that saw Newman Catholic College win its campaign to for lights to be installed on Roundwood Park.
As covered in the Brent and Kilburn Times , pupils persuaded Brent Council Leader Muhammed Butt and his cabinet to invest in new lights for the park after a student-led listening campaign found that students felt unsafe walking across the Park after leaving school to catch the bus home and had even been robbed at knife point.
Here is what students and teachers had to say about the training:
"This has been an insightful and educational course that has taught everyone how to organise in an effective, productive matter. Not only this, but the course is fun and covers important topics both from the past and the near future" - Dillon, Y11
"A refreshing course that has sparked a fire within to bring about change. It has taught me to implement useful leadership skills as I embark on my future career and pursue my ambition of becoming a politician" - Vishal, graduate and current Undergraduate student at Kingston University
"Thank you for this delightful opportunity to participate in this London Citizens programme throughout 3 months of lockdown" - Mohamed, Y10
"This course helped me to understand and decipher what the community wants to change" - Dhruv, Y11
"I've found the course very enjoyable as it helps us to become better members of the community" - Owen, Y11
"It was phenomenal discussing the theory behind Community Organising each week. It is now more important than ever that we come together to fight against injustice. I along the students have learnt a lot and now it's time to put theory into action" - Ms O'Connell
Ark Academy
Students from Ark Academy have taken part in the "Citizens Challenge" throughout July and August 2020, which involved participating in online sessions with like-minded students from other Citizens alliances across the country and developing a plan for how they will build a team in their respective Year groups upon returning to school and start a new "cycle of action". In fact, this week students in Y7, Y10 and Y11 have already launched their listening campaigns to identify priorities to act on during the year - undeterred by social distancing restrictions, students and staff alike have found creative ways to engage in this listening process. More updates coming soon!
Citizens UK Programme for Schools: Autumn 2020 - Summer 2021
We are excited to announce a Schools Programme taking place throughout the Autumn 2020, Spring 2021 and Summer 2021 Terms, which will be open to education leaders and pupils in member schools across our alliances. We recognise that schools are facing a wide range of challenges in the current context and that means adapting the way in which we work with schools.
Our programme therefore will be run entirely online and will focus on developing the leadership of education leaders and on creating spaces for education leaders to receive tailored support and guidance on how to embed Community Organising principles in their work.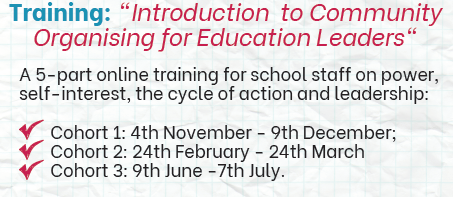 Please visit our Schools Organising hub web-page , which we are regularly updating, to be kept informed.
If you are a schools considering membership with Citizens UK and are interested in the Programme, please don't hesitate to get in touch for further information via your local Citizens Organiser or schools@citizensuk.org