How 11 schools in Leicester & Leicestershire took action to become accredited Refugee Welcome Schools
How 11 schools in Leicester & Leicestershire took action to become accredited Refugee Welcome Schools
SEPTEMBER 2021
In September 2021 the alliance's school membership increased from three schools to thirteen. The Leadership Group was determined to continue with broad-based organising across the whole alliance, but very much gave the school student leaders their blessing to lead, agreeing that the schools are where the energy are, and that the alliance should be getting behind young people's issues.
Over the next few months, 121s between student and staff leaders across the thirteen schools brought out a strong desire to take action and make change. Leaders were listening deeply to one another, and consistent issues began to surface with Refugee Welcome emerging as a top priority for individual leaders and institutions.
Citizens UK works in partnership with the teachers' union NASUWT to offer an accreditation called Refugee Welcome Schools. For a school to apply, student leaders must form an action team to conduct research into current and potential provision and develop a Refugee Welcome, Awareness and Action Plan for their own school. These plans then get signed off by their school's SLT, or "positional leaders", who can make decisions and sent off to be assessed by a panel comprising of experts from NASUWT, Citizens UK, the Institute of Education and most importantly people with lived experience of the migration system.
Refugee Welcome School accreditation seemed like a perfect opportunity for all the new Leicester & Leicestershire Citizens schools to take action within their own school, in the city and county through Community Organising. So, the student leaders got to work.
Students who had emerged as promising leaders came together into action teams. They began by learning about the current provision for refugee students within their school – something they might not have otherwise known. They thought creatively about how this provision could be improved, often starting with the barriers a refugee student joining their school, and their family, might face, and then thinking of a practical solution that could be offered by the school. Even though the applications were being made specifically by schools, the Leadership Group were keen for the whole alliance to participate. So, for example, Naomi, a leader from Leicester Progressive Jewish Congregation, took a session with the student leaders at Soar Valley Community College as they developed their plans.
FEBRUARY 2022
As schools were halfway towards the application deadline, Russia invaded Ukraine. Suddenly there was a lot of focus in the media on this new group of refugees arriving in the UK, and on schools welcoming Ukrainian students. Because the county of Leicestershire had many more host families volunteering to welcome Ukrainian guests into their homes than the city did, those Leicester & Leicestershire Citizens schools in the county which had never had refugee students – or had had very few – suddenly had Ukrainian students arriving. Very importantly, all action teams continued to make plans to welcome all refugee students and their families – whatever their culture or nationality. The intention was that if the plans can be implemented for one group of students arriving, they can be implemented for all groups going forward.
The action teams submitted their applications and began planning for their first big in-person action as part of the 25-institution-strong alliance: We Are Refugee Welcome Schools!
Each action team prepared a three-minute presentation on why they had decided to become accredited, and a few examples of points from their plan. Primary students prepared artwork and poems. The aims of the action were to:
- Celebrate member schools becoming accredited Refugee Welcome Schools
- Celebrate the three Strategic Partners' and the Leicester Community Sponsorship Group's work
- Celebrate Leicester City Council for having approved the Community Sponsorship Group's application
- For all member groups to come together in person for the first time since Covid and feel ownership of the alliance
- Strengthen the alliance's relationship with invited guests from local authorities and other civil society groups
- Show the power of the alliance to decision-makers in local authorities.
JUNE 2022 - THE ACTION
The day arrived and 228 leaders from all groups in the alliance turned out to the action at a Diocese church. Sixth form leaders stage-managed the action and it was chaired by Diya and Krisha, Year 10 student leaders from The City of Leicester College, and Farida, a Year 6 student leader from Kingsway Primary School. They really stepped up and did a brilliant job of addressing the large audience of leaders, many of whom were adults with significant power within their institutions.
All the action teams delivered clear presentations and Yahye, Co-Chair of Leicester & Leicestershire Citizens, and leader at the Somali Community Parents' Association, gave a testimony that moved everyone in the room; proving how urgent the action was that the students were taking.
Chris, a leader at the University of Leicester School of Education and Tracey, a leader at the Diocese of Leicester Board of Education spoke about their commitments to Refugee Welcome – two non-school educations matching the schools' work on this issue. Amy from the Leicester Community Sponsorship Group spoke about the group's work to bring a refugee family over from the Middle East who would not have been welcomed otherwise. Leicester City Councillor Sarah Russell, a Deputy Mayor who cares deeply about Refugee Welcome, spoke about the Council's commitment on this issue. The atmosphere in the room was celebratory and joyful, and in the evaluation leaders were feeling "optimistic" and "emotional".
The action was covered in the press, with the Leicester Mercury publishing an article and leaders from across the alliance giving interviews with BBC East Midlands Today.
Become a Refugee Welcome School
Contact your local Organiser if you would like your school to work towards the Refugee Welcome School accreditation, which is open to non-member schools and free. Visit the link below to find out more.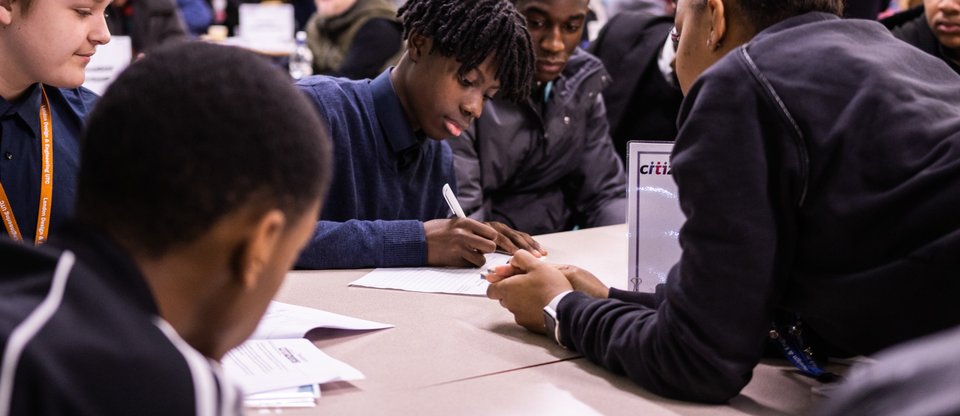 Join Citizens UK as a school member.
Citizens UK works with school communities to take action on issues that matter to the students, staff and families. ­­Schools which participate in Community Organising as part of their local Citizens UK alliance can; Develop staff and student leaders, Link up with other groups in their community, to make change locally (groups they may not engage with otherwise), Understand deeply the experiences and concerns of their students, staff and families, through listening campaigns, Take action that has impact within and outside of the school, Get staff and student leaders involved in national top-priority Citizens UK campaigns, Live their community values and be a positive force for change in civil society.
Posted by Lauren Del Fabbro on 22 Sep, 2022