Winning a Living Wage campaign for low paid workers
In November 2016 my friend Josh and I joined a group of other students to begin campaigning for the University of Manchester to become an accredited Living Wage employer. We walked in aware of the concept of the real Living Wage but less familiar with Citizens UK and the work they had done on this issue. After that first meeting he became the campaign Chair and I was made the Treasurer.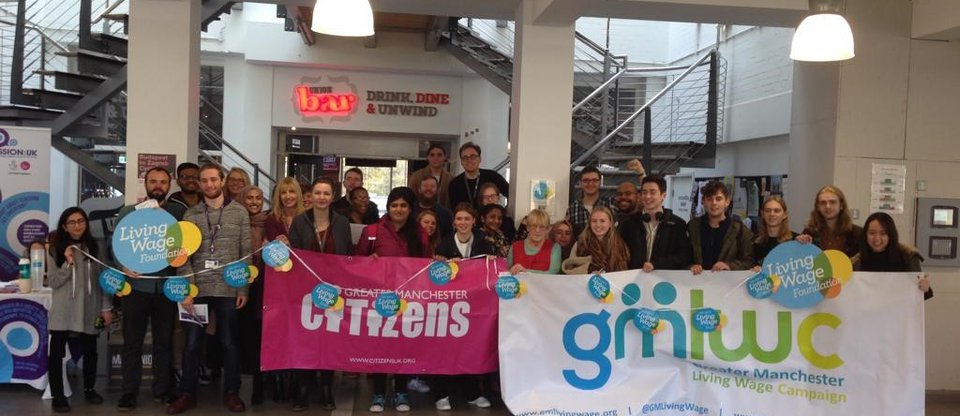 In our first year of campaigning we only had a handful of students. We held meetings with academics who were sympathetic, reached out to other university societies on campus and worked with the Students' Union to put ourselves on a good campaign footing.
When September 2017 rolled around we stood outside the SU building leafleting new arrivals at the university to increase the number of people involved in the campaign. I struck up a conversation with a student who was working for University about what we were doing and agreed to help. That student Oliver, and his two housemates, joined the campaign and we had access to their skill sets, especially in research and creative campaigning.
Living Wage Week came and went and in partnership with GM Citizens, part of community organising alliance Citizens UK , we held a celebration of the University of Manchester Students' Union, who another group had successfully convinced to become an accredited Living Wage employer a few years earlier. We reiterated our call for the University to accredit and gained more support from members of staff who heard about our event.
We all had academic commitments in the second half of that year but our determination to get the University accredited kept us researching, building relationships on campus and training each other. It was frustrating that we couldn't do more but we never lost hope.
In September 2018 we reorganised the campaign for the new academic year and worked closely with GM Citizens to plan a community action in November. What had started as a group of three had now swelled to nearly twenty campaigners. We conducted training sessions to get people to start thinking about the power that they have both as individuals and as a collective body.
Through our GM Citizens network we worked with UNISON to speak to members of staff and gather their anonymous testimony for the day of the action. A Unison staff-member also gave a talk on how to effectively co-ordinate the action.
After two years of training, research and preparation, GM Citizens held an action outside the University of Manchester's Social Responsibility Office asking the Registrar of the University for a meeting. Around 100 students, staff and community leaders showed up to call on the University to do the right thing and after hearing about our action ordinary members of the community contacted the University. The University agreed to meet with us and in December 2018 I found myself speaking to the two individuals who had it within their power to make this change.
The University was incredibly interested in what we had to say and given their good work in the community, this campaign was in-keeping with the University's values of social responsibility. We outlined the benefits of accreditation and why this is important to ensure all staff, include contractors are paid the real Living Wage rate. Finally, the decision was made and the University notified us they were going to become a Living Wage accredited employer, making sure that each year every employee will get a pay rise in line with real the cost of living. After 2 years of meetings, research and training students I could finally go to sleep knowing that we had won.