Young Citizens of Barking & Dagenham Unite for Action with Decision Makers
Young Citizens of Barking & Dagenham Unite for Action with Decision Makers
On the 5th of October at CU London, 50+ young people, councillors; including Council Leader Darren Rodwell, and representatives from the Police, including Superintendent Butterfield, gathered together for a roundtable discussion on issues of education and youth safety.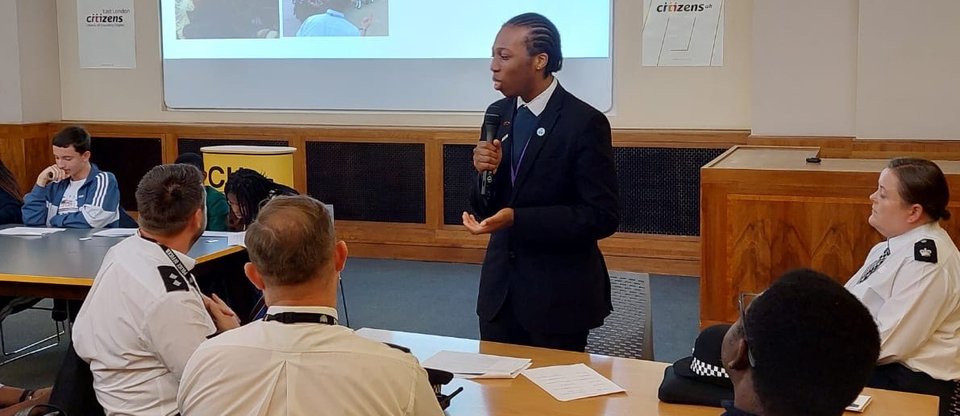 Led by young people from Barking & Dagenham Citizens (part of Citizens UK), a local alliance of 11 organisations, the young people developed proposals over the summer through conducting listening campaigns via surveys across the borough with those affected that related to young people, their safety, their wellbeing and their futures.
The night featured testimonies and proposals framed from the listening, which brought the lived experiences of young people to the forefront and challenged decision makers to consider new ways of tackling them.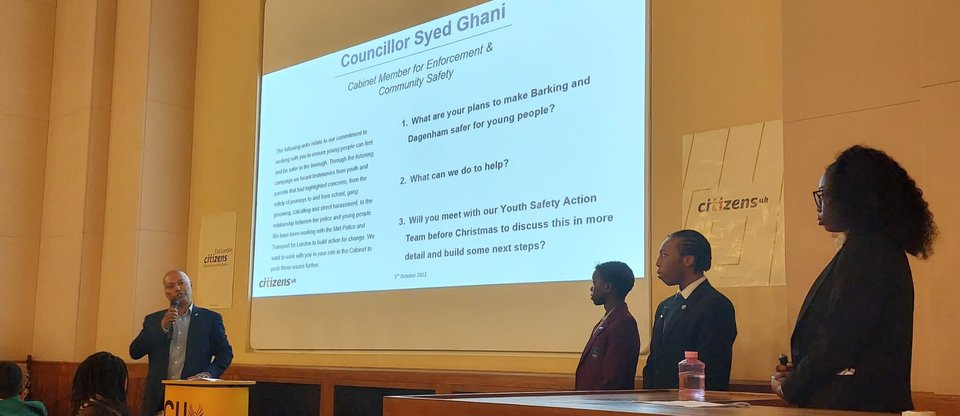 The Action resulted in three commitments being won:
Support from Cllr Kangethe and Eric Stein to introduce alliance organisations to local schools, supporting the need for more tailored workshops that tackle mental health, the gendered nature of youth safety, money management and other life skills to support our young people.
Support from Cllr Syed Ghani and Superintendent Butterfield of our campaign to lobby Transport for London to help young people get to and from school safely.
Support from Council Leader Darren Rodwell by meeting with alliance members at the Town Hall to discuss the council budget and look at ways together of tackling the issues surrounding youth safety and education.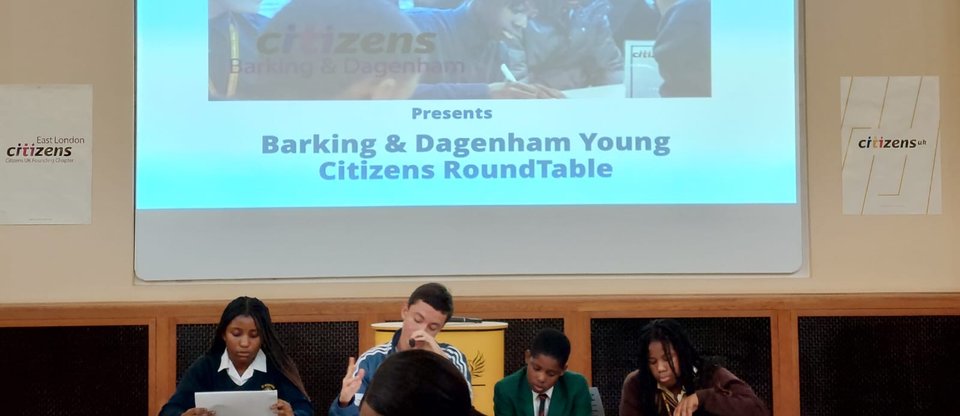 The young people who led the evening shared their reflections:
Alexandra said: "For me the whole event stood out. The roundtable discussions in particular, although we were all people with differing levels of power, were very conversational. I noticed that even Cllr Rodwell has his own experiences in relation to what we spoke about. The issue that's really important to me is youth safety. As a young person even just walking to school and back can be stressful. As a result of the assembly, it would be great to have young people be a part of the discussion as we are the future. We should have a say in what happens in the community".
Eminike said: "From the event I got the message that progress is being made. It isn't just all talk. The leaders are also involved and ready to work with us. It is giving me hope that we're going somewhere. The one moment that really stood out to me was the young people coming forward and talking about their experiences. It touched me and sent a message to other people that they aren't alone in the issues that they are facing".
Tobi said: "One moment that stayed with me the most was when I got to speak directly to Superintendent Butterfield and I got to hear what she had to say and her side of the story, as I can only ever see it from just my side. Having the chance to speak with her gave me a point of view that I've never seen before and allowed me to see where she came from".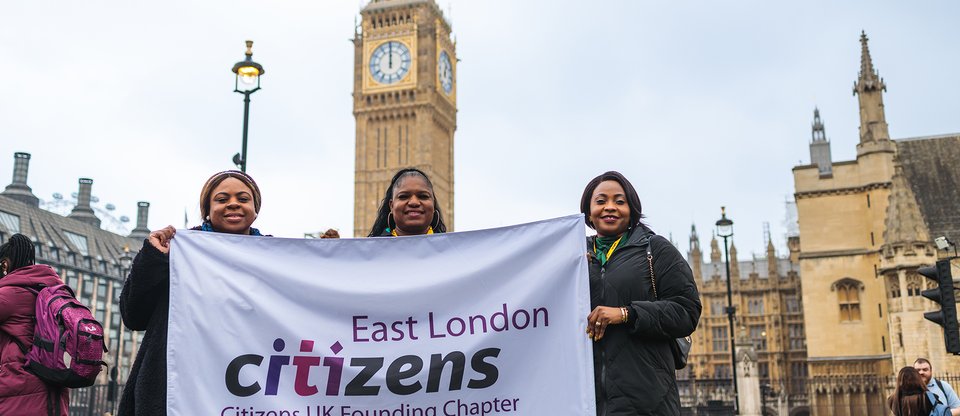 Be part of the action!
Learn more about the amazing work of Barking and Dagenham Citizens and how you could get involved!
Posted by Sophie Thomhave-Lee on 11 Nov, 2022